China-UK ties strong amid Brexit clouds
By Cecily Liu in London | China Daily | Updated: 2018-12-11 09:39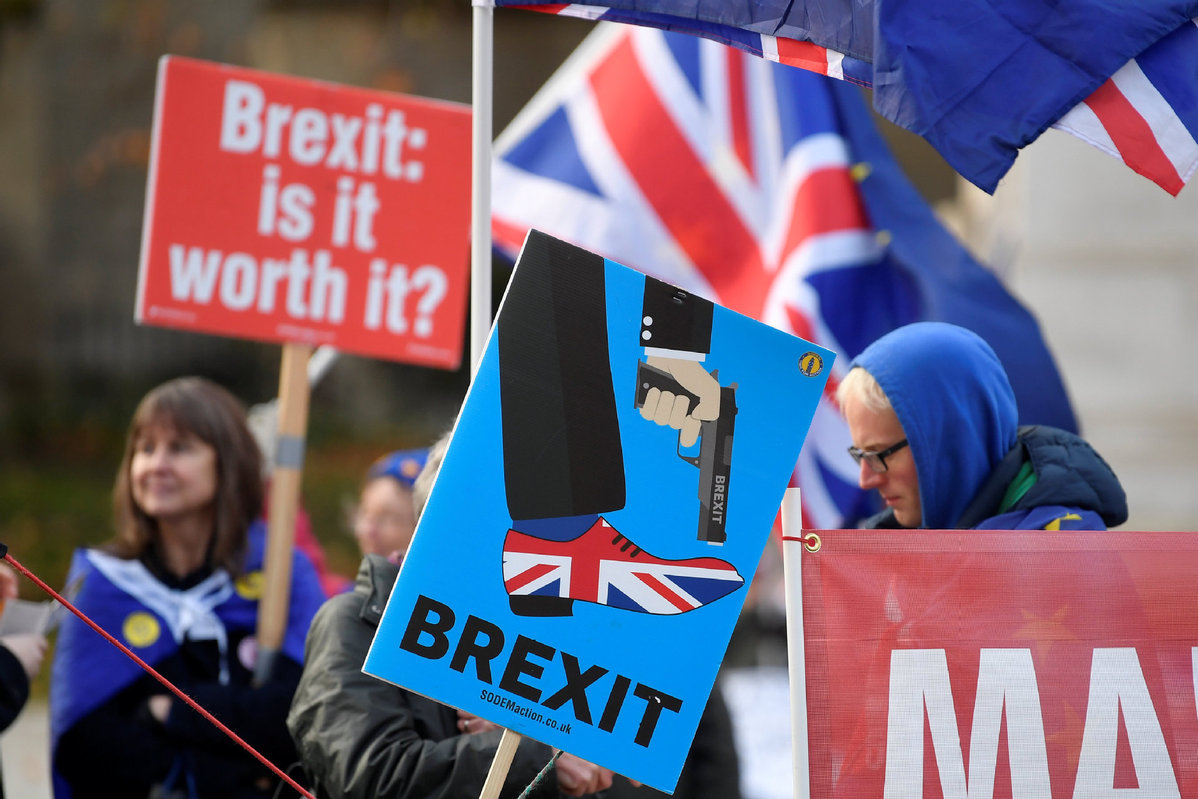 As the clouds of Brexit loom over UK's business sector, the question of how it impacts China-UK business ties is attracting increasing attention in both countries.
Whilst some technical impacts do exist, to overly dwell on them could be a dangerous trap distracting British firms from focusing their energy on the much more important China engagement potential opportunities.
The momentum of China's market opening up, Chinese firms' international expansion and the significant complementarity between the two economies all underpin these opportunities.
Firstly, China's accelerating market opening-up has already translated into concrete benefits for British firms. Landmark milestones such as Standard Chartered gaining a Chinese domestic fund custody licence and Aberdeen Standard Investments gaining a licence to offer funds to Chinese high-net-worth investors are just examples that gave British firms immense previously inaccessible opportunities.
But the story of China's openingup is not just about policy relaxation. The incredible scale and consumption power of the Chinese economy which anchored the logic of China's further opening-up strategy itself points to massive opportunities for British exports, particularly in sectors such as fashion, food, healthcare, education and entertainment where demand is high.
The mind-boggling scale of the inaugural China International Import Expo in October-attended by 160,000 buyers from more than 80,000 companies-is evidence of this demand. Within just six days, the hundreds of British firms at the fair together secured 2 billion pounds ($2.55 billion) of commercial deals, which is over 10 percent of the $22.31 billion of British exports to China in 2017.
Secondly, China's incredible e-commerce boom has made it ever more cost efficient and convenient for British firms to export to China. In 2015, China surpassed the US as the world's largest e-commerce market, with retail sales reaching $584 billion. Forrester Research forecasts it will reach $1.8 trillion by 2020. Procurement managers from the likes of Alibaba, JD and Vipshop are all regularly coming to the UK to source products, allowing British firms to sell to China on their doorsteps.
Thirdly, Chinese firms' UK investment brings incredible opportunities for British partner firms. Dozens of British nuclear sector supply chain firms have already started making preparations to bid for contracts at the planned Bradwell power station, which has China's CGN as a majority shareholder. For them, partnering with CGN at Bradwell is the first step for further partnerships on CGN nuclear projects globally.
Meanwhile, Chinese firms' direct investments into British firms have provided much needed fresh injection of capital. Chinese train maker CRRC's 2008 investment to buy a majority stake in the Linconshire-based chip maker Dynex has not only relieved Dynex's financial troubles but also fuelled its unprecedented growth. Its research and development team has increased from just 12 in 2008 to 75 since then.
Riding on the tremendous momentum of this collaboration, Dynex and CRRC are now establishing a new R&D center in Birmingham in early 2019, with ambitious targets to add 100 new engineers next year and 200-300 over the next few years.
The synergy created from Dynex's cutting edge R&D expertise with CRRC's own large scale manufacturing capacity in China and in-house demand for the end product (these chips are used on CRRC's trains) demonstrate win-win collaboration.
This type of collaboration is particularly important for Britain's small-and-medium-sized-enterprise-heavy economy. At the beginning of 2018, SMEs accounted for 60 percent of all British private sector employment and 52 percent of all private sector revenue, according to data from Britain's Federation of Small Businesses.
Many British SMEs have transformative products and solutions, but the limited size of the British domestic economy often restricts their growth. (British GDP in 2017 was $2.62 trillion, roughly 21.4 percent of China's GDP and 13.5 percent of US GDP.)
Over the past decades many top SMEs have sold themselves to US acquirers to access a bigger market. One classic example is Google's 2014 acquisition of London-based Deep-Mind, famous for its AI technology AlphaGo.
In recent years Chinese investors have increasingly stepped into this same role of strategic investors, and many British SMEs have welcomed that.
For example, the London-based augmented reality startup Inde, which showcased its technology in the British Pavilion of the CIIE this year, explicitly said it is looking for a Chinese strategic investor because growing organically is simply too slow.
With just 25 employees and annual turnover of 1.7 million pounds, Inde may be just a small fish in the tech world, but a suitable strategic partnership can definitely push its technology into the vast market of Chinese entertainment, advertising, theme park and gaming sectors.