Chinese entrepreneurs pitch to British royalty
By Angus McNeice in London | China Daily UK | Updated: 2018-12-14 01:32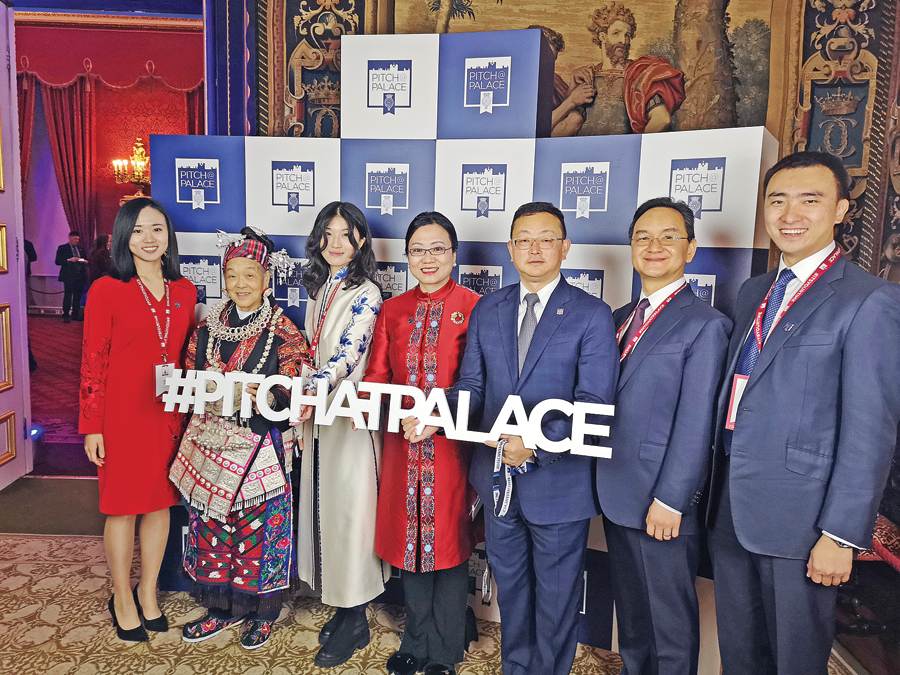 Entrepreneurs from three Chinese startups pitched their companies to British royalty as well as 300 potential investors and business leaders at St James's Palace, London, on Wednesday.
The global finals of Pitch@Palace --a startup accelerator founded by Prince Andrew, Duke of York -- featured 23 young companies from around the world that had advanced through regional contests held earlier in the year.
The Chinese finalists included retail artificial intelligence specialists YI Tunnel, autonomous driving company Pony.ai, and China Craftsmanship, which is a fashion brand that helps lift rural seamstresses out of poverty.
"China has just as much innovation as anywhere else in the world - we've seen some extraordinary businesses come out of there," said the Duke. "The three that are here today are outstanding."
Pony.ai was founded by James Peng, a former software engineer at Google and former chief architect at Baidu USA's autonomous driving unit. In February, Pony.ai become the first company to establish an autonomous ride-hailing service on public roads in China, when it soft-launched a fleet that operates a 3-kilometer route in Guangzhou, Guangdong province.
This summer, the company became China's first autonomous driving "unicorn" when it achieved a valuation of $1 billion.
At the event, Peng confirmed that the company is keen to meet with major British automakers including Aston Martin and Jaguar Land Rover to discuss potential partnerships.
"We are focusing on AI algorithms and how we can turn cars into autonomous driving vehicles. A partnership with a car manufacturer is key to our next stage," Peng told China Daily. "The UK has a tradition of great car manufacturers and Jaguar Land Rover is arguably one of the best."
Peng also confirmed that the company would like to establish a research and development center in Europe. Pony.ai already has two centers, in California and Guangzhou.
"We have a good profile in Asia and America and now we would like to get into the European market," Peng said. "The UK is very interesting, we are still exploring but so far it's top of the list."
At the event, Beijing-based YI Tunnel pitched its technology, which uses artificial intelligence solutions to transform offline retail. The company outfits shops with AI-driven vending and check-out machines, and uses big data as well as facial and merchandise recognition to improve efficiency in bricks-and-mortar stores.
Founder Yili Wu is on the hunt for introductions to large British retailers including supermarket chain Tesco.
He told China Daily that his business has already held meetings with three companies in London this week, including a well-known drinks brand and two internet technology providers.
China Craftsmanship is a startup that employs more than 8,000 embroidery workers from rural areas in China. The seamstresses, who use traditional techniques passed down through generations, create modern fashion items that are sold in high-end arts and crafts shops. The company wishes to partner with international fashion brands and bring the business model to other countries.
The Duke confirmed the establishment of a Chinese chapter of his accelerator. Pitch@Palace China will begin holding regional events throughout the country next year, under the leadership of Xia Hua, founder of Beijing-based fashion retailer Eve Enterprise Group, and Chris Yang, chairman of corporate advisory company the Hampton Group.