China, Australia celebrate cultural ties
By Wang Ru | China Daily | Updated: 2018-12-20 07:00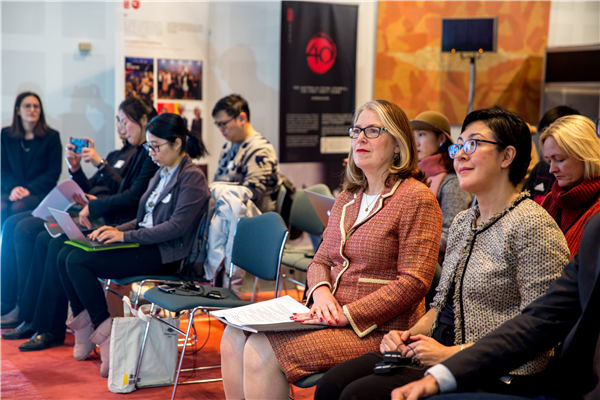 People listen carefully to the beautiful music produced by guqin-a plucked musical instrument that was widely favored by the literati in ancient times-during a special performance to spread traditional Chinese culture.
The show, held at the Australian embassy in Beijing on Dec 5, was part of a news conference to celebrate the 40th anniversary of the establishment of the Australia-China Council and the publication of a commemorative album that looks back at the past 40 years of the platform's work.
China and Australia built diplomatic ties in 1972 and, in 1978 the ACC was established to promote cooperation and communication between China and Australia in the fields of art, culture, sports and education.
According to Warwick Smith, the chairman of the ACC, "there are so many great stories of these early connections between Australia and China".
For example, crowds of Australians waited in line for hours to see the Terracotta Warriors when they went on display in Canberra, Australia, in 1983. For many, it was their first glimpse of ancient Chinese artifacts. At that time, the ACC sponsored a discovery of the funerary sculptures to help promote awareness of the exhibition.
Harold Weldon, a board member of the ACC who is also a writer, filmmaker and China adviser, says his favorite story about the ACC's work over the past 40 years is related to Chinese acrobatics.
"In 1984, the ACC invited some Chinese acrobats to come to Australia. They taught Australian acrobats some fantastic skills like juggling, balancing and dancing. The skills have been passed on, and since then many generations of Australian acrobats begin by learning those skills," says Weldon.
"Now, there is a famous Australian circus which offers performances to hundreds of thousands of people every year. It all began with the lessons from those Chinese teachers passing on their knowledge to Australians in the 1980s."
In September 1985, three trainees from Northwest China's Gansu province took part in a 14-month training program in Australia. They learned experimental techniques to improve the efficiency of sheep farming. The project also demonstrated how well-administered and thoroughly planned training programs in Australia could be beneficial to Chinese industry.
Other than the ACC story, Weldon talked about his own story related to China.
He was born in a family that manages Australia's largest book publishing and media group. He traveled to China for the first time in 1985 when his family wanted to publish some books and photo albums to commemorate the 50th anniversary of the Long March over 1934-1936. He traced the footsteps of the Red Army soldiers and traveled to many places in China.
"From then on I fell in love with China. We then did more projects about the country through the 1980s and 1990s, and into the 2000s."
The ACC has also published a commemorative album that specifies its work over the years, including history, economic diplomacy, arts and culture, education and other fields.
Speaking about the future of the ACC, Weldon says: "We need to tell our stories to each other to make us more relevant. It's a journey that never ends. It's like another Long March."
Australian Foreign Minister Marise Payne says, "The Australia-China Council is a true success story of sustained soft power engagement over decades and generations."