China forays into LNG shipping segment
By Zhong Nan | China Daily | Updated: 2018-12-24 09:56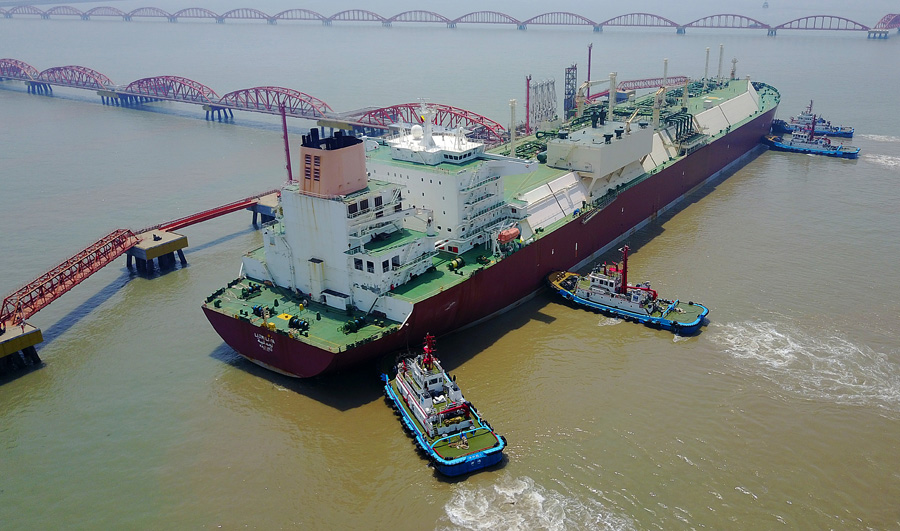 China plans to gather more resources to compete with South Korea in the field of building liquefied natural gas or LNG carriers, industry insiders said.
The country has already overtaken many of its global rivals in two sectors: offshore engineering products and mega container vessel shipbuilding, they said.
The foray into LNG carriers came after South Korean shipbuilders, including Hyundai Heavy Industries Co and Samsung Heavy Industries Co, gained 52 orders, or 86 percent of the world's total orders for LNG carriers so far in 2018, according to data of British shipbuilding and marine analysis agency Clarkson Research Services.
The remaining nine orders were shared by companies from China, Singapore and Japan.
"The global demand for LNG carriers will continue to surge in the long term, thanks to eco-friendly energy policy measures from China, India and many European countries, as well as the strong push of Russia, Australia and the United States for energy exports," said Tan Naifen, deputy secretary-general of the China Association of the National Shipbuilding Industry.
Building LNG carriers requires more advanced technology than what is used to make conventional storage tanks. They need to store LNG at a temperature of-163 C and are mostly powered by steam turbines. Each LNG carrier can be sold for $200 million to $250 million.
"Under such circumstances, we certainly see this area as a must-have and not a nice-to-have market. It's time for capable Chinese shipyards to make complex, high value-added vessels to reach buyers in new segments through international collaboration, research and development activities," said Tan.
At present, China's LNG import is still heavily dependent on foreign LNG carriers, with external capacity dependence rate around 60 percent. Only 13 shipyards are able to produce them across the world.
There are huge risks in transport safety, said Qin Jiong, vice-president of China COSCO SHIPPING Energy Transportation Co.
Once foreign shipowners stop providing capacity for political or economic reasons, the country's LNG imports could face trouble. Its energy security cannot be bought with money. China should deploy more resources to develop and build LNG carriers in an independent manner, said Li Shuwang, secretary-general of the China LNG Association.
After delivering 17 LNG carriers to shipowners throughout the world since 2008, Shanghai-based Hudong-Zhonghua Shipbuilding (Group) Co, China's only builder of large LNG carriers, delivered the first of four 174,000-cubic-meter vessels to joint investors CNOOC Energy Technology and Services Ltd and Royal Dutch Shell Plc in July.
The ships, priced at over $200 million each, can hold enough LNG to meet the demand from Shanghai for three weeks. Each ship will be used to transport 1.5 million metric tons of LNG per year from the Queensland Curtis LNG project in Australia to China, said Chen Jianliang, chairman of Hudong-Zhonghua.
The three remaining LNG carriers, currently under construction at the shipyard, are scheduled for delivery by 2019. All of them will operate under 20-year time-charter deals with Methane Services Ltd, part of Royal Dutch Shell Plc.
According to global independent maritime research consultancy Drewry, China will import between 60 million tons and 100 million tons of LNG annually by 2022, indicating that the global market will need around 60 to 100 LNG carriers by that time to ferry all that cargo.
It is estimated that there will be around 500 LNG carriers worldwide by the end of this year and the number will jump to 600 by 2022.
Keen to ensure its market leader position, South Korea plans to invest around $2.5 billion by 2025 in strengthening the LNG storage and shipping sectors, including around $620 million in financing and loan guarantees worth $880 million annually, its Yonhap News Agency reported last month.
Related Stories