Israel PM Netanyahu calls for early elections
China Daily | Updated: 2018-12-27 10:27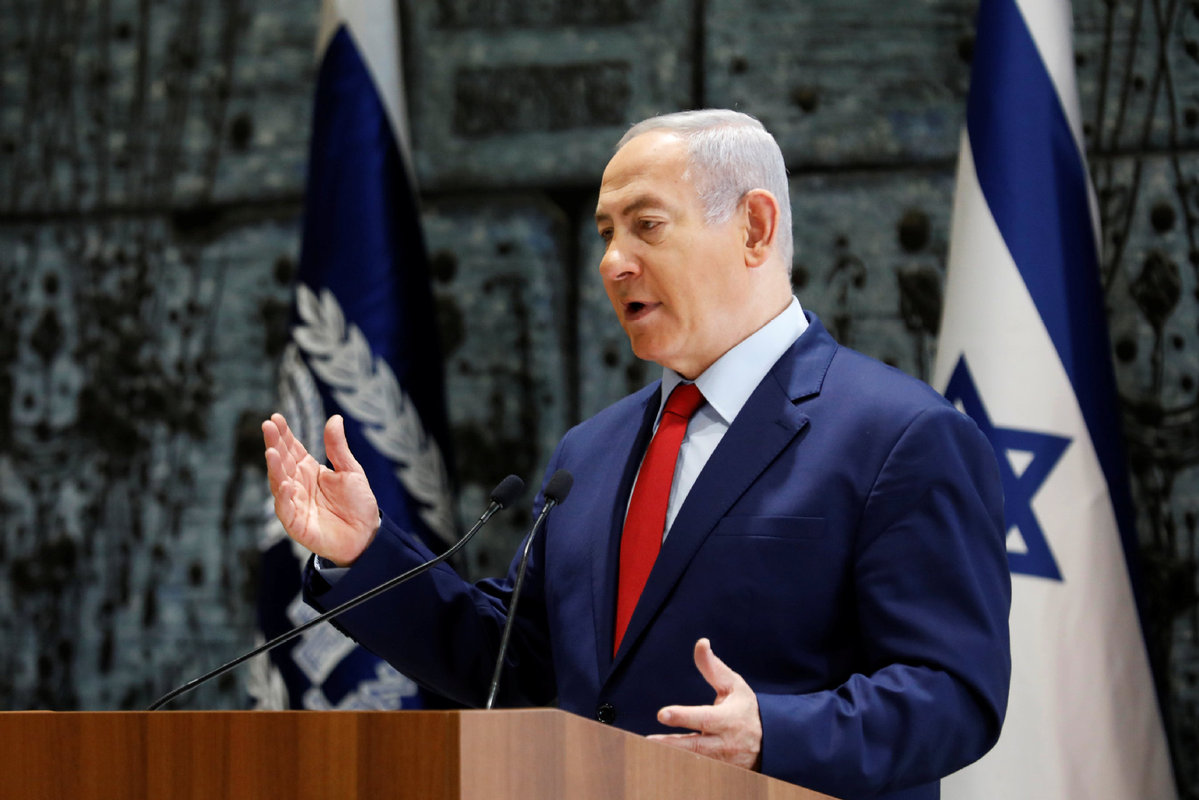 JERUSALEM - Israeli ruling coalition's decision on Monday to dissolve the parliament and hold early elections has led the country into a three-month rocky election campaign, as incumbent Prime Minister Benjamin Netanyahu is under investigation over corruption allegations.
A decision by the Israeli attorney general on whether to indict Netanyahu is looming, although no specific date has been set.
Heads of Netanyahu's six coalition parties issued a statement on Monday, saying they "unanimously agreed" to dissolve the Knesset and call for early elections.
The parliament is expected to disperse on Wednesday and the elections will be held on April 9, 2019.
The announcement came after it became apparent that Netanyahu's narrow coalition could not secure a vote on a contentious law about drafting ultraorthodox Jews into the Israeli military.
For months, there has been speculation that the Israeli leader will bring move up elections originally scheduled for November 2019.
Political analysts said Netanyahu prefers to head to the polls while under investigation rather than already indicted, as some of his coalition partners have vowed to demand his resignation if he is indicted.
"The prime minister understands that the noose around his neck is tightening," said Zehava Galon, former member of parliament and former head of the left-wing Meretz party.
So far, Netanyahu has categorically denied all allegations, saying "there will be nothing, because there is nothing".
Meanwhile, a day after snap elections were called, Netanyahu emerged as the overwhelming early front-runner on Tuesday. All eyes are now on Attorney General Avichai Mandelblit and whether he will decide before April's elections on whether to press charges against the longtime leader on a series of corruption allegations.
"Avichai Mandelblit needs to tell us before the elections if there is an indictment or not," Yesh Atid leader Yair Lapid, one of Netanyahu's primary challengers, told the YNet news site. "People need to know what they are voting for."
Israeli media has reported that Mandelblit said his decision on the indictment is independent from the political timeline.
However, Mandelblit also said he would not publish the decision around the time of elections, with an apparent aim not to influence the democratic process.
"The timing for Netanyahu now is perfect," Galon said.
Netanyahu, who also served a short term as Prime Minister in the 1990s, has been Israel's top leader for the past decade.
His current four-year tenure is the longest in decades in a country known for plenty of political turbulence.
Netanyahu has been leading in the polls for years, with no challenger significantly threatening him. Still, the ongoing corruption investigations are likely to make the upcoming election a real risk for the leader.
However, the real driver of the decision to call early elections was perhaps the announcement by State Prosecutor Shai Nitzan last week that the police had completed investigations and his office would soon submit recommendations for the attorney general.
"A corruption indictment means the end of Netanyahu's political career ... He cannot afford to limply run in an election campaign," said Reuven Hazan, a professor at the political science department of Hebrew University.
Xinhua - AP