Bolsonaro sworn in as Brazil's president, calls for rebuilding Brazil
Xinhua | Updated: 2019-01-02 07:02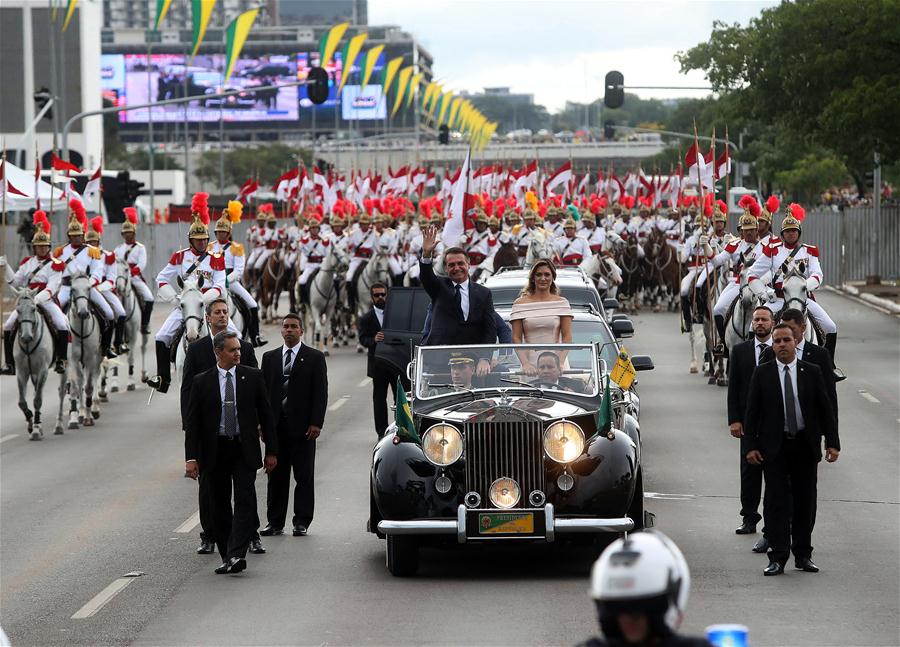 BRASILIA - Army captain-turned-politician Jair Bolsonaro was sworn in as Brazil's president on Tuesday amid heightened security.
Bolsonaro, 63, took the oath of office at 3:10 pm local time at a ceremony held at the National Congress building in the capital Brasilia.
Bolsonaro, a member of the conservative Social Liberal Party, and his vice president, retired general Hamilton Mourao, pledged "to maintain, defend and respect the Constitution, abide by the laws, promote the general well-being of the people, sustain the unity, integrity and independence of Brazil."
The president then swore in his cabinet, which represents the sectors that form the base of his support: the military, evangelical church, agricultural producers and financial market.
Elected in an October runoff with 55 percent of the votes, Bolsonaro campaigned on a platform to fight crime and boost security, increase employment and combat corruption.
In his inaugural speech, Bolsonaro called for unity, and a pact between society and the three different branches of government "to rebuild our country."
A devout Catholic, Bolsonaro began his speech by thanking God for being alive, referring to the stabbing he survived on Sept 6 while on the campaign trail. The attacker turned out to suffer from mental problems.
A conservative former military man, Bolsonaro reiterated his campaign pledges to pursue fiscal responsibility and economic growth, and promote Judeo-Christian values.
"We will carry out structural reforms that will be essential for the financial health and sustainability of public accounts. We need to create a virtuous cycle and open our markets to international trade," said Bolsonaro, as he addressed lawmakers at the National Congress.
"We have a unique opportunity to rebuild our country and revive the hopes of our compatriots," Bolsonaro added.
He also pledged "to protect and reinvigorate Brazilian democracy," and seek a society "without discrimination or division."
Bolsonaro concluded his speech with his signature refrain: "Brazil above all and God above everyone."