Hope for end to US-China trade troubles
By CHEN WEIHUA | China Daily | Updated: 2019-01-02 09:54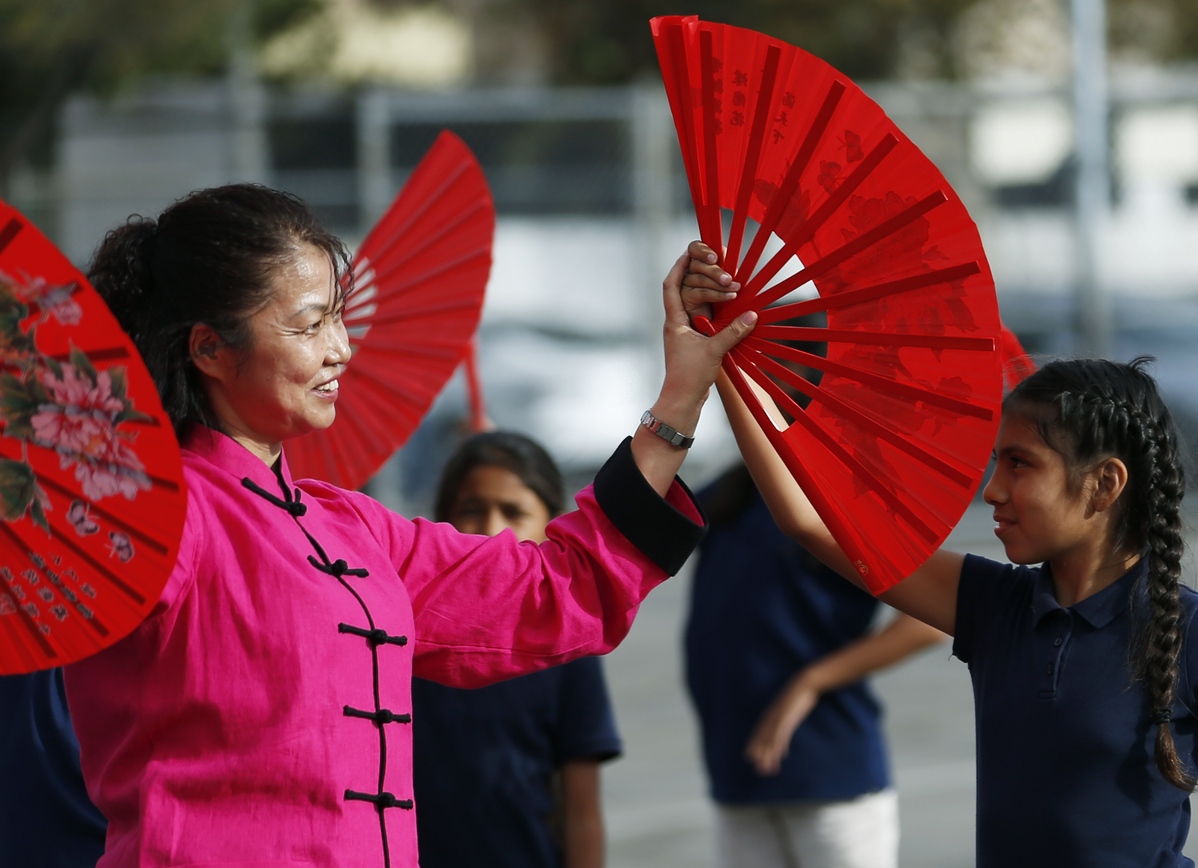 The two countries could be nearer to ending their six-month tariff dispute
China and the United States could be inching closer to calling off their trade feud, some analysts in both countries believe.
President Xi Jinping and US President Donald Trump both spoke positively of their phone conversation on Saturday, during which they hoped an agreement beneficial to both nations and the world could be reached.
The US has imposed punitive tariffs on $250 billion of Chinese exports since July, and China retaliated by levying new tariffs on $110 billion of US exports. The tit-for-tat tariffs have triggered grave concern of an all-out trade war between the world's two largest economies.
Xi and Trump, when meeting on the sidelines of the G20 summit in Buenos Aires on Dec 1, agreed to refrain from imposing new tariffs, a move described by some as a 90-day truce.
"President Trump's upbeat assessment of this most recent conversation with President Xi gives rise to the hope that bilateral trade tensions soon will be ratcheted down significantly," said Nicholas Lardy, a senior fellow at the Peterson Institute for International Economics, referring to Trump's upbeat tweet after the phone talk with Xi.
Lardy believes that the way out is for each side to compromise, but he said it won't be easy, due to domestic reasons in both countries.
"I fear each side has an insufficient understanding of the nature of policymaking in the other country, which increases the risks of the current situation," said Lardy, author of an upcoming book, The State Strikes Back: The End of Economic Reform in China. In the book, he argues that China's future growth prospects are bright but more reform of State-owned enterprises is crucial.
This year marks the 40th anniversary of the establishment of China-US diplomatic ties, with the two countries more interdependent and intertwined. Bilateral trade exceeded $580 billion in 2017. Accumulated two-way investment jumped to $230 billion. And more than 300,000 Chinese students are studying in US universities and colleges.
On Tuesday, Xi and Trump exchanged congratulations on the 40th anniversary of the establishment of China-US diplomatic relations, according to Xinhua News Agency.
In his congratulatory message, Xi said China-US relations have experienced ups and downs and made historic progress over the past 40 years, bringing huge benefits to the two countries and contributing greatly to world peace, stability and prosperity.
History has proved that cooperation is the best choice for both sides, Xi said.
"I attach great importance to the development of China-US relations and am willing to work with President Trump to summarize the experience of the development of China-US relations and implement the consensus we have reached in a joint effort to advance China-US relations featuring coordination, cooperation and stability, so as to better benefit the two peoples as well as the people of the rest of the world," Xi said.
Trump said great progress has been made in the development of the bilateral ties. He added that it is his priority to promote cooperative and constructive US-China relations, adding that his solid friendship with President Xi has laid a firm foundation for great achievements of the two countries in coming years.
Douglas Paal, vice-president for studies at the Carnegie Endowment for International Peace, believes the bilateral relationship is already past the crossroads, and the issue now is whether the two sides can find a way to manage the costs of contention.
"There are vested interests on both sides, which see benefits in greater friction. Leaders need to control them better in the pursuit of peace at acceptable costs," he said.
Cheng Li, director of the John L. Thornton China Center of the Brookings Institution, went a step further, describing the bilateral relations as "at cliff's edge" and adding, "It requires prompt measures by leaders of the two countries to pull it back."
Li believes that calling the relationship at a "crossroads" has diminished a sense of urgency and crisis for the issue, which he said Chinese leaders are more aware of than US leaders.
Shen Dingli, a professor of international relations at Shanghai-based Fudan University, said that many in the US think that China aspires to replace the US as the world's top leader. "Therefore, Washington has to do whatever it takes to stop Beijing," said Shen, clearly referring to the China containment strategy that many in China believe the US has been pursuing.
Many Chinese officials and pundits believe that the US has misread China's intentions. Foreign Minister Wang Yi said at the New York-based Council on Foreign Relations on Sept 28 that "China will neither become another US, nor challenge or replace the US".
The 2018 US National Security Strategy and US National Defense Strategy called China a strategic competitor and a revisionist power that aims to challenge US interests, which led many to believe that the US has taken a more hawkish attitude toward China. That, in the view of many in China, was evidenced by some recent US laws and measures to restrict technology-related trade and investment by China.
Li, of Brookings, believes it's premature to say that the US has formed a containment strategy. "If this were true, there would be no incentive to cooperate anymore," he said.
He said that while Republicans and Democrats share some views on China, there is no consensus on "waging a trade war" or the "decoupling" of the two economies, adding that a decoupling would be disastrous for the world economy.
Li suggested that both sides should be aware of how each country is viewed by the other, and it is important for both countries to put their own houses in order.
China announced a series of measures for further opening its economy as the country marked the 40th anniversary of reform and opening-up in 2018. On Dec 25, China rolled out a negative list for market access. The formal version of the negative list for market access includes 151 items and 581 specific rules, down by 177 and 288, respectively, compared with the previous draft.
A draft law on foreign investment to replace three existing laws is awaiting approval from the Standing Committee of the National People's Congress, the country's top legislature. It includes clauses to ban forced technology transfer.
On Sunday, Chinese Foreign Ministry spokesman Lu Kang said China stands ready to work with the US to move forward China-US ties underpinned by coordination, cooperation and stability.
Teams from the two governments are reportedly working closely in order to reach a deal as soon as possible.