French pet food maker aims to improve animal care quality
By Xu Junqian in Shanghai | China Daily | Updated: 2019-01-04 13:08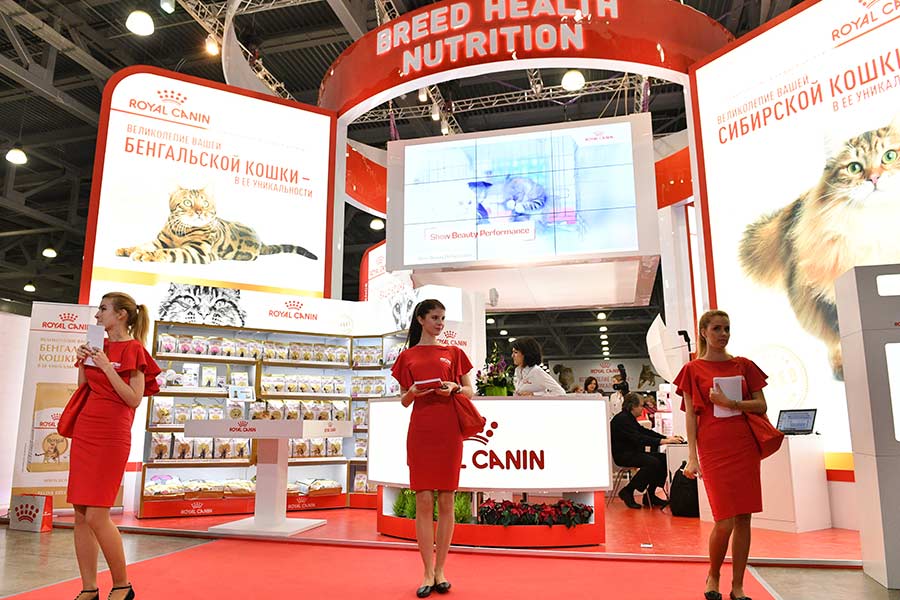 As French pet food manufacturer Royal Canin celebrates its 50th anniversary globally by initiating talks on how to adapt the urban environment to animal needs, and whether AI pets will replace real ones, the subsidiary of Mars Inc is focusing specifically on one mission in China: increasing the penetration of veterinary clinics.
"The way Chinese do social shopping online and mobile shopping is really the most advanced in the world. As for professionals, however, it's still behind many countries. And we want to promote that because animal care is not something you can learn on your own," said Loic Moutault, president of Royal Canin.
As one of the fastest-growing markets for the pet industry, China boasted a pet economy of 170.8 billion yuan ($24.9 billion) in 2017, up by 27 percent year-on-year, according to a report released by the Pet Fair Asia. The pet population in China reached 91.49 million, owned by 56 million households.
In contrast, there are only 77 universities in China that include veterinary medicine as a major, and just one is designed specifically for small animals such as cats and dogs.
"Developing the professionals and establishing a trusting relationship between pet owners and professionals will be one of our biggest challenges in China. But once we achieve that, it will also be our biggest opportunity," said Moutault.
Founded in the South of France in 1968 by a veterinary surgeon, who successfully cured the skin and condition problems of the furry animals by replacing their diet from table scraps to celery-based feed, the brand is now one of the top three globally, together with Nestle's Purina Petcare and Colgate's Hill's Pet Nutrition.
Despite its dominant position worldwide, the brand is largely absent on the retail end, but remains a supplier to breeders, specialty stores and vet offices.
Today, China also stands out as the first market where Royal Canin operates a store of its own on Alibaba's e-commerce platform Tmall.
The company has advocated "making a better world for pets" for half a century - arguably the fastest-evolving period in history for animal science. Moutault talked to China Daily about the progression of the relationship between pets and human beings, as well as the role of the Chinese market.
How do you think the pet industry has evolved over the past half century since Royal Canin was established?
If you look at dogs, they used to live in the backyard outside, then moved into the living room or the basement, and later into the kitchen. Now they are sleeping on the bed with their owners.
That's the evolution of pet ownership. Over time, animals have really become part of the family. Fifty years ago dogs, were kept to guard, to bark and to work. Now they are more treated as a member of the family, and the meaning of owning a pet to us human beings is much more understood and shared.
What are the reasons behind this evolution? With social media and technology advancement, why do human beings need animals more than before?
The more we urbanize ourselves and become super connected via tech, the more we long for a return to nature. We call it trend and counter-trend.
I think what animals have given us is a connection. Every human being is wired to care for another life. If you want to feel good about yourself, you need to care for others. Of course it can be your friends, parents, and kids, but it also can be a pet.
Taking care of a pet is rewarding. And because caring for a pet is easier in many ways, as it is not demanding and offers unconditional love, the response is more immediate and gratifying.
What we see around the world is that pet ownership is almost correlated with the development of a country. The more developed a country is, the higher rate is its pet ownership, as we can see in Switzerland, Canada and Japan. With the development of the Chinese economy, the rate is also going up.
Scientifically, it is also proven that as we interact with animals, there is the hormone of love, oxytocin, that is produced both within the bodies of human beings and the animals, which calms and de-stresses you.
How is Royal Canin adapting to this evolution?
The big difference between human food and pet food producers is that no human food producer is responsible for more than two or three percent of your diet. But when you give the food to your cats or dogs, 80 percent, if not more, of its calories comes from the product. So our responsibilities are much bigger than any human food providers.
But meanwhile, it also gives us a much more powerful impact on the health of animals. For example, if a dog is limping, and we put him on a mobility diet, he can soon run again.
So for us, the change was 50 years ago. We started with one application, which was really dermatology. Our portfolio moved from one stockkeeping unit to 350 formulas. We understand much better the early stage of animal life or even before birth.
What has also changed is we are doing this through an increasing number of professionals. Today we work with 200,000 professionals around the world. The access to insights and observations, as well as the ability to conduct clinical trials and build evidence is much bigger than when we started.
How would you characterize China's pet food market?
Royal Canin is a leading brand in China, which is very unusual as we are expensive and distributed within a small network. I guess this is because people who have pets want to take care of them properly and this has enabled us to develop very fast in China.
I was very impressed by the Singles Day campaign by our Chinese team, who not only created opportunities via the shopping festival with price discounts, but by livestreaming things like how to take care of puppies and kittens. So it's a combination of education and promotion. Sales exceeded 90 million yuan in one day.
Will China become the largest market for the brand?
Yes, China will become the largest. It will take time. I don't want to give a prediction about the time because I want quality growth, which means selling through the right channels, and building the market first.
Currently it is the third-biggest market for us, after the United States and Russia.
How did you start working in the pet food industry?
I joined Mars' chocolate department with the finance team. With the fall of the Berlin Wall, I helped to develop the markets in Eastern Europe for pet food, where Mars created the category.
What I really like with this industry is that it's highly emotional, just like baby care. It's not like buying soup or a bag of potato chips. People are very involved, which means you can play a very important role and it's fun.
Very often when I go to dinner in private, people ask what I do. I tell them I work for Royal Canin, and they start talking about their pets immediately. They tell me the problems of their cats and dogs, and we just connect.
It's fascinating and very rewarding. You don't get that from selling chocolate or shampoo.