China and Pakistan are friends in times of need
By Zamir Ahmed Awan | chinadaily.com.cn | Updated: 2019-01-04 13:21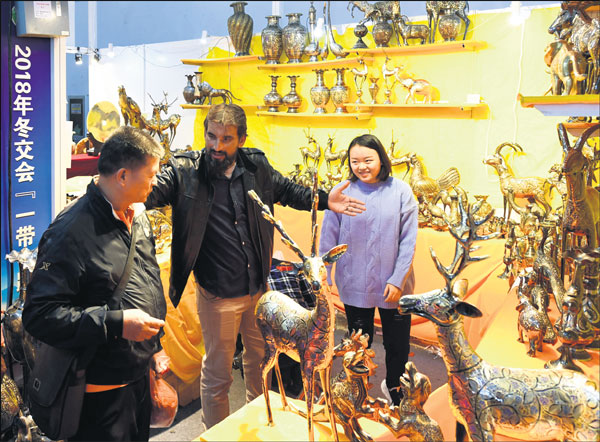 There's an old saying: "A friend in need is a friend indeed". But today, the world has become so materialistic that nations only look after their own interests. In particular, Western values are generally based only on gains, while Eastern cultures are totally different and value centuries-old traditions.
China and Pakistan are Eastern countries possessing similar cultural values. In our cultures, a friend is always a friend, even though he may be in trouble.
Pakistan is experiencing its worst economic crisis. The external debt has reached up to $95 billion. The economy is also in bad shape, as exports have dropped in the last couple of years and foreign remittances from overseas Pakistanis, the other major source of foreign exchange, have witnessed a sharp decline too.
It was a panic-like situation for the new government, which took charge in August 2018. The problems were numerous and an unexpected economic crisis was a rather tough challenge. Under these circumstances, friendly nations came forward to rescue Pakistan.
Saudi Arabia offered $6 billion, while the United Arab Emirates, Kuwait, Qatar and China also provided immediate financial assistance, ultimately stabilizing Pakistan.
On Jan 3, 2019, China reaffirmed that it will continue to provide all-around support to Pakistan for its socioeconomic development. Commenting on Wednesday media reports regarding the $2 billion in aid to Pakistan, the spokesman of the Foreign Ministry Lu Kang said that China and Pakistan are all-weather strategic partners. "China has been and will continue to provide support and assistance to Pakistan's economic and social development through assistance, trade, investment and all-around pragmatic cooperation. The two sides have actually maintained close communication on relevant cooperation," he added.
In fact, China-Pakistan relations are based on a very strong foundation and cannot be understood by most of the Western world. We are all-weather, time-tested and all-dimension friends in the purest sense. We have always stood with each other during all the difficult moments in the past and will remain united together in the future.
China and Pakistan are on the same page on issues, from domestic and regional to international. We protect each other's interests and support each other on all fronts. More precisely, we complement each other.
China is helping Pakistan in all sectors, from economy and agriculture, to industry and education. Our relations cover a very wide and comprehensive spectrum.
China launched the Belt and Road Initiative with the objective of sharing the fruits of Chinese development with other countries, including its friendly neighbors. The China-Pakistan Economic Corridor (CPEC) is a flagship project under the BRI. Around 11 projects under CPEC have been completed and another 11 are in the advanced stages of execution. The finished projects serve as oxygen to the ailing economy of Pakistan, with some even generating revenue.
While the first phase of CPEC has focused on power and infrastructure, the second phase, which will soon be launched, involves industrialization. Special economic zones will accommodate Chinese industries and contribute to the rapid development of the industrial sector of Pakistan. Industrialization will generate jobs for Pakistani youths and enhance national productivity. It will also meet domestic market demand, which can reduce Pakistan's import bill, and create the potential for more exports, which can enhance the country's badly needed foreign exchange.
China is helping Pakistan to overcome the economic crisis. This assistance is part of our traditions and is also in line with the saying, "A friend in need is a friend indeed".
The author is a Sinologist and nonresident fellow of the Center for China and Globalization, National University of Sciences and Technology, Islamabad, Pakistan.