Trump would take a steel wall
By REUTERS and CHINA DAILY | China Daily USA | Updated: 2019-01-07 23:11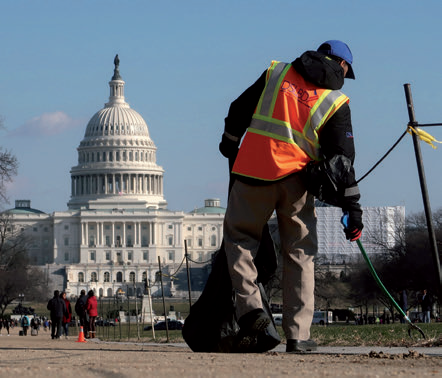 Amid shutdown, president floats compromise over barrier on border with Mexico
US President Donald Trump on Sunday pledged not to bend in his demand for a wall along the border with Mexico but said it could be made of steel instead of concrete as a potential compromise with Democrats who refuse to fund the project.
Trump's comments came at the start of the third week of a partial government shutdown that has left hundreds of thousands of federal workers idled or without paychecks.
Democrats, led by new Speaker of the House of Representatives Nancy Pelosi, consider the wall to be "immoral" and have declined to approve the $5.6 billion Trump wants to make good on the signature promise of his 2016 presidential campaign. Democrats, who took control of the House last week, passed a bill to reopen the government without wall funding.
The debate was a "very important battle to win from the standpoint of safety, number one, (and) defining our country and who we are," Trump told reporters at the White House.
"The barrier, or the wall, can be of steel instead of concrete, if that helps people. It may be better," he said.
Vice-President Mike Pence led a second round of talks with congressional aides on Sunday, but Trump said he did not expect those talks to produce results.
Mick Mulvaney, Trump's acting chief of staff, told NBC's Meet the Press that agreeing to a steel separation would allow Democrats to stick to their refusal to fund a wall.
Large parts of the federal government were shut down on Dec 22 after lawmakers and the president hit an impasse over Trump's demands to build a wall. About 800,000 government workers are either furloughed or working without pay.
In a Jan 2 letter to Trump, Captain Joe DePete, president of the Air Line Pilots Association, International, writing on behalf of the 61,000 pilots of the association, called for an end to the shutdown "that is adversely affecting the safety, security and efficiency of our national airspace system".
The closing of the Securities and Exchange Commission during the shutdown could affect financial markets, including slowing some highly anticipated stock offerings by companies such as Uber and Lyft, The Washington Post reported.
Most of the Department of Housing and Urban Development's (HUD) enforcement activities have been suspended, including mandatory health and safety inspections of housing for low-income families, the elderly and people with disabilities, according to a HUD contingency plan.
And for those looking for a tax refund, the Internal Revenue Service will continue to accept income tax returns, as well as tax payments, but it won't issue refunds during the shutdown, according to marketwatch.com.
Gary Shapiro, Consumer Electronics Association president and CEO, in an email to CES attendees on Saturday, said the ongoing US government shutdown has affected some of the schedules and programs of the tech show.
"Because of the government shutdown, some of our scheduled government speakers at CES 2019 have alerted us that they must cancel their travel to the show. As a result, some of our scheduled CES 2019 programming and speakers will change," Shapiro wrote.