China must prepare to tackle more trade disputes
By Yan Se/Liu Qiao | China Daily | Updated: 2019-01-08 06:49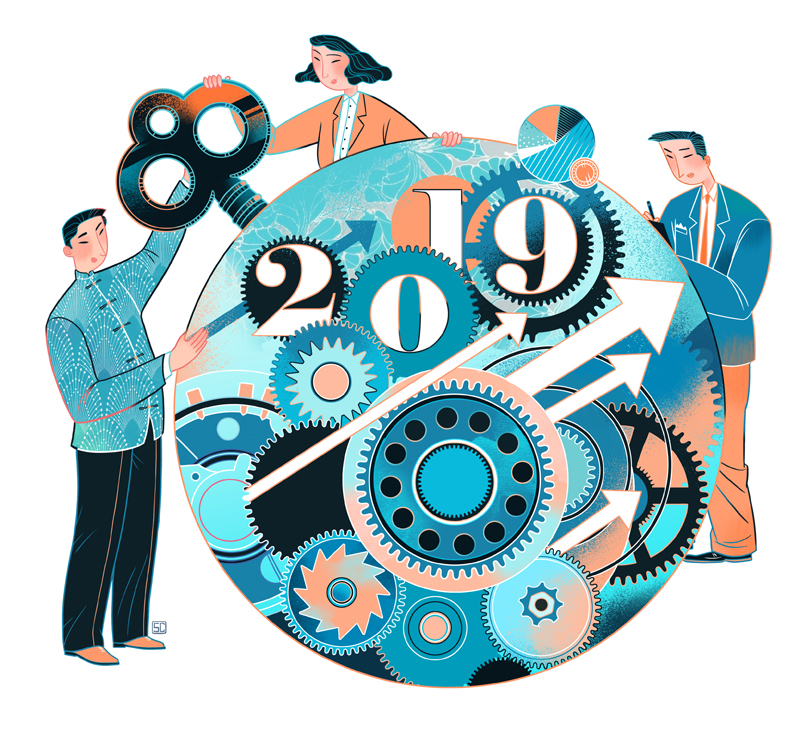 This year marks the 70th anniversary of the founding of the People's Republic of China. It is also a crucial year for stabilizing economic growth, implementing the 13th Five-Year Plan (2016-20) and building a moderately prosperous society in an all-round way.
Despite the uncertainties of last year, this year China's top decision-makers have given many positive policy signals for growth. These signals, from the recent meeting to commemorate the 40th anniversary of reform and opening-up to the earlier Central Economic Work Conference, mean fiscal and monetary policies aimed at stabilizing overall demands may be a little more relaxed this year, and the policies and measures used to tackle such complicated global issues as the trade frictions with the US may be more flexible.
If China adopts such a policy approach, its economic growth and financial market may gradually recover in the second quarter of 2019, and the economy may buck the downward trend to achieve steady growth for the whole year.
More flexible GDP growth target likely
The government will likely set a more flexible GDP growth target for 2019, but it would be around 6.3 percent, which can strike a relatively good balance between stabilizing economic growth and forestalling economic and financial risks. And if a GDP growth above 6.3 percent is maintained-which will raise nominal GDP to $14.93 trillion and per capita GDP to $10,600-China will have a better chance of doubling its GDP and per capita income by 2020 from the 2010 level, which are vital to building a moderately well-off society by 2020.
Given that 2019 is a crucial year for building a moderately well-off society, China is expected to put equal emphasis on deepening supply-side structural reform and expanding domestic demand, particularly maintaining an overall demand balance, as the focus of its economic work.
The top authorities are expected to accord priority to stabilizing economic growth and overall demand, by adopting supportive demand-end policies to accelerate such reform. Decision-makers could also make more timely counter-cyclical adjustments to fiscal and monetary policies. And as a means that can work at both the demand and supply ends, tax reduction could be used as a major economic policy to propel quality development of the manufacturing sector.
Although reform measures may become more reasonable and moderate, the authorities will also likely strengthen market-oriented reforms. And since the CEWC has laid emphasis on market-oriented reforms, the authorities will take measures to optimize the supply-side structure and make supply more efficient, in order to provide greater support for the development of the private sector and small and micro businesses, create a law-based institutional environment, and expedite State-owned enterprises' reform to create a level playing field and allow the market and market players to play a bigger role in the economy.
Direction of reforms to be more reasonable
The message from the CEWC, combined with the specific policies and land reform measures recently introduced to support private enterprises, shows the direction of reforms this year will be more reasonable, which will help dispel market doubts and raise private enterprises' expectations and boost their confidence in the market.
Fiscal policy will be a main driver of steady economic growth, as proactive fiscal policies become more effective. Plus, the expected increase in special debts will lead to a sharp rebound in infrastructure investment, and the likely implementation of more tax and fee reduction measures will check the downturn and accelerate the economic recovery.
According to Liu Kun, minister of finance, the scale of tax and fee cuts owing to the measures introduced in 2018 may exceed 1.3 trillion yuan ($203 billion) in 2019, and the authorities are contemplating introducing more tax reduction measures. Judging by the extensive discussions the CEWC had on specific measures to cut taxes and fees on a larger scale, such cuts are likely to intensify in 2019, bringing the total reduction to 1.5-2 trillion yuan in the whole year.
As for taxation, more preferential tax policies will likely be implemented this year. Over the past few years, the value-added tax revenue collected from enterprises has grown at a relatively fast pace, so the government could moderately reduce the VAT burden on enterprises, by streamlining its ongoing VAT reform and cutting corporate income tax.
Tax cuts will prompt firms to invest more
If implemented, these tax cuts will encourage enterprises to invest and produce more. The individual income tax reduction measures, including the tax deduction for six types of expenses, which came into effect on Jan 1, will further expand the scale of tax cuts. In fact, the raised personal income tax threshold alone will reduce taxes by 320 billion yuan in 2019.
The post-CEWC communiqué said that China will implement a "sound" monetary policy in 2019, reflecting the flexibility of monetary policy. In this regard, the central bank could strengthen the counter-cyclical adjustment of its monetary policies and make more efforts to solve their structural problems.
Aside from tightening financial supervision and regulation, the authorities will also fine-tune financial policy so as to maintain a relatively abundant amount of liquidity. Yet the central bank is not likely to introduce a large-scale stimulus to boost the economy. It may not lower the benchmark interest rate, though, moderately increasing the money supply.
The central bank may also use a variety of structural targeted monetary policy tools, albeit flexibly, for liquidity adjustments. Besides, the room for the central bank's monetary policy adjustments has widened and its counter-cyclical adjustment intensified-and it attaches greater importance to strengthening its monetary policy transmission mechanism and addressing the structural liquidity shortage problem.
On the external front, the trade tensions between China and the United States are expected to ease this year, although the strategic competition between them could intensify, because even if the two sides reach an agreement in early March to settle their trade conflict, it will not resolve all their trade issues. In fact, given the incumbent US administration's efforts to assert its supremacy in every aspect of international relations, Sino-US trade frictions could keep recurring frequently.
Vital to protect core strategic interests
So, while firmly safeguarding its core strategic interests, China should stick to a no-confrontation policy, further open up its economy, promote innovation in the field of science and technology, and upgrade its manufacturing sector.
However, China and the US both would like to reach a compromise on the trade dispute. The downward pressure on the US economy is increasing, especially because recent US economic data painting a gloomy outlook have made more market players pessimistic, which in turn has caused the US stock market to drop sharply. Also, since US President Donald Trump may be keen on seeking re-election, he may ease the pressure on China once some of his requirements are met in a bid to win back some of his lost support. Which in turn will ease the Sino-US trade frictions.
In China's case, slower export growth due to the trade frictions is increasing the pressure on the job market and overall growth. First, although Sino-US trade frictions didn't directly affect China's export growth last year, many of its leading indicators such as the Purchase Manager's Index for new export orders, Guangdong province's PMI and the export volume for the Canton Fair have all declined.
Second, China and the US still enjoy comparative trade advantages, and the US' requirements such as better intellectual property rights (IPR) protection and market access expansion are not in conflict with China's deepening reform and opening-up. For instance, China has shown a positive attitude toward some of the US' requirements, protect the legal rights and interests of foreign investors in China, especially their IPR, and allow them to have sole proprietorship in more sectors.
As such, China and the US are expected to reach a trade agreement and avoid imposing higher tariffs on each other's products, which will help ease the depreciation pressure on the yuan and prevent China's foreign exchange reserves from falling below $3 trillion.
No change in Sino-US trade relations likely
However, the trend of Sino-US trade relations shifting from cooperation and open trade to competition for core technology will not change. Since China has already surpassed Japan and the European Union in high-tech manufacturing in terms of scale and is fast climbing up the division of labor ladder, its competition with the US in high-end manufacturing will be fiercer.
More important, since the US listed China as a long-term strategic rival in its National Security Strategy report in December 2017, even if the two sides reach a trade agreement, the US' strategy of containing China in core technologies and key industries will not change. In fact, the US could impose more restrictions on Chinese investment in the US, demand that China further open up its domestic market, limit technology transfer and exports of critical equipment to China, as well as reduce the import of high-end manufactured goods from China.
Given that a new generation of political elites in the US has become more hawkish and the hardliners in the US administration remain strong, Sino-US disputes over trade, technology and national security will continue. So China should be fully prepared to tackle them appropriately.
Yan Se is an associate professor in the Department of Applied Economics, Guanghua School of Management, Peking University, and Liu Qiao is dean of the school.