A shares firm up on moves to boost liquidity
By Zhou Lanxu | China Daily | Updated: 2019-01-08 08:45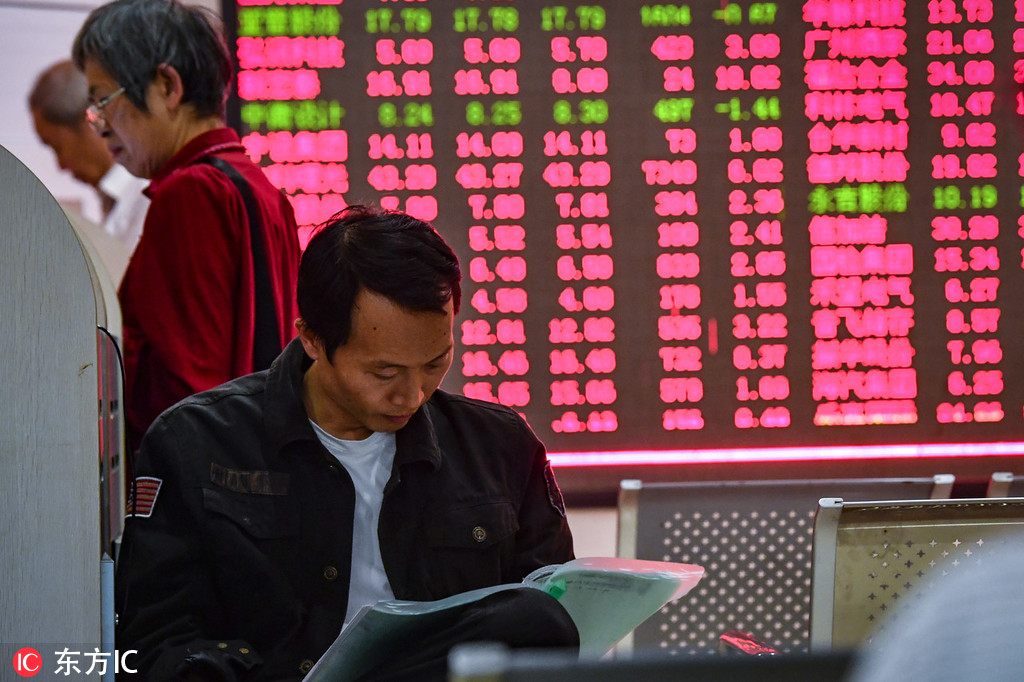 Over 90% of stocks see price gains on positive, prudent monetary policy signal
China's A-share market ended higher on Monday as the central bank's move to boost liquidity lifted investor sentiment.
The benchmark Shanghai Composite Index gained 0.72 percent to 2533.09 points, while the smaller Shenzhen Component Index closed 1.58 percent higher at 7400.2 points.
A total of 3,206 stocks, or 92 percent of A shares, saw price rises on Monday, with companies in defense, communications, electrical equipment and software sectors leading the gains.
"Signals that future monetary policy will be more supportive of the economy have triggered the short-term recovery in investor sentiment," said Li Shaojun, chief strategy analyst at Shanghai-based Guotai Junan Securities.
Late on Friday, the People's Bank of China announced it will cut the reserve requirement ratio for all financial institutions by 1 percentage point in two phases in January.
The cuts will inject a net amount of nearly 800 billion yuan ($116.8 billion) of capital into the economy, the central bank said.
The move suggests regulators are likely to fine-tune monetary policy to stabilize the economy in the future, despite an unchanged prudent monetary policy stance, analysts said.
"In the longer term, the influence of the RRR cut and other monetary policy moves to support the economy (as reflected on the stock market) will depend on whether money supply growth prompts credit growth," Li said in a note on Monday.
According to Dai Kang, chief strategy analyst with Guangzhou-based GF Securities, A shares' gains on Monday were also underpinned by United States Federal Reserve Chairman Jerome Powell's comments on Friday that the Fed will be patient and flexible in policy decisions this year.
Dai said Powell's comment has induced "marginal easing in concern over global liquidity strain", with bourses in the Asia-Pacific region closing with an upbeat tone on Monday.
"Looking ahead, downward economic pressure and expectations of further policy easing will jointly influence the market, making fluctuations inevitable," said Xie Chao, an analyst from the Shanghai-based Everbright Securities.
With the opening of the science and technology innovation board approaching, analysts expect tech shares could maintain their positive performance seen on Monday.
Expected to launch in the first half of 2019, the board is set to become an equity financing platform for high-quality innovative firms in China.
In the long run, the board will enable private equity funds and venture capital funds to liquidate investment via IPOs more easily, as they invest heavily in unlisted innovation-orientated companies, said Zhang Xia, chief strategy analyst at the China Merchants Securities.
"Therefore, the board will encourage private equity and venture capital funds to invest more in these companies," Zhang said.
In the short run, the first batch of tech companies to list on the new board are likely to achieve high valuations, at least for a short period after their debuts, Zhang added.
This will make listed companies with similar fundamentals but lower valuations on other boards look tempting.
Dong Yuwen contributed to the story.
Related Stories