Kevin Spacey pleads not guilty to sexual assault
By BELINDA ROBINSON in New York | China Daily USA | Updated: 2019-01-08 23:27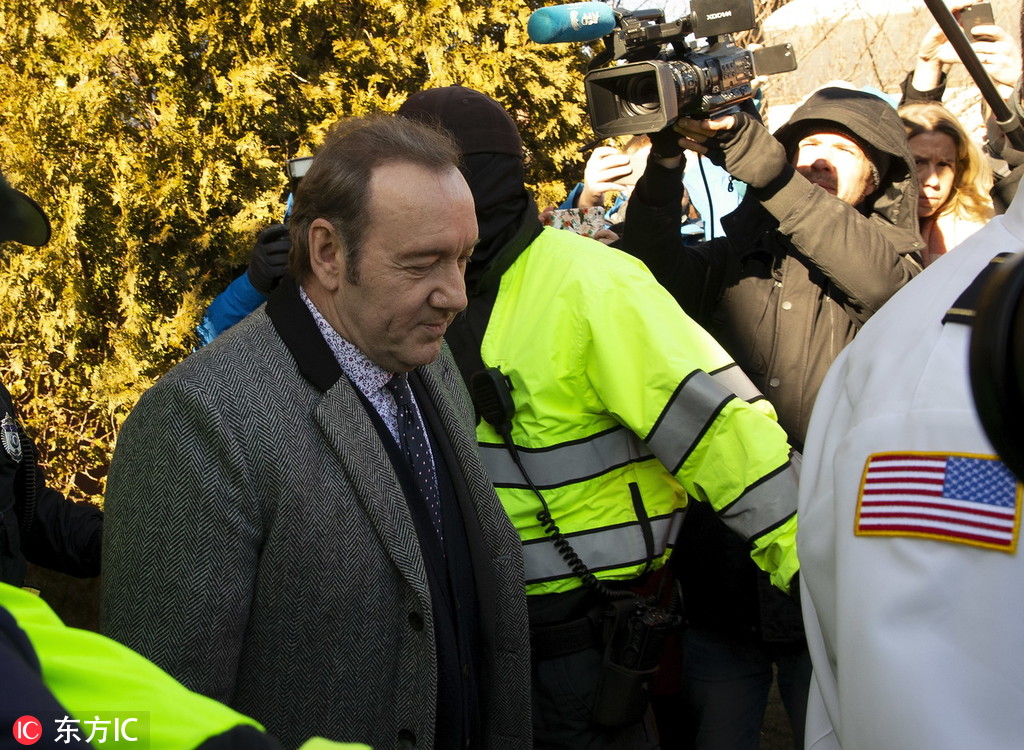 Actor Kevin Spacey, the House of Cards star, was all smiles on Monday as he walked past cameras and later delivered just two words: "Thank you."
But it wasn't a rehearsal, It was in a court on the island of Nantucket, Massachusetts, where he pleaded not guilty to a charge of sexually assaulting an 18-year-old man in a bar.
Spacey, 59, is facing one count of indecent assault and battery from the alleged incident in 2016. If convicted, he faces up to five years in prison.
Wearing a gray suit, a lavender shirt with flowers and blue polka-dot tie, the two-time Oscar-winner, who is particularly popular in China, smiled and chuckled with his lawyer before the proceeding began, according to some media reports. He said nothing to the judge but mouthed "thank you" at the conclusion of the hearing.
Spacey has had a spectacular fall from grace after being accused of sexual assault by 30 men. The accusations presented on Monday were the first official charges he has faced in court.
Spacey and his lawyers appeared before Nantucket District Judge Thomas Barrett. His attorneys entered the not-guilty plea on his behalf. The judge set his next court appearance for March 4. Barrett also granted his lawyers' request that Spacey would not have to appear at that hearing if he were available by phone.
After the court appearance, Spacey silently passed a throng of waiting reporters and camerapersons. He jumped into a waiting SUV that took him to Nantucket Memorial Airport and a private jet.
The accuser is the son of TV anchor Heather Unruh. She alleges that on July 7, 2016, when her son was 18 and working as a busboy, Spacey assaulted him by grabbing his genitals after he got him drunk at the Club Car restaurant on the island of Nantucket. He fled when Spacey went to the bathroom.
The accusations against Spacey began after actor Anthony Rapp said in 2017 that the star had made a sexual advance toward him when he was 14. Spacey said on Twitter he did not remember the incident but apologized if it had taken place.
Since the #MeToo movement gained pace in the US, a host of performers have come forward to allege that they were abused by some of Hollywood's elite. The accusers include Reese Witherspoon, Rose McGowan, Gwyneth Paltrow, Angelina Jolie, Rosanna Arquette, Jennifer Lawrence, Lady Gaga, Terry Crews and many more.
The #MeToo movement "to empower women" was fueled by published accusations against Hollywood producer Harvey Weinstein in October 2017.