Trump to address nation amid shutdown over border
By AI HEPING in New York | China Daily USA | Updated: 2019-01-08 23:34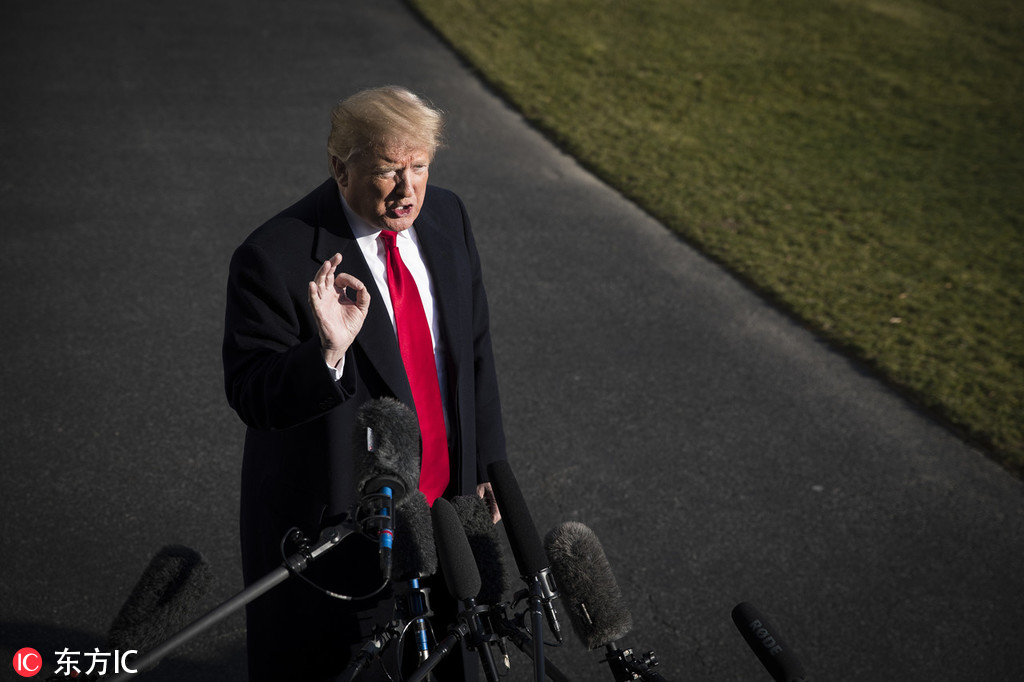 As the US government's partial shutdown entered its 17th day on Monday, President Donald Trump said he will address the nation Tuesday night about what he called a "crisis" at the US-Mexico border.
"I am pleased to inform you that I will Address the Nation on the Humanitarian and National Security crisis on our Southern Border," Trump tweeted.
Trump's address, scheduled for 9 pm EST from the Oval Office, will come amid a partial government shutdown caused by his insistence that Congress give him more than $5 billion to build a wall on the border and congressional Democrats' refusing to pay for it.
The White House said that on Thursday Trump would travel to the border as part of his effort to convince Americans of the need for a wall.
The prime-time address will be Trump's first from the Oval Office. It will be delivered just three weeks before he is set to appear before a joint session of Congress to give his annual assessment of the State of the Union.
It was not immediately clear how many TV networks intend to carry his speech live. In 2014, the networks turned down President Barack Obama's request for similar airtime to deliver a speech on immigration, though it did air on several cable channels.
Trump has said that he can relate to the plight of federal workers who aren't getting paid, though he acknowledged they will have to "make adjustments" to deal with the shortfall.
US banks and other financial institutions have announced that they are offering help to federal workers affected by the shutdown. Some 800,000 have been affected, either by being furloughed or working without pay before receiving back pay when the shutdown ends.
The shutdown affects roughly a quarter of federal agencies — those deemed "non-essential" — including national parks and the work of the Internal Revenue Service.
JPMorgan Chase, Wells Fargo, Citigroup, Capital One, SunTrust and Bank of America said that they were ready to work with affected customers.
Credit unions that cater to federal workers said that they are preparing to help their customers, including low- or no-interest payroll advances and loans for workers facing dwindling cash reserves.
JPMorgan Chase is waiving all checking account fees, including overdraft charges, for customers whose pay has stopped and whose federal paychecks are deposited directly with the bank. The bank has pledged to work with customers who are at risk of missing payments on home, car or credit card loans.
"Our goal is to try as best we can to protect customers from negative consequences for missing a payment, such as late fees or reporting a late payment to a credit bureau," Patricia Wexler, a spokeswoman for the bank, told the Financial Times. "We're working one-on-one with customers to try to get them to where they would have been, absent the shutdown."
"Our observation is that the folks that we serve are not wealthy people," said Scott =, the chairman and CEO of First Command Financial Services, whose customers include members of the Coast Guard.
While the Department of Homeland Security found money to pay the Coast Guard payroll at the end of December, future paychecks are uncertain if the shutdown continues.