Pompeo promotes 'reinvigorated' US role in Middle East
By HENG WEILI in New York | China Daily | Updated: 2019-01-11 23:24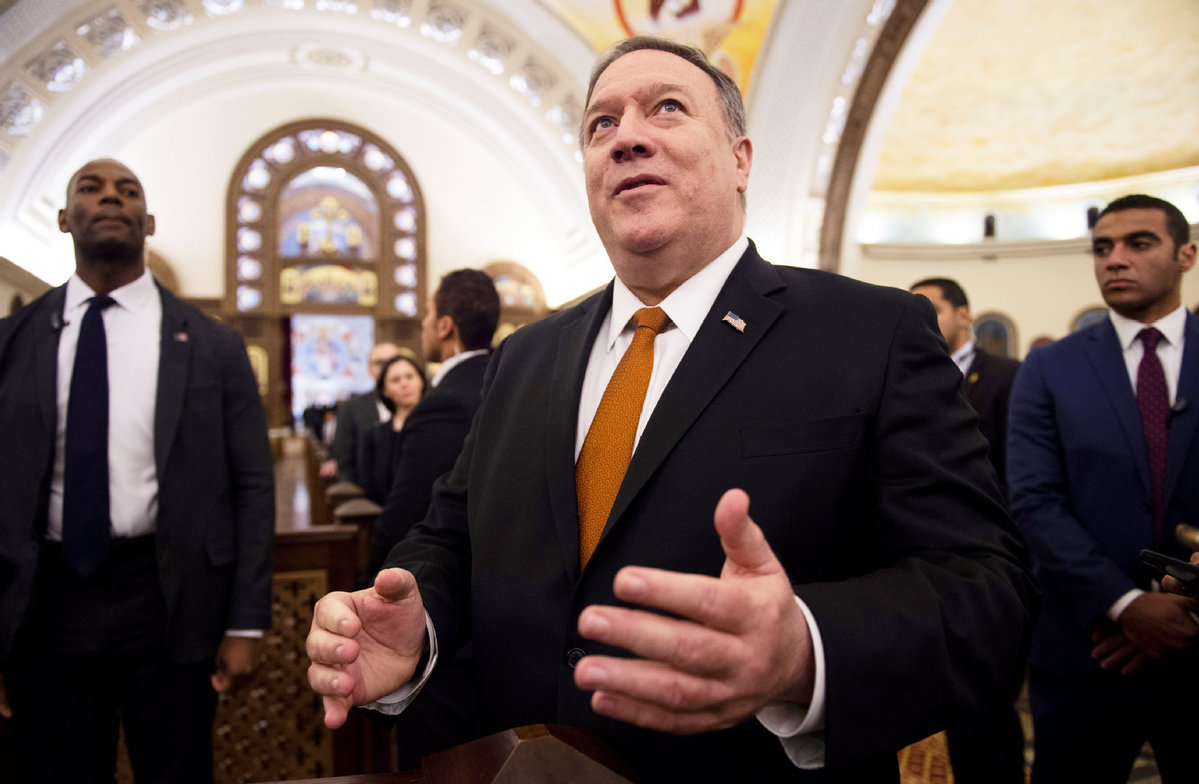 US Secretary of State Mike Pompeo, in arguing for a prominent role for the United States in the Middle East, told an audience in Egypt on Thursday that former president Barack Obama's policies left the region in disarray.
In Pompeo's speech titled "A Force for Good: America's Reinvigorated Role in the Middle East", the former Central Intelligence Agency director roundly criticized Obama for "fundamental misunderstandings" about the region that "underestimated the tenacity and viciousness of radical Islamism".
"It was here, here in this city, another American stood before you," Pompeo said. "He told you that radical Islamist terrorism does not stem from an ideology. He told you 9/11 led my country to abandon its ideals, particularly in the Middle East. He told you that the United States and the Muslim world needed 'a new beginning'.
"The results of these misjudgments were dire," Pompeo said. "In falsely seeing ourselves as a force for what ails the Middle East, we were timid in asserting ourselves when the times — and our partners — demanded it."
The National Security Action Group, an organization composed of former Obama administration officials, in response to Pompeo, said: "That this administration feels the need, nearly a decade later, to take potshots at an effort to identify common ground between the Arab world and the West speaks not only to the Trump administration's pettiness but also to its lack of a strategic vision for America's role in the region and its abdication of America's values."
Pompeo also vowed to "expel every last Iranian boot" from Syria, but it was unclear how that would be accomplished if the 2,000 US troops there withdraw, as US President Donald Trump recently announced they would. Pompeo said the troop withdrawal will proceed.
"Whenever/wherever US interferes, chaos, repression and resentment follow," the Iranian foreign minister, Mohammad Javad Zarif, posted on Twitter hours after Pompeo spoke. "The day Iran mimics US clients & @SecPompeo's 'human rights models' — be it the Shah or current butchers — to become a 'normal' country is the day hell freezes over."
"If the administration cannot put forward a future-focused, coherent and presidentially endorsed strategy for US engagement in the region, is now the best time for a big speech?" Dana Stroul, a former Democratic Senate staffer now with the Washington Institute for Near East Policy, told politico.com in a story published before the speech.
"Pompeo's speech showcases this administration's twin obsessions: President Obama and Iran," Ned Price, a former CIA analyst who also served on the National Security Council under Obama, told Business Insider. "Nothing could be more on-brand for Pompeo and this administration than taking on a nearly decade-old speech, while completely missing its key lessons, all of which have stood the test of time despite the region's intervening turmoil."
"The seeming contradiction between Mr Trump's impulsive announcement that United States forces would leave Syria and Mr Pompeo's declaration that 'when America retreats, chaos follows' confounded many in the region," The New York Times reported. "They say they cannot reconcile the declaration with the president's Dec 19 tweet that his only reason for remaining in Syria was the defeat of the Islamic State, a job he said had been completed."
Pompeo made his speech at The American University in Cairo, the same city where Obama, close to 10 years ago (at Cairo University) presented a vision for "a new beginning between the United States and Muslims around the world" based on "mutual interest and mutual respect".
Pompeo, however, declared that "the age of self-inflicted American shame is over, and so are the policies that produced so much needless suffering".
"In just 24 months, actually less than two years, the United States under President Trump has reasserted its traditional role as a force for good in this region, because we've learned from our mistakes," Pompeo said. "We have rediscovered our voice. We have rebuilt our relationships. We have rejected false overtures from enemies."
Contact the writer at hengweili@chinadailyusa.com