Nearly 3 billion trips forecast for holiday travel rush
By Wang Keju | China Daily | Updated: 2019-01-19 02:53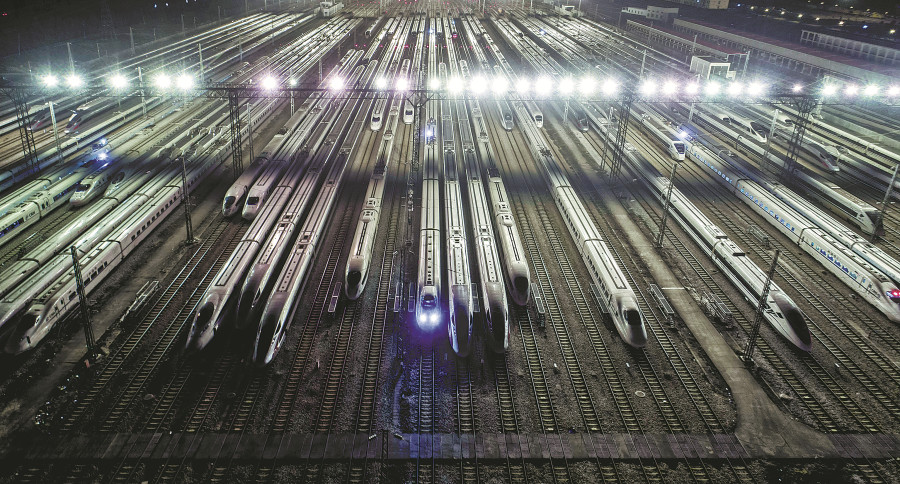 About 2.99 billion trips are expected to be made during the 2019 Spring Festival travel rush between Monday and March 1, with rail and air travel gaining significantly, senior officials said on Friday.
That would be an increase of 0.6 percent from last year's travel rush, known as chunyun. China will take multiple measures to ensure the world's largest migration of people is a smooth one, said Lian Weiliang, deputy head of the National Development and Reform Commission, during a news conference.
The number of road trips is projected to reach some 2.46 billion, a 0.8 percent drop from last year, while train trips are likely to top 413 million during the period, up 8.3 percent year-on-year, according to the commission.
Air travel will likely see some 73 million trips, surging 12 percent, while boat trips are predicted to hit 43 million, about the same as last year, it said.
Transportation authorities have geared up to full capacity to handle the annual surge of travelers, when hundreds of millions of Chinese return to their hometowns or travel around the country, putting huge pressure on the transportation system, Lian said.
"Nearly 3 billion trips during the 40 days will be a big test for the country's transportation departments," said Liu Xiaoming, an official with the Ministry of Transportation.
The Spring Festival holiday starts on Feb 4 this year.
The rapid development of different transportation options has played an important role in the slight drop expected for road trips during this year's chunyun, said Yang Xinzheng, an expert at the China Academy of Transportation.
Many new high-speed railway lines were put into operation in the past few years, causing many long-distance passengers to turn to trains, Yang said. A prohibition on bus routes over 800 kilometers since 2014 also has reduced road trips.
Last year, 4,683 km of new rail tracks were put into operation, including 4,100 km for high-speed trains, further easing transportation pressure, said Li Wenxin, a vice-general manager at China Railway Corp.
To enhance the railways' capacity, 4,787 train services will be scheduled before the festival and 4,860 after, and more than 100 high-speed additional train services will be scheduled to operate each night, he said.
To boost people's chances of getting tickets during the travel rush, China Railway offered a new function which will automatically allocate canceled tickets to other buyers who prepaid when tickets sold out on 12306.cn, the official online train ticket booking system.
As of Thursday, the system had received 294,000 prepaid orders, and over 60 percent had been allocated tickets, Li said.
In addition to the normal amount of 15,600 flights a day, the Civil Aviation Administration of China plans to schedule a total of 35,000 more flights during the travel rush, said Dong Zhiyi, deputy head of the administration.
During the entire 40-day travel rush, a certain number of flights will be scheduled every day from 1 am to 6 am to cope with a surge in passengers at 10 airports that might encounter high traffic pressures, including airports in Shanghai's Pudong New Area, Shenzhen, Guangzhou and Sanya, Dong said.
To help Taiwan residents visit the mainland during the holiday, 1,126 extra flights have been approved across the Taiwan Straits between Tuesday and Feb 19.