Pampering pets offers new growth momentum
By Liu Yukun | China Daily | Updated: 2019-01-24 09:22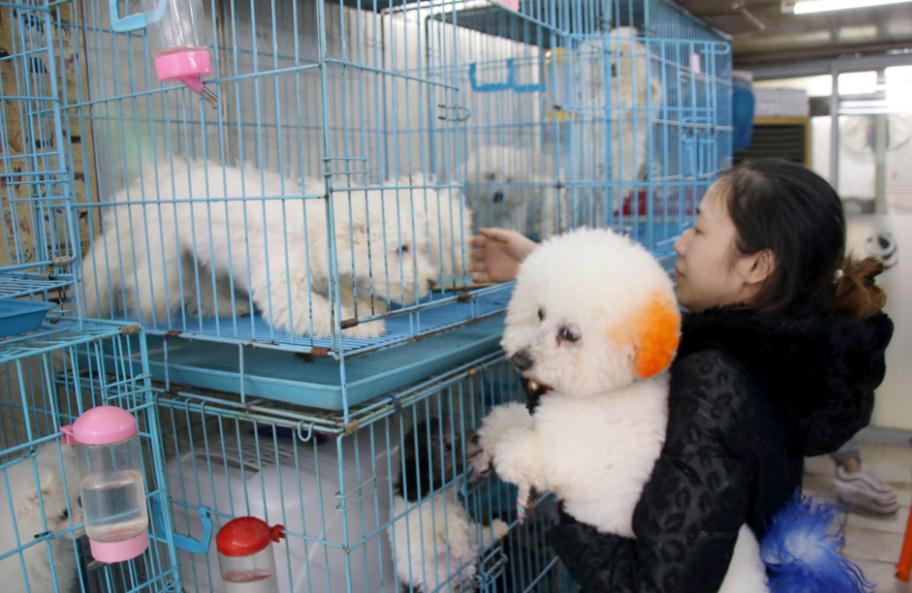 A five-direction scalp massager, indoor slides, and swing bed-this collection is not intended to make Huang Xinyi's life better, but to make her cat's life a little fancier.
The 27-year-old Beijing-based film production assistant spends almost one-third of her monthly salary on online shopping for her cat, at roughly 3,000 yuan ($441).
"I enjoy browsing online for pet toys or pet care products," she said, pointing at packs of toys and snacks in various corners of her apartment. "There are just not as many options offline. I also went online seeking advice on medical treatment when I adopted him and he was really sick, because I can compare products based on other people's reviews."
Online pet product purchases have rocketed in recent years, in line with the surging number of households that have pets, as well as the rising trend of seeing pets as members of the family.
According to e-commerce platform Suning, pet food sales surged by 1,683 percent year-on-year on the Nov 11, 2018, Singles Day shopping festival.
Data from e-commerce giant Taobao revealed that a total of 4 million pet product orders were made on the Dec 12 shopping festival.
The pet products market on Taobao is likely to surpass 50 billion yuan in the next three years, according to predictions from e-commerce consulting website imaijia.com.
"Online purchases of pet products are offering new momentum to drive consumption. Although the pet economy took off late in China, it has seen rapid development in recent years," said Hou Enlong, president at Suning.
Hou's confidence seems well-grounded. In 2017, about 59.12 million families in China had pets, accounting for 17 percent of total households in the nation, data from Shenzhen, Guangdong province-based ASKCI Consulting showed. That number is still growing.
Meanwhile, as pets are more commonly seen as furry family members, the amount of money pet owners spend on them, or the cost of keeping a pet, is also seeing a steep increase.
"Many people, including my parents and some close friends, worry that the rising cost might be a burden to me, especially when I still have an entry-level job," Huang admitted.
"But it's all worth it. Every night when I get home from work at about 10 pm and it's all dark outside, I feel lonely until the fluffy little creature head-butts my face, rubs against my leg, and purrs at me. He has healing powers and offers me good company in this new city 1,200 kilometers away from home," Huang said, while grooming her cat.
Huang is just one of her generation, aged between 25-35, pursuing their dreams in a new city and have pets, whether they are single or have a partner.
Hou noted that consumers like Huang and her peers are creating huge business opportunities for small businesses online.
As more young consumers value interactive experiences with pets and other people on social media, they have even formed numerous online communities to share funny pictures or videos about pets playing with their toys. Most of them, such as the toy flowers that dance with cats, are quite cheap to make and low in price, ranging from 10 yuan to about 100 yuan.
"There are a lot of videos that go viral on Douyin (one of China's most popular video-sharing social media platforms) about cats playing with novel toys. Some of them are not expensive to get from Taobao, but create so much fun for me and my cat," Huang said.
"I just couldn't help buying toys for my cat when I find interesting ones," she said.
Even for people who do not have a pet, they are adopting a new lifestyle called "cloud petting" by following pets that are famous on social media platforms. Followers are active in exchanging their views about "pet celebrities" and offering "likes" at the click of a button.
The industry has also seen the rise of more customized products and services. Over 3,000 smart pet toilets, priced at about 5,000 yuan, were sold on Taobao last year. Portrait studios on Taobao photographed about 3,000 pets last year.
Recent years have also seen the rise of in-house decoration services that allow pets to have more fun at home.