Chinese Canadians remain hopeful amid Huawei case
By RENA LI in Toronto | chinadaily | Updated: 2019-01-25 00:04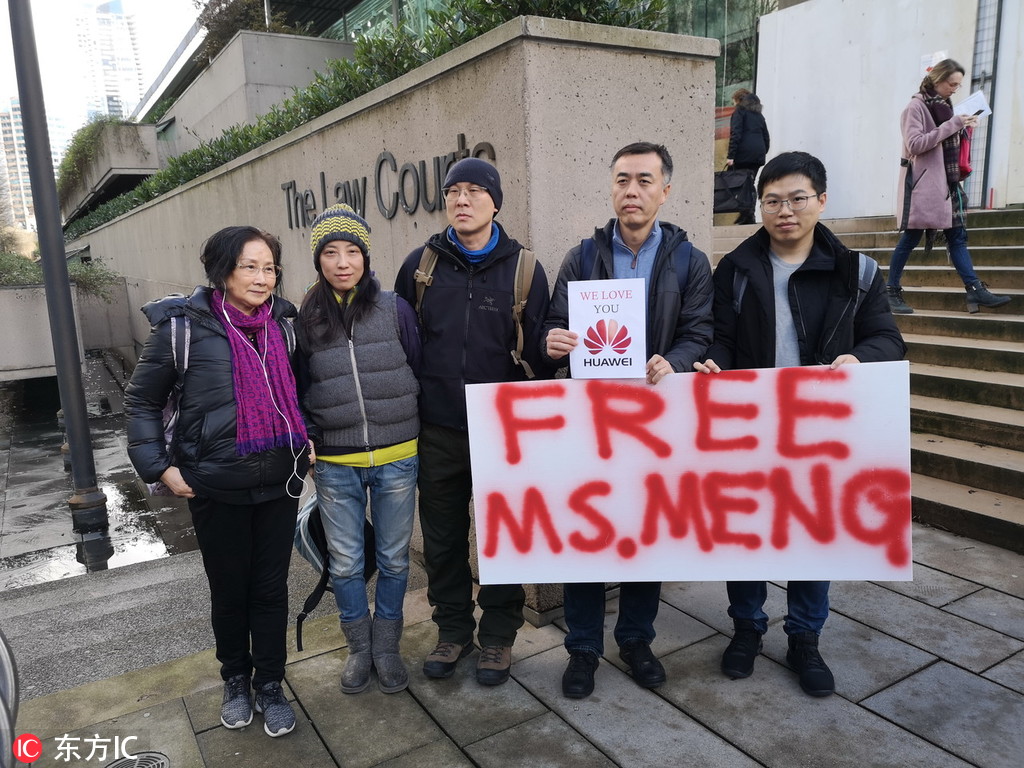 The possible extradition of a Huawei executive from Canada to the United States has heightened concern among the Chinese community in Canada.
Canada's Ambassador to China John McCallum, however, said that Sino-Canadian relations should continue to move forward, and Huawei CFO Meng Wanzhou has some points in her favor.
McCallum spoke at a gathering hosted by the Canada China Guanxi Council (CCGC) on Tuesday in Markham, north of Toronto.
"Ms Meng actually has quite good arguments on her side," said McCallum. "One is political involvement by comments from Donald Trump in her case; two, there is extraterritoriality applied to her case (meaning questions of US jurisdiction in Canada); three, there is an issue of Iran sanctions involved in her case, and Canada doesn't sign onto the Iran sanctions.
"If extradition might happen eventually, it will be more than devastating to many Chinese Canadians in Canada and set back the Canada and China relationship for decades," said Thomas Qu, executive president of the CCGC.
"Therefore, we will never want to see this extradition process completed, for the profound interests of Canada and China," said Qu. "The Chinese community in Canada urges both governments to use wisdom to find a quick solution to settle this crisis before things become worse and more out of control."
According to Qu, Meng's legal team could convince the Canadian court that extradition does not apply in Meng's accusation by the United States government.
The Canadian justice minister also has a parliamentary jurisdiction right to assess and overrule the court decision, even if it is not in Meng's favor.
"So I think she has strong arguments she can make before a judge, and the judge will decide whether she should be extradited to the United States," McCallum said.
US Justice Department spokesman Marc Raimondi, in a statement released on Tuesday, said: "We will continue to pursue the extradition of defendant Ms. Meng Wanzhou, and will meet all deadlines set by the U.S./Canada Extradition Treaty."
The statement came a day after Canada's ambassador to the US David MacNaughton said that the United States had informed the Canadian government that it would proceed with a formal request to extradite Meng, who was detained at the Vancouver International Airport on Dec 1. She is free on bail and staying in Vancouver.
Canada's government also has denied that the country asked the US to abandon its case.
McCallum said that there are a few possible outcomes in Meng's case.
One is an extradition request filed by the United States, but it could take several years if she appeals to the Supreme Court of Canada.
Another is that the United States and China reach an agreement in which the US no longer requests her extradition, while China also releases two Canadian citizens it is detaining.
Another possibility is a Canadian judge ordering Meng's release.
The envoy, whose wife is of Chinese descent, said his family has made a good contribution to people-to-people ties between Canada and China.
"We have three sons, and all of the three sons got married to Chinese women since I went to Beijing in 2017," he said.
Ping Tan, honorable national chair of the National Congress of Chinese Canadians, suggested that the Canadian government open a direct dialogue with China as soon as possible.
"It is imperative now because this is the only effective way to resolve the impasse. Canada must be the master of its own decision to resolve the dispute," said Tan.
As a well-known local lawyer, Tan said that the Canadian government, through its minister of justice, should exercise the discretionary powers under its domestic extradition law and the Canada-US Extradition Treaty to stop the extradition.
Wang Haicheng, chairman of the Federation of Canadian Chinese Chamber of Commerce, said that the Chinese business community in Canada does not expect relations between the two countries to be impaired due to inappropriate handling of the incident, nor does it want to see any negative consequences on the advances in Canada-China trade in recent years.
"I am strongly opposed to the US' pressure on Canada and its gross interference in the Canadian justice system, as well as the extradition of Meng Wanzhou," he said. "The Canadian government and the justice system are advised not to accept such unreasonable demands by the United States on Canada, which ignores and violates international law."