'Significant progress' in ending Afghan conflict
By PAN MENGQI | China Daily | Updated: 2019-01-28 09:50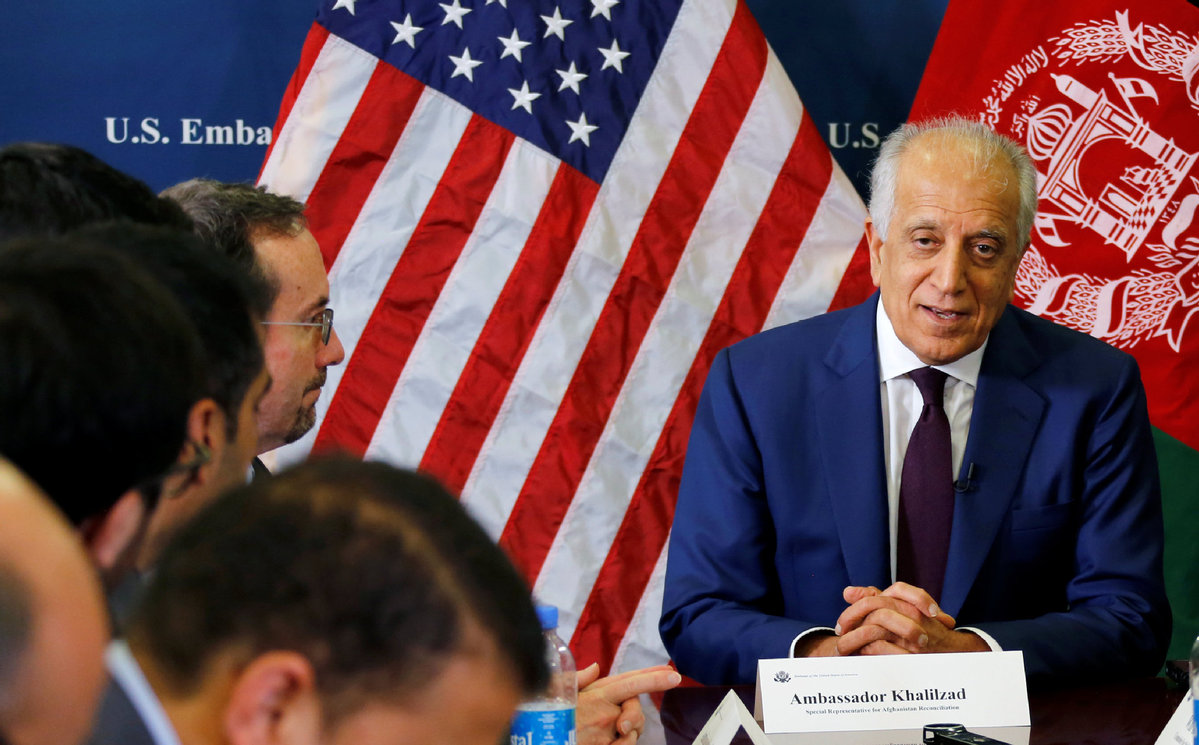 Talks between the United States and the Taliban, aimed at ending the 18-year-old conflict in Afghanistan, have made "significant progress", but analyst said lasting peace could take years to accomplish.
In a series of tweets, US special envoy for peace in Afghanistan, Zalmay Khalilzad, said on Saturday that the six days of talks in Qatar were "more productive than they have been in the past". Without giving details, he said he was on his way to Kabul to consult Afghan government officials on the result.
According to local media, the Taliban also said progress had been made in the negotiations. However, a spokesman added that talks about "unsolved matters" would continue.
Khalilzad also emphasized that talks with the Taliban would continue and nothing had been finalized currently.
A US delegation headed by Khalilzad met Taliban representatives three times from November to December and the fourth round of talks between the two sides began on Jan 21, according to the Associate Press.
While some experts said the series of talks shows how serious both sides are about trying to find a peaceful solution to the conflict, others slammed the talks, calling the absence of the Afghan government and other regional stakeholders, a "blunder". Critics believe that the talks will not deliver results unless the genuine interests of Afghanistan's neighboring countries are ensured and an agreement is reached with the Afghan government.
In a Xinhua report, Afghanistan political analyst Dad Mohammad Anabi said the ongoing talks in Qatar won't yield results because the government of Afghanistan has been bypassed.
According to AFP, the Taliban have so far refused to hold direct talks with Afghan officials, whom they dismiss as "puppets". They said they will only begin negotiations with the government once a firm date for the withdrawal of US troops has been agreed.
US Secretary of State Mike Pompeo said on social media on Saturday that Washington is "serious about pursuing peace", reiterating the objectives of preventing Afghanistan from being a space for international terrorism, as well as bringing US military home.
A starting point
Ye Hailin, an international relations researcher with the Chinese Academy of Social Sciences, said making a peace deal with the Taliban is a starting point to peace.
"It remains to be seen what progress would be made further in the region as currently there are more than 20 extremist and terrorist groups active in Afghanistan," he said.
He noted there has been progress in discussions about the Taliban's key demand-US troop withdrawal, but the process of the withdrawal would be long, and so far no timetable or details have been given.
According to Xinhua's report, there are about 14,000 US troops currently deployed in Afghanistan. The death toll of US service members in Afghanistan has surpassed 2,400.