Envoy's resignation complicates Sino-Canadian rift
By RENA LI in Toronto | chinadaily.com.cn | Updated: 2019-01-29 06:31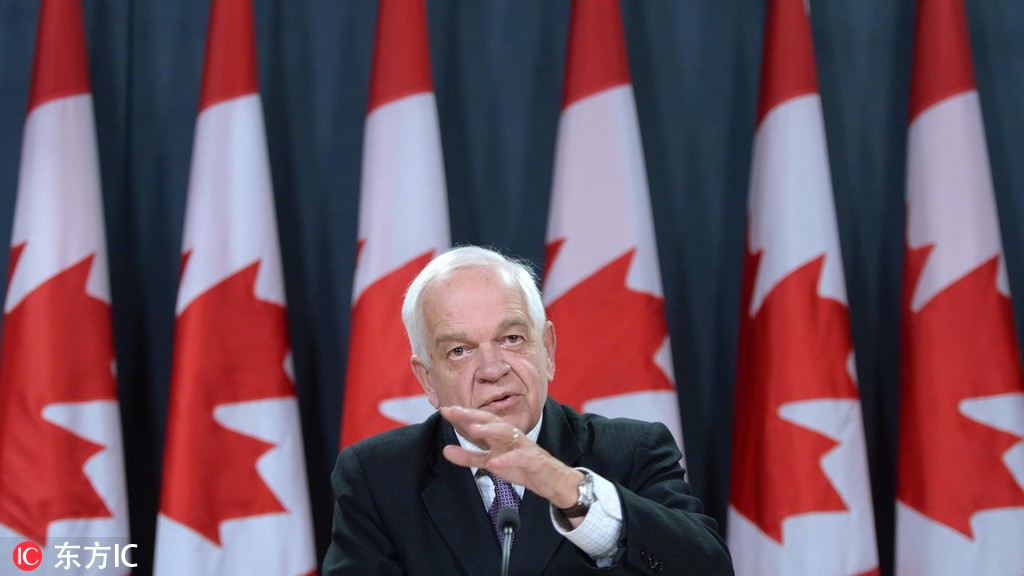 Former Canadian officials and Chinese community leaders have expressed alarm about the potential impact that the resignation of Canada's ambassador to China could have on Sino-Canadian relations.
John McCallum resigned on Friday at the request of Prime Minister Justin Trudeau, related to comments the envoy made concerning the extradition case of Huawei CFO Meng Wanzhou.
Meng was taken into custody on Dec 1 at Vancouver International Airport, at the behest of the US government, which is seeking her extradition. She is free on bail in Vancouver.
Michael Chan, former Liberal member of the Legislative Assembly of Ontario, told China Daily that it was "shocking" and "unexpected", and that he was "puzzled" by McCallum's departure.
"A critical link between Canada and China is broken — McCallum is welcome in the Chinese community," Chan said, adding that the situation could have "serious consequences".
"I suspect there will be a backlash against the Liberal government, further complicating the Huawei case," he said. "It is also a huge loss to Canadian diplomacy. McCallum is very talented, honest, down-to-earth and immensely popular among all people. No one gains in this mess. Canada is the biggest loser."
Ping Tan, a Canadian lawyer and national chair of the National Congress of Chinese Canadians, said McCallum's candid remarks had pointedly highlighted the practical legal and political issues surrounding Meng's case.
"The remarks were both factual and accurate, legally and polically, except that he was not supposed to say them publicly as the ambassador to China," Tan said. "However, the broad publication of his remarks has helped us all to better understand and appreciate the true nature of this case and the crux of the eventual resolution of this diplomatic impasse.
"I fully agree with McCallum's view that it will be great for Canada if the US drops the extradition request. And I will add that it will be great for Canada-China relations as well, since it is the US which put Canada into this mess in the first place," Tan said.
Tan said McCallum noted that Canada is not a party to international sanctions against Iran. That means that the US alleging fraud by Meng to avoid US sanctions against Iran does not constitute a criminal act under Canadian law, hence the Canada-US extradition treaty should not apply.
"So, the extradition should be stopped," Tan added.
Ouyang Yuansen, an entrepreneur and the former chairman of the Canada Confederation of Fujian Associations, said he is "deeply disappointed" with the ambassador's resignation.
"McCallum has made great contributions to strengthen the friendship between Canada and China," Ouyang said. "Currently, the diplomatic rift between the two countries is set to deepen.
"Canada has paid a price for arresting Meng at the US' request. We and the Chinese community will keep an eye on the coming extradition deadline on Jan 30. We hope that the prime minister will manage the crisis intelligently, and Canada should have an independent position."
McCallum made the remarks at a gathering hosted by the Canada China Guanxi Council CCGC on Jan 22 in Markham, outside Toronto.
"Ms Meng actually has quite good arguments on her side," said McCallum. "One is political involvement by comments from Donald Trump in her case; two, there is extraterritoriality applied to her case (meaning questions of US jurisdiction in Canada); three, there is an issue of Iran sanctions involved in her case, and Canada doesn't sign onto the Iran sanctions.
"So I think she has strong arguments she can make before a judge, and the judge will decide whether she should be extradited to the United States," McCallum said.