Japan acknowledges islands dispute with Russia will take time to resolve
By CAI HONG | China Daily Global | Updated: 2019-01-30 09:30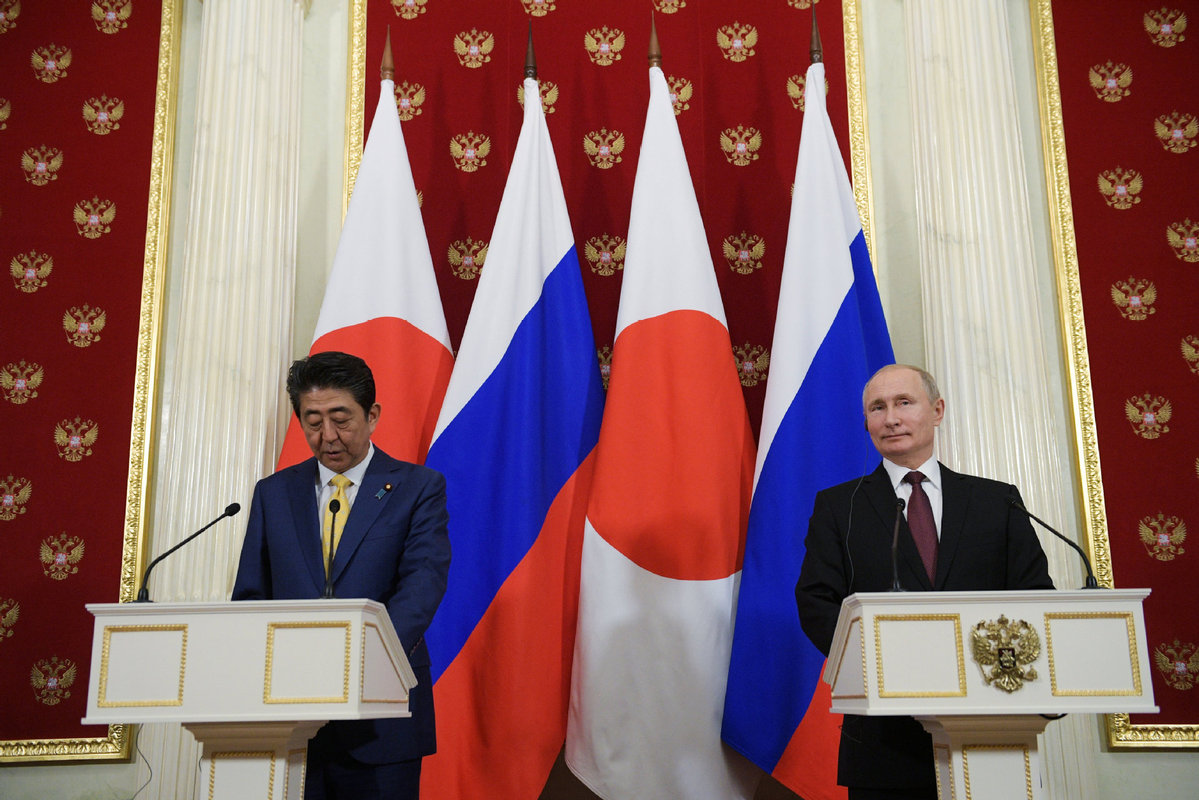 Japan has conceded that it will take time to settle its territorial dispute and conclude a peace treaty with Russia, after Japanese Prime Minister Shinzo Abe's meeting with Russian President Vladimir Putin in Moscow on Jan 22 ended with no tangible results in the dispute over four islands.
The two countries' feud over the islands, called the Southern Kurils by Russia and the Northern Territories by Japan, has prevented them from signing a peace treaty.
"Solving a problem that has been left for over 70 years after the end of the war is not easy," Abe said at a joint news conference with Putin after their meeting, the 25th for the two.
Resolution of the territorial dispute with Russia and signing of a peace treaty has been one of Abe's major foreign policy priorities since he returned to power in December 2012.
Alexander Gabuev, senior fellow and chair of the Russia in Asia-Pacific Program at the Carnegie Moscow Center, tweeted, "The policy of engaging Russia is pushed personally by Abe." Gabuev added that Abe's main goals include securing a place in history if he succeeds; finishing an endeavor his father started as Japanese foreign minister; and pushing Russia away from China's embrace.
Japan has claimed sovereignty over all four islands. Abe wants to sign a peace treaty to formally end war between the two countries. He is now willing to get back two small islands first, putting off the debate over two larger islands.
But Russia has no incentive to follow such a path, Gabuev said.
The Russian military opposes any transfer, since sovereignty over the two small islands of Habomai (actually a small group of islets) and Shikotan supports Moscow's de facto control over the Sea of Okhotsk. And Vilyuchinsk, the main base of Russian submarines in the Pacific, is nearby.
Russia and Japan have been vying for control of the Kurils since the 18th century, but Moscow took complete control of the island chain in the final days of World War II. The two countries did not sign a peace treaty, although the Soviet-Japanese Joint Declaration inked in 1956 formally ended hostilities and opened diplomatic relations between the two sides. The declaration provided for Habomai and Shikotan to be returned to Japan following the conclusion of a formal peace treaty. The Soviet Union dropped the idea after Tokyo struck a military alliance with the United States.
Japan sees the islands as part of its Hokkaido prefecture and considers them to be illegally occupied by Russia.
The dispute aside, the two countries have launched various economic projects on the islands in areas such as the farming of fish and shellfish, wind-generated energy and tourism. But investment is still small. Since 2017, the two countries have also agreed on charter flights for former Japanese inhabitants to visit family graves there.
In November, Abe and Putin agreed to speed up negotiations based on the 1956 joint declaration.
Nonetheless, at his New Year's news conference, Russian Foreign Minister Sergei Lavrov said the two countries were "still far from being partners in international relations".
Russia has deployed missile systems on the islands, sparking protests from Japan. And Moscow has built new military barracks on the islands as it ramps up what it says is "military and social infrastructure" there.
An editorial in Nikkei Shimbun accused Russia of using the disputed islands like "hostages" with which to extract economic concessions from Japan. It sees Russia's strategy as an effort to postpone serious negotiations about the islands and says this must not be accepted.
Feng Yujun, director of the Russia-Central Asia Research Center of Fudan University, does not think Russia will return the two small islands to Japan in exchange for a peace treaty with Japan.
The crux of their territorial dispute lies in legality, said Feng, adding, "They need to figure out in what name the two islands would be transferred."
The transfer of the two islands might trigger reactions from Poland and Finland about their border issues with Russia settled at the end of WWII. Russia would not be happy to see such a scenario occur, Feng said.
In his address to Japan's parliament, the Diet, on Monday, when its regular 150-day session began, Abe expressed determination to sign a peace treaty with Russia to formally end WWII hostilities by solving the row over the islands.
Abe has been quoted as telling people close to him that he wants to tackle the issue quickly, since he aims to reach a broad agreement with Putin on the territorial issue and a peace treaty when the Russian leader visits Japan in June to attend the Group of 20 Summit in Osaka.