Abe vows meeting with DPRK leader
By WANG XU | China Daily | Updated: 2019-01-30 09:40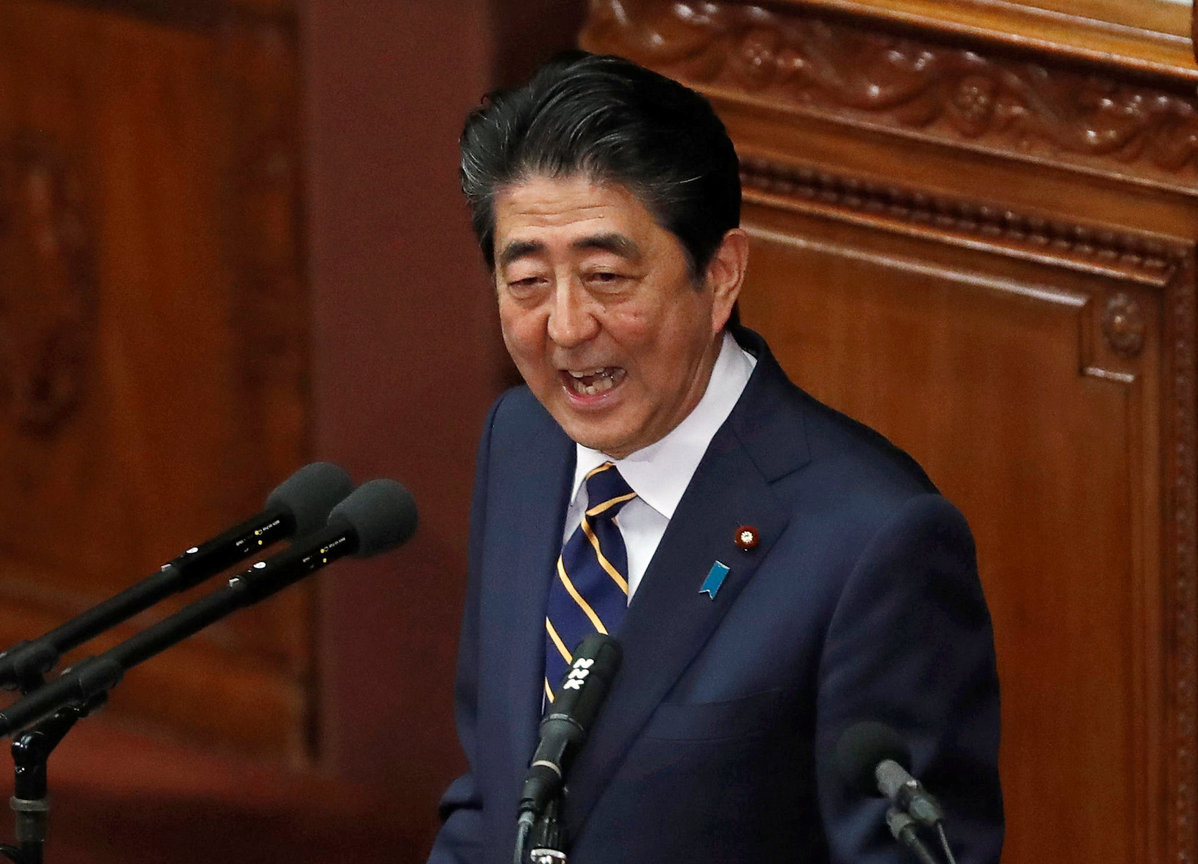 Japanese PM says Tokyo will normalize diplomatic relations with Pyongyang
Japanese Prime Minister Shinzo Abe vowed to meet with Kim Jong-un, top leader of the Democratic People's Republic of Korea, and restore ties with the neighbor in a major policy speech on Monday, a move that analysts say contrasts sharply from the hardline approach he used to adopt toward Pyongyang.
"I will act resolutely, never failing to seize every opportunity to break the shell of mutual distrust, and I myself will directly face Chairman Kim Jong-un to resolve DPRK's nuclear and missile issues, as well as the abductions issue," Abe said in a speech that marks the opening of Japan's parliament.
As a routine speech delivered by the prime minister every year, this is the seventh time Abe made such speeches since he returned to power in December 2012.
Giving no timeline for a potential meeting with Kim, Abe said his government will "closely cooperate with the international community" to normalize diplomatic relations with Pyongyang and "settle unfortunate past" with the DPRK, a diplomatic euphemism used by Japan referring to its brutal invasion and colonization before and during World War II.
"Although Abe had expressed willingness to meet with Kim on several occasions recently, Monday's speech contrasts sharply from the hardline approach he used to adopt toward Pyongyang," said Yu Qiang, a Japanese studies researcher and an associate professor at the University of International Relations in Beijing.
A year ago, in the same parliamentary address, Abe pledged to "compel DPRK to change its policies" by tougher stances and strict sanctions, and he described Pyongyang's nuclear and missile programs as a "serious and imminent threat".
Chu Yin, a senior research fellow at the Center for China and Globalization, said Abe's attitude change was for short-term political gains and long-term economic ambitions.
"In the short-term, holding a summit with Kim could demonstrate that Abe's diplomatic capacity remains strong after he made no gains with relations with Russia and the Republic of Korea recently," Chu said.
"In the long-term, as tensions on the Korean Peninsula start to ease, Japan also wants to take part in the DPRK's possible 'reform and opening-up'."
Chu said Abe's change is also because Japan didn't want to lag behind other countries in meeting with Kim.
Kim has met with Chinese President Xi Jinping four times and ROK President Moon Jae-in three times. He is also scheduled to meet US President Donald Trump for a second time before the end of February.
Liu Qingbin, a professor at the Institute of Advanced Sciences at Yokohama National University, however, sees Monday's speech the other way. "It's just a political gesture. Japan is not ready to normalize ties with the DPRK."
Liu said specific problems like denuclearization, war-time compensation and the so-called "abduction of Japanese citizens by the DPRK" are preliminary requirements for Tokyo to restore relations with Pyongyang.
"None of the problems are easy to solve and for Abe himself, the abduction case is especially important as he built his political career on the issue," Liu added.
According to Japan's Foreign Ministry, at least 17 Japanese citizens were abducted by the DPRK in the 1970s and 1980s.
Serving as a secretary to his father, former Japanese foreign minister Shintaro Abe, Shinzo Abe started working on the abduction issue in the early 1990s.
"Abe gained political popularity and earned himself a reputation as a hardliner based on the issue," Liu said. "But while he still demands repatriation of all abductees, talks on the issue have long been a deadlock as the DPRK stopped investigations into the case."