China responds to 'English only' email
By ZHANG RUINAN in New York | China Daily Global | Updated: 2019-01-30 23:26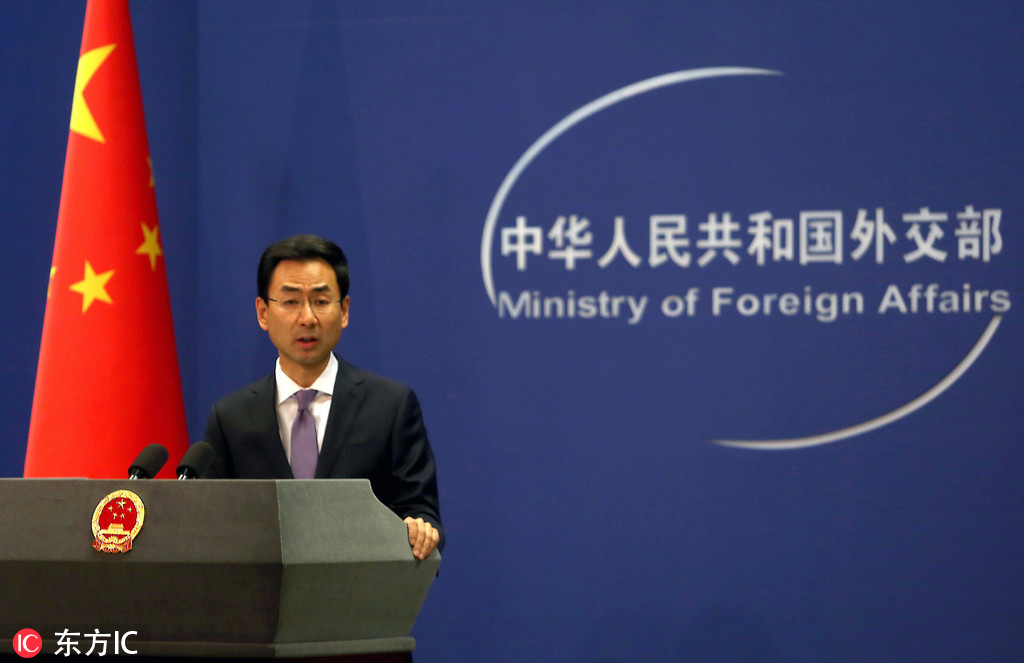 The Chinese Foreign Ministry on Tuesday questioned the appropriateness of a professor's email urging Chinese international students at Duke University to speak only English on campus.
"If a Chinese university forbade its American students from talking in English, how would they think? I don't believe this makes sense in any way," said Foreign Ministry spokesman Geng Shuang when asked about the controversial email at the ministry's regular news conference on Tuesday.
Professor Megan Neely apologized for the email on Friday and stepped down as head of the master of biostatistics program at the university's School of Medicine.
The school in Durham, North Carolina, also launched an investigation and reassured a core group of graduate scholars on Monday after the email sparked an outcry at home and abroad.
According to university data, 1,300 of the approximately 8,500 students in Duke's graduate and professional programs are from China.
And among 55 students in the biostatistics master's degree program, 65 percent are from China, The Associated Press reported.
International students studying at US colleges and universities contribute $39 billion to the US economy and supported more than 455,000 jobs last year, according to data published by NAFSA: Association of International Educators.
Chinese nationals are the largest group of foreign students in the United States. Figures from the US State Department show that there were 363,000 Chinese students enrolled in colleges and universities in the US in the 2017-18 academic year.
The email controversy came at a time that the US is losing luster for foreign students.
According to the Institute of International Education (IIE), foreign student enrollment in the US dropped by 6.6 percent in the 2017-18 academic year, double the previous year's rate of decline.
Thousands of Chinese netizens weighed in on the language dispute.
"This is obviously discrimination against Chinese students," said a commenter on Chinese social media site WeChat. "As a Chinese student studying in the US, I also have experienced similar situations. I hope more Chinese students can speak out when such things happen."
"I felt offended by the email for its harsh tone and wording. Specifically, the email criticized the students for speaking Chinese on top of being impolite," an alumna of the biostatistics program at Duke University told China Daily on Monday.
"It was natural for non-native speakers to talk in their native language in private settings — in this case I mean private conversations between Chinese students when they are not in class or at work," she said. "The email is seemingly asking us to speak English in private and under whatever consequences, which is something unreasonable and almost impossible for me."
"I've experienced similar situations when I went to schools in Minnesota, Illinois, and California, but it's the first time I've seen an official, written email saying Chinese students shall not speak Chinese on campus," said a user of Zhihu, a Chinese version of Quora.
"I worked at UIUC's (University of Illinois at Urbana-Champaign) international office for more than a year," the user said. "International students are a minority group who experience a great language barrier and culture shock. The school should provide more English workshops, organize more activities for foreign students and help local students understand more about foreign cultures."
"It's true that many Chinese international students' English speaking doesn't approve after years studying in US colleges because they only hang out with Chinese and speak Chinese," said one netizen, to some disagreement.
"Duke's engagement with China, with Chinese students and with Chinese scholars is broad, deep and longstanding," Duke Vice-President for Public Affairs Michael Schoenfeld said in an interview with the AP on Monday.
"We deeply regret that this particular incident might have compromised the very valuable and mutually beneficial relationship that Duke has with its Chinese students," Schoenfeld said.
Duke also partners with Wuhan University and opened a university in Kunshan, in East China's Jiangsu province. Duke Kunshan University accepted its first class of graduate students in August 2014, and began enrolling undergraduate students last year.
Kong Wenzheng in New York contributed to this story.