Strikes handicap Belgium transport
By Chen Weihua in Brussels | China Daily | Updated: 2019-02-14 08:19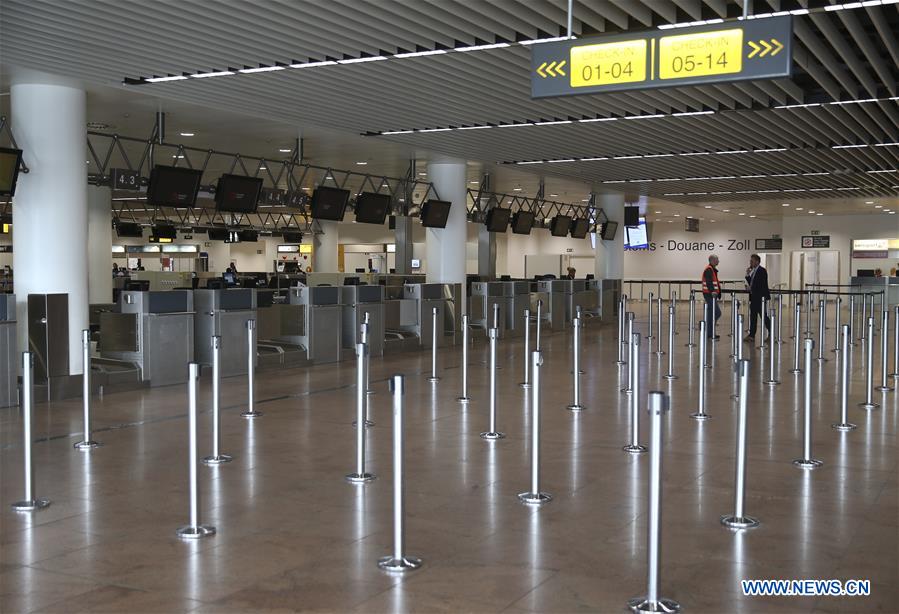 24-hour national shutdown disrupts air, rail, bus, subway and mail services
Belgium suffered a major disruption of its transport system from air to the ground and underground on Wednesday as a 24-hour general strike swept the nation.
All the flights to and from Belgium were canceled on Wednesday after the Skeyes air traffic control agency announced on Tuesday that it has "no certainty" on how many air traffic controllers would join the strike, but "forced to prohibit" national air traffic from 10 pm Tuesday to 10 pm Wednesday local time.
It means that no aircraft flying below 8,000 meters altitude-the space controlled by Skeyes-will be allowed to fly over the country. But government, military and emergency flights will be allowed.
The Brussels airport in Zaventem was almost empty on Wednesday morning, with only a dozen passengers standing in front of the Ethiopian Airlines counter trying to find their way around.
Bart De Koning, from the Belgian city of Kortrijk, said his flight to Kinshasa, the Democratic Republic of Congo, on Tuesday night was canceled. He and his friend are waiting for the airline to arrange a bus to Frankfurt, Germany, where there will be a flight in the evening to Kinshasa.
Koning said that he understands why people are striking. "They feel they have less money every year to pay bills and the government is not doing anything to help them," he said.
"But for me, the strike here is a waste of my time."
The general strike was called three weeks ago by Belgium's three main trade unions, The General Federation of Belgian Labour, the Confederation of Christian Trade Unions and the General Confederation of Liberal Trade Unions of Belgium, following the breakdown of negotiations over wage increases. The unions have rejected the 0.8 percent limitation of wage increase in the next two years proposed by the government and demanded for a 1.5 percent rise.
Outside the Brussels airport terminal on Wednesday morning, Bjorn Vanden Eynde, secretary of the union CSC Transcom, and dozens of members in green jacket were picketing. CSC has members from aviation, maritime, postal services, road transportation, diamond sector and national television.
Eynde said that they are striking for better wages and pensions. He said companies are making a lot of money, but workers are not getting their fair share. "We work hard, but there is no return," he said.
He expressed that they will continue their actions if the government does not respond to their demands. But he added that the government has already indicated that it wants to sit down at the negotiation table immediately after the strike is over.
Charleroi airport, Belgium's second largest, was also closed on Wednesday.
Brussels Airlines, the flag carrier in Belgium, has canceled all of its 222 flights during the 24 hours, affecting an estimated 16,000 passengers.
'Not easy' for commuters
The national rail company, SNCB, said that about half of the usual trains are operating. Since last March, the SNCB has applied a system to ensure minimum service levels in the event of such collective action.
As most bus and Metro lines stop operating, roads in Brussels look more congested than usual with private cars and hurry pedestrians. Usually set-aside, bike sharing has become a popular choice for many commuters on Wednesday.
A digital communication manager, who only gave her name as Eleonore, was waiting for her friends to pick her up at the empty bus stop of Line 95. "It's not easy because I have to go to office everyday by bus, unlike home workers, so I need help from car drivers," she said.
The strike has also caused disruption of other public services, including garbage collection and mail services. Trash is seen piling up on street side in some places. Bpost, the Belgian post service, is closed.
Chen Wenxin and Dong Yuwen contributed to this story.