Robots serving up savory food at artificial intelligence eateries
China Daily | Updated: 2019-02-16 08:36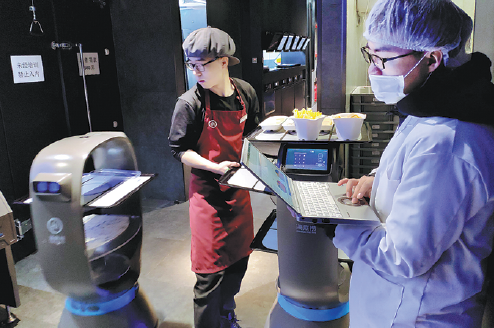 JD is transforming and upgrading traditional industries using AI, robots and big data, said its Vice President Xiao Jun. The intelligent restaurant is their attempt to combine catering with intelligent technology. He expects that "unmanned technology" will have broader applications.
China's catering industry posted a record high of 4.27 trillion yuan ($628 billion) in revenue in 2018, coupled with encouraging trends.
The figure marked a rise of 9.5 percent from the previous year, accounting for 11.2 percent of the country's total retail sales of consumer goods, according to the National Bureau of Statistics.
The huge catering market means diversified flavoring demands exist across the country.
Thus, intelligent catering has to improve the capability of automatic machines and prepare a wide range of dishes, said Tang Siyu, director of the Xcafe restaurant project.
Intelligent restaurants are expected to solve the problem of rising human costs in the catering industry, and JD hopes to make the robot technology applicable in practice, Tang said.
Tang admitted that intelligent restaurants are still in their early stages. He predicted that the intelligent catering industry will attract more merchants in the following three to five years.
But not everyone is so keen on the idea: "Chinese cuisine is extensive and profound," said Zhang Yi, chief executive officer of iiMedia Research.
"Take noodles as an example; we have various kinds of noodles from north to south and from west to east," he said. "I believe handmade sliced noodles taste much better than those made from machine hands."
Feng Jun, a member of the fast food professional committee of the China Cuisine Association, acknowledged that jobs in the catering industry could be divided into three categories: physical labor, skilled labor and emotional expression.
"The fast-food industry can make full automation happen, while high-end restaurants require more considerate service by people," Feng said.
Xinhua