Trump's national emergency to contend with lawsuits
By ZHAO HUANXIN | China Daily | Updated: 2019-02-18 07:15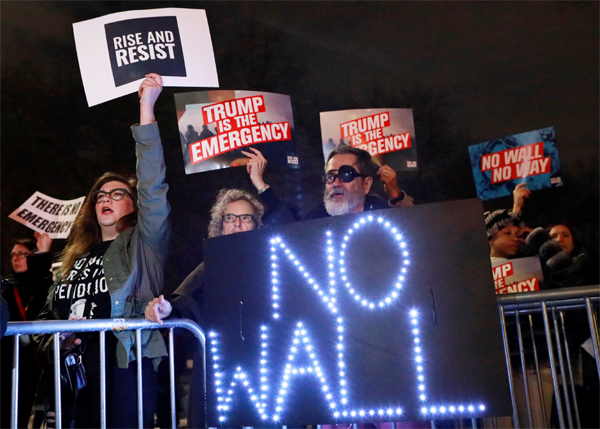 The national emergency declared by United States President Donald Trump has set the stage for lengthy legal challenges, but he will most likely end up redirecting money without congressional approval for building a border wall, according to experts, who said the situation should be a wake-up call to revisit the nature of emergency powers.
Trump on Friday invoked emergency powers invested in the president by the 1976 National Emergencies Act to justify repurposing federal funds to pay for a wall between the US and Mexico, one of his signature 2016 campaign promises that is opposed by most Democrats.
The top two congressional Democrats, Speaker of the House Nancy Pelosi and Senate Minority Leader Chuck Schumer, in a joint statement have called Trump's move "unlawful over a crisis that does not exist", and vowed to use "every remedy available" against it, while calling for Republican lawmakers to join their efforts.
But William C. Banks, co-author of National Security Law and the Power of the Purse, a 1994 book about tensions between the executive and legislative branches over security and spending, doubted where their efforts would lead.
"The two houses of Congress will attempt to disapprove the proclamation, but they will likely fail, either because the Senate will fail to pass a resolution of disapproval, or because the president will veto the resolution and the two houses will fail to override the veto by the required two-thirds," Banks, a Syracuse University College of Law professor, told China Daily.
The president will then proceed and will be sued, Banks said.
And Trump had predicted an upcoming legal fight. "I expect to be sued. I shouldn't be sued … We'll win in the Supreme Court," he said on Friday in announcing he was declaring a national emergency.
The American Civil Liberties Union announced its intention to sue less than an hour after the White House released the text of Trump's emergency declaration. California Governor Gavin Newsom also said in a tweet that his state would sue.
Banks also said that private parties might prevail in court if they convince a judge that the military construction statute doesn't permit construction of a border wall to be administered by a civilian agency, US Customs and Border Protection.
Cal Jillson, a political scientist and historian at Southern Methodist University in Dallas, said Trump can veto any challenges that arise from Congress.
"The federal courts will likely hold that he has the authority to issue an emergency declaration, (but) that he does not have the power to spend money on a policy and project that Congress has explicitly declined to fund," he said. "He hopes that the emergency declaration will allow him to regain political momentum as he prepares for his 2020 re-election fight."
The emergency declaration will stabilize Trump's support with his base in the short term, but over the longer term he will very likely be blocked in the courts, Jillson said.
But the National Emergencies Act has been invoked 59 times without a single successful legal challenge. The broad grant of discretion to a president could make it hard to persuade courts to rule that Trump exceeded his authority in declaring a border emergency, according to legal experts.
Stanley Renshon, a political scientist at the City University of New York, said that parties seeking to block the emergency measure could win at different levels. But eventually the president will unlikely lose at the Supreme Court and he will get what he wants. "You will find a lot of high guessable smoke and accusations and shouting certainly from Democrats and media and other institutions," he said. "But Trump will simply soldier on."
Elizabeth Goitein, co-director of the Liberty and National Security Program at the Brennan Center for Justice, tweeted that, "Unless we want to see more of this kind of abuse in the future, we need to get serious about National Emergencies Act reform."
Renshon agreed that such a revisit is necessary, but said that it won't help this time. "They can revisit it for the future, they can't revisit it now, because you can't pass ex post facto laws," Renshon said.