At Toy Fair, calls for resolution on trade
By ZHANG RUINAN and KONG WENZHENG in New York | China Daily Global | Updated: 2019-02-19 00:22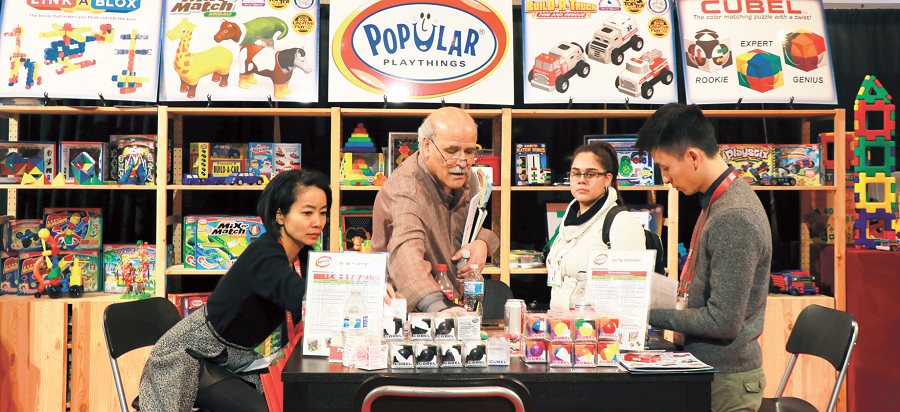 For Jason Cheung, who owns a 40-year-old family business of educational toys, it's difficult to imagine moving production out of China, where his company has manufactured its products since its founding.
"Although the price of manufacturing in China has been up in the past four decades, now China is able to do the quality that we need and still at a lot more reasonable price versus Vietnam and many other countries," said Cheung, president of the California-based company Popular Playthings.
Cheung's company is among one of the more than 1,000 displaying their products at the 2019 North American International Toy Fair New York. It's also one of the many US companies that has China as its major manufacturing base.
"The US toy industry has built up a relationship with China manufacturing over decades, and that is not a relationship that is likely able to change anytime soon," Rebecca Mond, vice-president of federal government affairs at The Toy Association, told China Daily on Sunday.
On average, 3 billion toys of great variety are sold annually in the US, according to Mond, and the manufacturing base needs to be able to keep up with changing trends and interests and diverse needs, making China the best choice for the industry.
"The infrastructure is there, and the capacity is there," she said, adding that China produces 85 percent of all the toys sold in the US.
"If we could make them (toys) in the US, we would," said Mark Pasin, the director of international sales at Learning Resources & Educational Insights Inc. "But it (producing toys in China) is the best value and quality we can find — that's why people go to China.
"Up to this point, we haven't been hit too hard by the tariffs, but we do have concerns," he said.
The company produces educational toys for children of all ages. Most of the toys are manufactured in Guangdong province in South China, according to Pasin.
"China has very good factories for toys (production)," Pasin said. "They handle the printing, making the product; it's really difficult to make this in the US like the way we do in China."
The tariffs imposed by the US on $250 billion of Chinese imports have affected multiple raw materials used in the manufacture of toys. The finished products, while not currently on any of the existing tariff lists, could be hit if a trade agreement isn't reached by March.
For now, the imposition of new tariffs was put on hold by the meeting between US President Donald Trump and Chinese President Xi Jinping on Dec 1, which started a new page in bilateral negotiations, and would not be resumed before a March 1 deadline agreed to by both leaders for a trade agreement.
"Since then, we have been very active advocating against the tariffs," Mond said.
"Right now, finished products aren't affected yet, however, when it gets to that stage, the finished products will get affected all across the board — not only toys but for everyone else," said Cheung. "On that stage, our cost will go up due to the tariffs, so we might have to pass some of that on to our customers, because we can't absorb them all. But overall, we would expect a drop in sales."
With more tariffs, companies would face tighter margins, making it hard to offer the same discounts, said Caleb Schmucker, international sales coordinator for Fat Brain Toy Co, a global educational toys producer. The company relies on several Chinese manufacturers, the biggest of which produces 75 to 80 percent of all its products, Schmucker told China Daily.
"It's been working very well for us so far," he added.
"US consumers and US businesses are paying this tariff — it's not China," she said, and multiple US industries, including toys, farmers, fisheries, retailers, technology companies and semiconductor companies have formed coalitions to send messages to the US administration.
Ninety-five percent of the American toy industry, which supports more than 700,000 jobs in the US, is made up of small businesses, and the industry is uniquely dependent on China, making tariffs especially impactful, Mond said.
China is also a rising market for the US toy companies, Mond said.
"The US market [is] highly competitive. It's pretty saturated at this point, and there's a lot of opportunities for US companies to sell in China," she said.
Pasin said the company sells in China through online stores Tmall.com and Taobao.com, so he hopes the issue could be resolved soon so that no retaliatory tariffs would be imposed.
"Certainly we hope to be growing the relationship with China, to be opening up the market, not closing them off — free trade is something very important for our industry," said Mond.
Inaugurated in 1903, the Toy Fair takes place each February in New York City as a trade-only event that brings together manufacturers, distributors, importers and sales agents to showcase their products to retail outlets and guests from up to 100 countries. The 116th edition of the fair kicked off on Saturday and will run through Tuesday.
Contact the writers at ruinanzhang@chinadailyusa.com