Alaska natural gas export deal still on table
By LIU YINMENG in Anchorage, Alaska | China Daily Global | Updated: 2019-02-23 00:16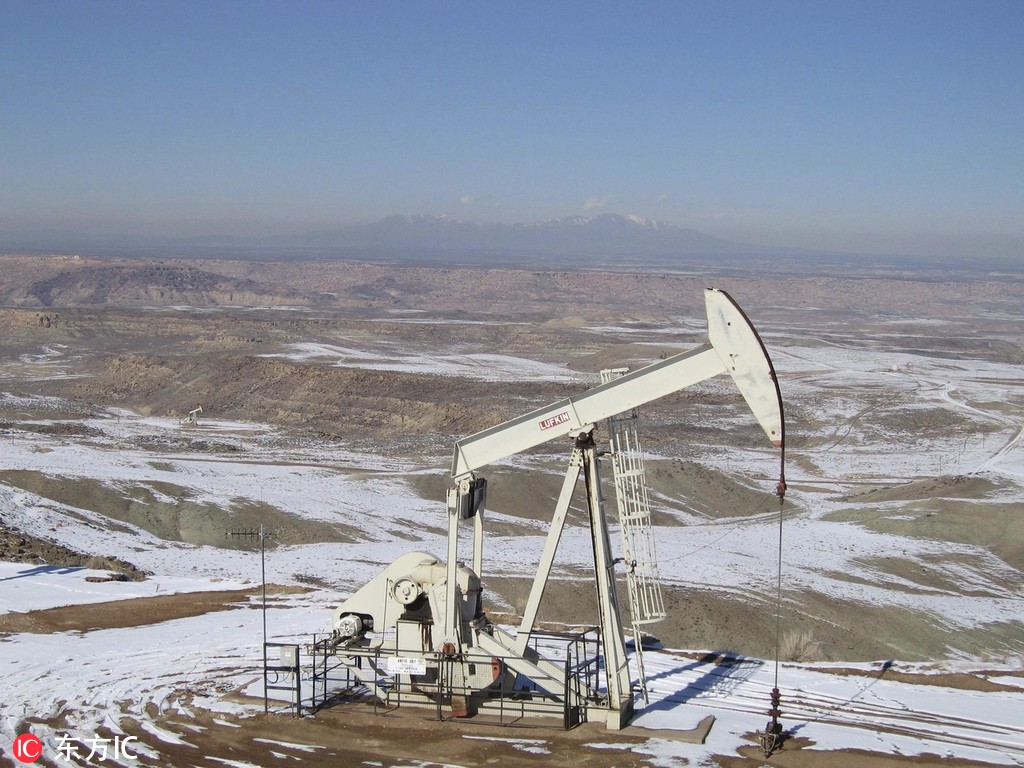 The conditions of an agreement that give three Chinese companies 75 percent outtake rights to a $43 billion Alaska liquefied natural gas project are still being determined, project insiders said.
Timothy Fitzpatrick, vice-president of external affairs and government relations at Alaska Gasline Development Corp, said the two sides are still negotiating the terms and framework of Chinese companies' investment in the project.
But he said AGDC is very interested in working with its Chinese partners and helping China meets its clean energy goal.
On Nov 9, 2017, senior executives from Sinopec, the Bank of China, and CIC Capital, a subsidiary of China Investment Corp, signed a nonbinding joint development agreement with AGDC and then-Alaska governor Bill Walker.
The deal included 75 percent of Alaska LNG disposition in China and 75 percent financing from the Chinese companies. But after Walker, an independent who was formerly a Republican, announced in October that he wouldn't seek re-election, Alaska voters elected Republican Mike Dunleavy as the new governor.
Dunleavy, who questioned the economic viability of the state's participation and leadership in the megaproject, had appointed new leadership at AGDC after taking over in December.
The parties were originally scheduled to sign final agreements by December, but they agreed to extend the negotiation period for another six months, due to the extra time needed to go over the complex deal, project leaders said.
However, leaders at the state corporation said the deal with the Chinese partners remained largely unchanged despite trade tension and leadership changes at both the state and organization levels.
"We are still pursuing an agreement with Sinopec being an off-taker of LNG of up to 75 percent of the output, consideration of equity for CIC, and possibly Sinopec in the project's equity ownership, and the bank financing by Bank of China," said Lieza Wilcox, vice-president, commercial and economics, at AGDC.
Wilcox said the state corporation and the Chinese consortium signed a supplemental joint development agreement last September, which reaffirms the goals of the agreement and added a few minor changes.
An executive from Sinopec said the company is carrying out a due diligence technical investigation and economic evaluation of the project. He said he was interested in hearing Dunleavy's thoughts on this project.
"Since coming into office, the governor and his team have been conducting a thorough review on this multibillion-dollar project," Dunleavy's press secretary Matthew N. Shuckerow said in an email to China Daily. "Alaska has tremendous LNG potential, but it must be economical if we are going to bring it to market.
"This is a stage gate review process, which will dictate which decisions will be made moving forward," said Shuckerow, adding that "there has been no material change to contract except a recent extension through July".
Wilcox said the state will be evaluating the potential financial impact of the project on its overall economy, including potential ownership, tax impact, upstream oil and gas effects.
She said a key structural change with the new administration is that private companies will play a significant role in the project.
Currently, the project is 100 percent owned by Alaska, Fitzpatrick said, but the state is looking for potential partners.
In a speech to the Alaska State Legislature on Tuesday, US Senator Lisa Murkowski voiced her support for the project.
"As chairman of the Energy and Natural Resources Committee, I'm also pushing to keep regulatory approval for our gasoline project on track. And this means filling the vacancies on the Federal Energy Regulatory Commission and ensuring that there are sufficient personnel … you have to have the bodies in place to process an application that is as massive as what has been presented," she said.
The project would include an 800-mile pipe to transport natural gas from North Slope to Nikiski, located on Alaska's Kenai Peninsula, for export to the international market.
It will provide "long-term and affordable gas supply" for Alaskan customers, as well as capitalize on the state's natural gas reserves by selling it to the Asian markets.
Natural gas is the primary fuel for generating electricity locally and for heating Anchorage.
According to the US Energy Information Administration, Alaskans used more than 85 billion cubic feet of natural gas in 2011, which accounted for 63 percent of power generation in the US and 53 percent of heating oil.
The North Slope fields are expected to deliver on average about 3.5 billion cubic feet of gas per day (Bcf/d).
China's concern for its environment has made it shift rapidly from coal to natural gas, a cleaner energy source that emits 50 to 60 percent less carbon dioxide in combustion than coal. The change has resulted in China's importing more natural gas.
According to the United States Energy Information Administration, China passed South Korea as the world's second-largest LNG importer in 2017, importing 5 Bcf/d, (141 million cubic meters per day), exceeded only by Japan's imports of 11 Bcf/d (311 million cubic meter per day).
China's LNG imports jumped by 46 percent in 2017. However, China's domestic gas storage capacity is estimated at just 3 percent of total natural gas consumption. Its seasonal peak is met mostly with LNG imports or by pipeline shipments from Central Asia.
"Alaska is rich in natural resources, including natural gas. … China has an increased want for clean energy like natural gas," said Wang Donghua, Chinese consul general in San Francisco.
Wang said China imported 94 billion cubic meters of natural gas from other countries in 2017.
"I think both China and Alaska could benefit more if we strengthen the cooperation by fully liberating our respective advantages," he said.