After shoe split, can Nike bear it?
By WILLIAM HENNELLY in New York | China Daily Global | Updated: 2019-02-23 00:56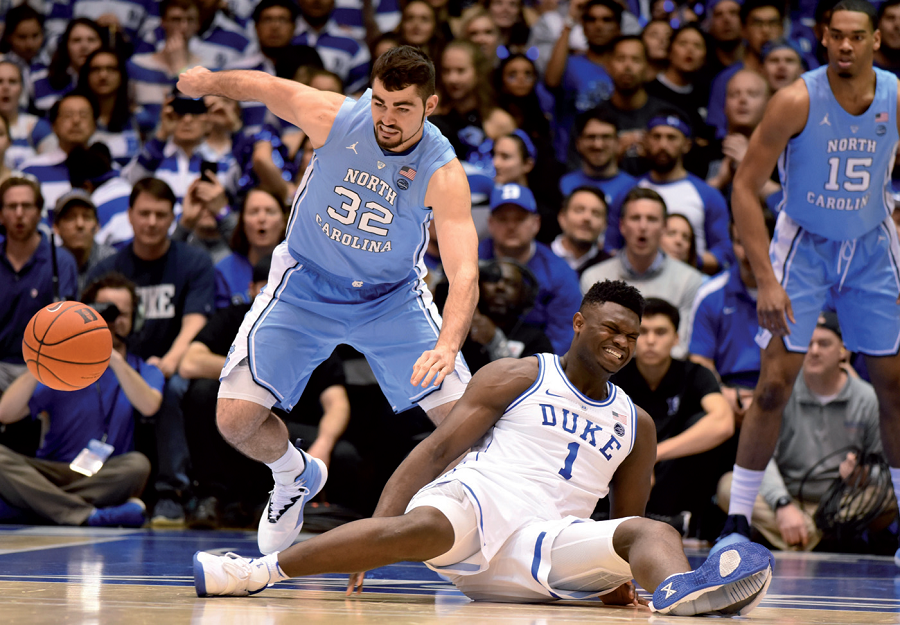 The best player in college basketball took a tumble in a big game — and so did shares of Nike Inc a day later.
Zion Williamson, an imposing 6-foot-7, 285-pound freshman forward at Duke University, who is expected to be the No. 1 player selected in the 2019 NBA draft, sprained his right knee when his Nike sneaker came apart in a game against arch-rival North Carolina on Wednesday.
Williamson, who many see as the next LeBron James, was unable to return to the game after the incident, which happened in the first minute of play. No 1-ranked Duke, without Williamson, lost to No. 8 North Carolina, 88-72.
Duke basketball Coach Mike Krzyzewski said it was unclear how long Williamson would be out due to the injury.
"He's the most valuable player to come out of high school or college since LeBron James, without question," said former sports marketing executive Sonny Vaccaro, who famously signed Michael Jordan to a sneaker deal for Nike.
A video showed Williamson slipping and bending to the floor, clutching his knee. His left sneaker was split in half, with part of the sole separated from the base.
Former President Barack Obama, movie director Spike Lee and star NFL running back Todd Gurley were at the game at Cameron Indoor Stadium in Durham, North Carolina, the home court of the Duke Blue Devils.
A video posted on Twitter showed Obama sitting courtside, mouthing the words, "his shoe broke!"
"Hope young fella is ok!" tweeted LeBron James (@KingJames) on Wednesday. "Literally blew thru his [shoe]," he added, using a shoe emoji.
"We are obviously concerned and want to wish Zion a speedy recovery," Nike said in a statement. "The quality and performance of our products are of utmost importance. While this is an isolated occurrence, we are working to identify the issue."
On Thursday, shares of Nike fell 89 cents, or 1.05 percent, to close at $83.95 in New York Stock Exchange trading. The decline lopped $1.1 billion off Nike's market capitalization.
Williamson was wearing the Nike PG 2.5 basketball shoe when he was injured. That line of sneakers, launched last summer, sells for $95-$105 on Nike's website.
It was the type of incident that sets social media ablaze, and netizens and pundits were quick to weigh in on what impact it could have on the Beaverton, Oregon-based sports apparel giant.
"Product quality will remain an issue, and I think Zion's blowout will do lasting damage to their brand," Jim Collins, founding partner of investment site theportfolioguru.com and a Duke University alumnus, told China Daily.
Timothy Collins, in a piece on financial site RealMoney.com about the sneaker incident, wrote: "I'm more interested in how the company continues to perform in China."
If recent sales in China are any indication, Nike shares should stay well-heeled.
In its fiscal 2019 second-quarter earnings report, Nike reported a 38 percent increase in earnings year-over-year in Greater China, the highest percentage growth of any region.
China also is one of the countries where Nike shoes are made.
"For fiscal 2018, contract factories in Vietnam, China, and Indonesia manufactured approximately 47 percent, 26 percent and 21 percent of total Nike brand footwear, respectively," according to the company's last annual report.
Williamson's injury also raised speculation on whether the 18-year-old would return to college basketball.
And perhaps coincidentally, or not, the National Basketball Association this week submitted a proposal to the NBA Players Association to lower the league's player-eligibility age from 19 to 18, according to a USA Today report.
PointsBet, a licensed gambling operation in New Jersey, said it refunded wagers in the form of credits to be used on future bets after the incident.
"We are in a position to rule on injustices incurred in the betting world and invoke refunds to our loyal customers we feel have been on the wrong side of luck," said Johnny Aitken, PointsBet's CEO for North America.
Reuters contributed to this story.