Kim on train to Vietnam for second summit with Trump
By PAN MENGQI | China Daily | Updated: 2019-02-25 10:32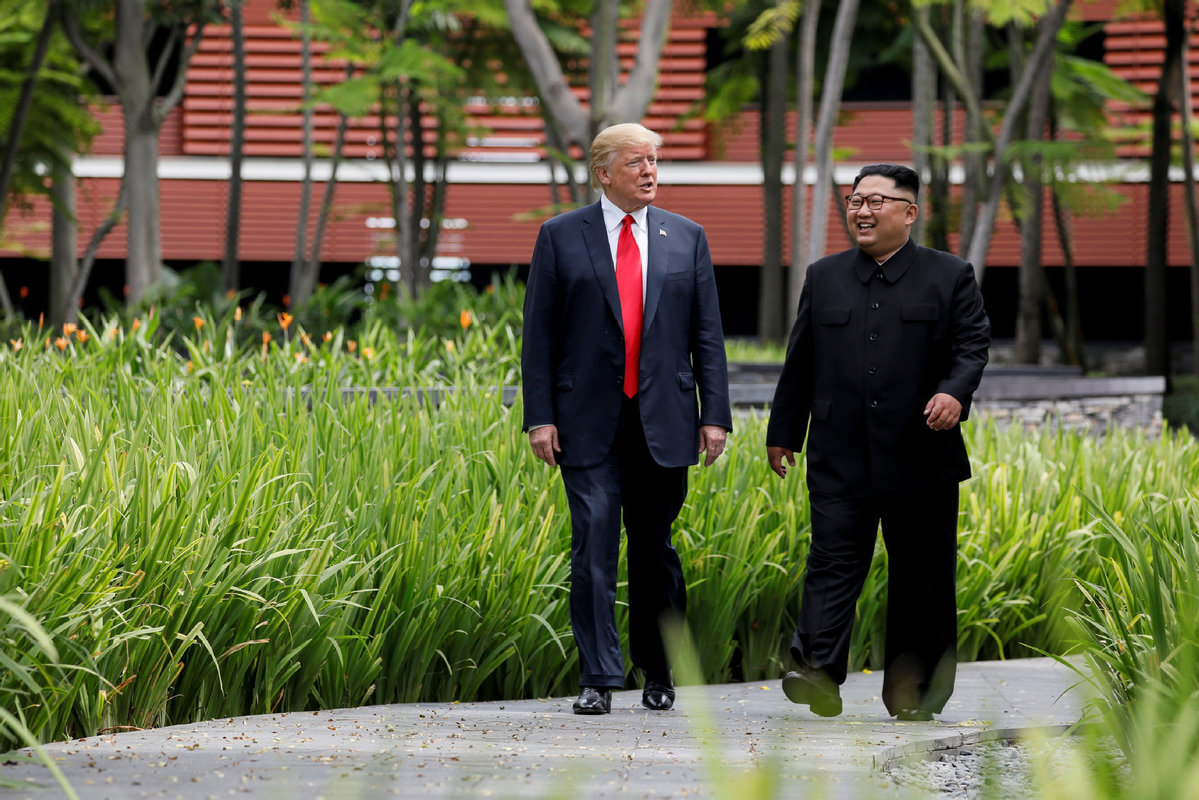 Kim Jong-un, DPRK's top leader, departed on Saturday by train from Pyongyang for Hanoi for talks with US President Donald Trump.
The departure, confirmed by the country's state media, is the first official acknowledgment that the talks are taking place.
Kim will travel more than 4,500 kilometers for about 60 hours, passing through China before he reaches the Vietnamese capital in time for the meetings on Wednesday and Thursday.
According to a report from the Korean Central News Agency on Sunday, Kim left the DPRK capital for his second summit with Trump, accompanied by his sister Kim Yo-jong and Kim Yong-chol, a key negotiator in talks with the US.
The Vietnamese Foreign Ministry announced earlier on Saturday that Kim would also make an official visit to Vietnam in the "coming days". Kim would be visiting at the invitation of the Vietnamese President Nguyen Phu Trong.
Reports said officials from both the Democratic People's Republic of Korea and the United States are already in Hanoi negotiating the agenda, logistics and other details for the meeting, including what first steps Pyongyang should take toward denuclearization.
A New York Times report said DPRK has offered to dismantle its nuclear complex in Yongbyon, which houses plutonium and uranium enrichment facilities, but has emphasized it would do so only when the US took "corresponding measures".
Kim and Trump held their first summit in Singapore in June. It was criticized for vague results, particularly the lack of a meaningful agreement on the detailed process toward denuclearization.
Analysts say that this time a more substantive outcome is likely.
Kim Du-yeon, an adjunct senior fellow at the Center for a New American Security, said the Vietnam summit will determine whether real denuclearization on the Korean Peninsula is possible and how much Washington is willing to pay for it, while ensuring Pyongyang's survival and the country's prosperity.
A Sunday report from The Associated Press said both sides "want to have something to keep momentum going". However, they will probably proceed cautiously, keeping incentives for future negotiations. According to AP, US officials, including Stephen Biegun, the special envoy for the DPRK, have suggested that Washington should take the denuclearization as a "step-by-step process".
Li Nan, an associate research fellow of the Institute of American Studies at the Chinese Academy of Social Sciences said he expects the summit in Hanoi can offer the possibility of forming a specific road map for the denuclearization of the Korean Peninsula.
However, Li noted even if a specific plan comes out of this summit, it will be difficult to overcome "the mutual distrust between the two countries". He said without mutual trust, implementation of any agreement will become a major test.
"Whatever the outcome of the summit, the bilateral relationship between the DPRK and the US has to improve, with prejudices remaining the biggest obstacle," he said.