John Hardman: witness to China's dramatic change
By MAY ZHOU in Houston | China Daily Global | Updated: 2019-02-25 23:17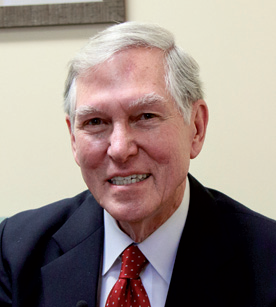 John Hardman was a medical director at an Atlanta hospital when Chinese leader Deng Xiaoping visited Atlanta in February 1979. Professing a strong interest in international relations and China, he managed to get himself and his wife invited to the luncheon in Deng's honor.
"It was fortunate to be able to see Deng Xiaoping when he visited Atlanta," Hardman recalled during an interview with China Daily in January. "It was a very exciting time. People were extremely enthusiastic about opening to China and getting to know more about China. It was time to really get to know another culture."
Hardman was impressed with Deng.
"He was small and very charismatic. The room just became energized when he came in; he was so enthusiastic that everybody around couldn't help but to be enthusiastic as well," he said of Deng.
Normalization of relations with the US coincided with Deng's reform initiative in China.
"It really had an impact on President Carter's decision [to normalize the relationship with China]", Hardman said.
Years later, in 1992, Hardman became president and CEO of the Carter Center and worked in that capacity for more than two decades until 2014. He was able to meet with Deng twice in China in that capacity.
Hardman said that Deng had asked the Carter Center to be involved in a number of issues in China, from looking at how rural communities function to rural healthcare issues.
"Deng said the central government had a difficult time meeting all the requirements of potholes, road needs, senior care and child care issues. He said those should be handled by themselves at the local level. Many barefoot doctors were getting old and retiring, and we helped to look at what healthcare the individual villages needed," Hardman said.
In a span of 20 years, Hardman visited China two to three times a year. He visited many villages and met with other Chinese leaders, including Xi Jinping.
"I feel very privileged to be able to see each of them, along with President Carter, to have conversations with them, to see the growth of China through the eyes of different leaders. It was very exciting," Hardman said.
Hardman said it was extraordinary to see 40 years of China's growth, progression, and change of China first hand. When he first visited China at the end of 1989, his primary impression of China was of many bicycles with only occasional cars going by.
"Technology was not even around at that time. When I first went to China, I didn't have communication to talk to people back at home or leave a message. Now you look at China, downtown Beijing and Shanghai is about the same as Atlanta. China has moved from an agricultural type of society to an urban society. Those changes were drastic," Hardman said.
Hardman said he met with some Chinese generals in his visit to China last fall.
"The Chinese generals said their main purpose is to prevent war and any kind of military action. They are doing that through being able to help people and countries rather than engaging in any conflict and threat. The main objective of the military is to help people; I find that very heartening," Hardman said.