The magic is in handwriting
By Harvey Dzodin | chinadaily.com.cn | Updated: 2019-02-26 17:04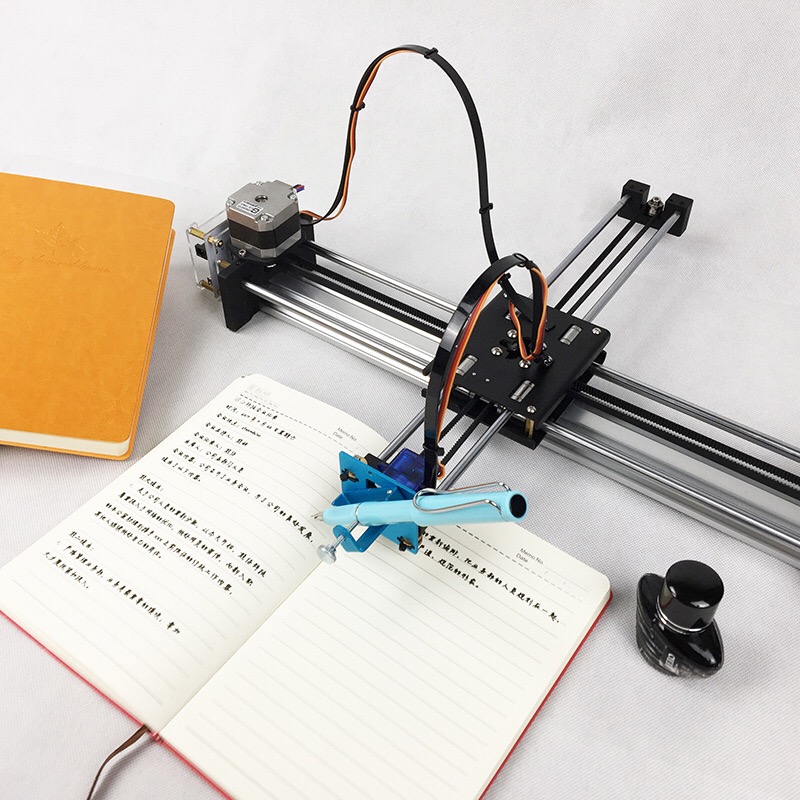 I absolutely detest tiger moms, mothers raising children in a traditional Chinese way, including extreme discipline, ultra-strict rules and tough love, as popularized in 2011 by Yale Law Professor Amy Chua in her book Battle Hymn of the Tiger Mother. So I was incensed when I read the story in China Daily about a Harbin mother who smashed her teenage daughter's robot-writer computer accessory to smithereens that she bought with her own red envelope-generated savings that so faithfully mimicked her own Chinese handwriting that she could do her calligraphy homework in record time in her own unique style so that no one could tell the difference.
I strongly agreed with the overwhelming online consensus that supported the student and I initially intended to argue that such a device was a welcome addition because cognitively it was no big deal and because it would be a real time saver for children, allowing them to have a few more moments to enjoy and savor their younger years. I really feel for Chinese children who seemingly have to compete with their peers from their first breath and who are loaded up with too much homework and out-of-school extracurricular activities.
Was I wrong! I went online to find scientific research to buttress my arguments and was shocked that this girl's mother, who was quoted as telling her: "It can help you with homework, but can it help you on tests?", was 100% correct. Handwriting characters, unlike typing them or using the robot, fires a host of brain cells having to do with memory and understanding. In fact, in the West, experts now recommend studying Chinese characters if merely to improve their learning abilities and knowledge retention, putting aside the numerous benefits of knowing the language coinciding with China's rise.
Most of the scientific research I reviewed is based on the American English 26 letter alphabet linearly written from left to right, so imagine the multiplier effect of having to learn a minimum of 3,000 simplified Chinese characters to be considered literate, each one requiring up to 42 separate strokes written right, left, up and down. How do you learn them? It's like the old New York joke where a tourist asks how to get to Carnegie Hall and the answer is "practice, practice, practice".
This learning doesn't come from typing them via the robot. Rather sequential finger and hand movements to create a letter or character literally, pun intended, fire off a brain storm of activity in the cognitive and spatial memories of the student.
Studies in the scientific field of haptics, which includes interactions of touch, hand movements and brain function, have shown that typing on a keyboard, as opposed to handwriting, creates significantly more information but that learning is much more shallow and the information is not as well retained. Areas of the brain associated with memory formation don't fire when typing. This may be because typing is more mechanical, whereas writing is more mindful, requiring on-the-fly summarizing, organizing and concentration.
When children drew a letter of the alphabet, requiring a number of different skills, they showed increased activity in three areas of the brain that are activated in grown-ups when reading and writing: the left fusiform gyrus, the inferior frontal gyrus and the posterior parietal cortex. By contrast, children who typed the same letter with the touch of a key on a keyboard showed no such effect. The activation was significantly weaker.
Similarly, handwriting also promotes creativity. Writers like J.K Rowling, Ernest Hemingway and even Franz Kafka, who all had access to typewriters or computers, chose to create their masterpieces the old fashioned way with pen or pencil because handwriting enhanced their flights of fancy.
And handwriting is not only for the young but also for the young of heart. The more one uses the brain and creates neural pathways, the more healthy and robust aging brains are likely to be to maintain strong cognitive abilities. Lifelong learning is not only an enhancer of income and pleasure, but helps promote a high mental quality of life for seniors.
And in this brave new high tech 21st century world, where do we go from here? Compared to what's coming, robot-writers are quite primitive. Voice to text software is improving day by day. When perfected, the temptation to lazily speak words in the name of increased efficiency and time saving may be overwhelming. In that case the benefits of handwriting, or even typing, will be further lost, along with the pleasure that it brings.
I wish that the robot-writer could have been the answer to freeing up time for children to enjoy their childhood. Alas, this no pain, no gain invention is no substitute for ad nauseam handwriting practice, practice, practice.
So even though I hate tiger moms, at least when it comes to the Harbin middle school student's mother, she was right about writing. I am ashamed to admit that in this instance this Harvard Law School graduate has to reluctantly defer to a Yale Law School professor.
Harvey Dzodin is senior fellow at the think tank Center for China and Globalization, and is a former legal advisor in the Carter Administration.
The opinions expressed here are those of the writer and do not represent the views of China Daily and China Daily website.