Phones of the future revealed to be 5G and flexible
By Angus McNeice in Barcelona | China Daily Global | Updated: 2019-02-28 01:36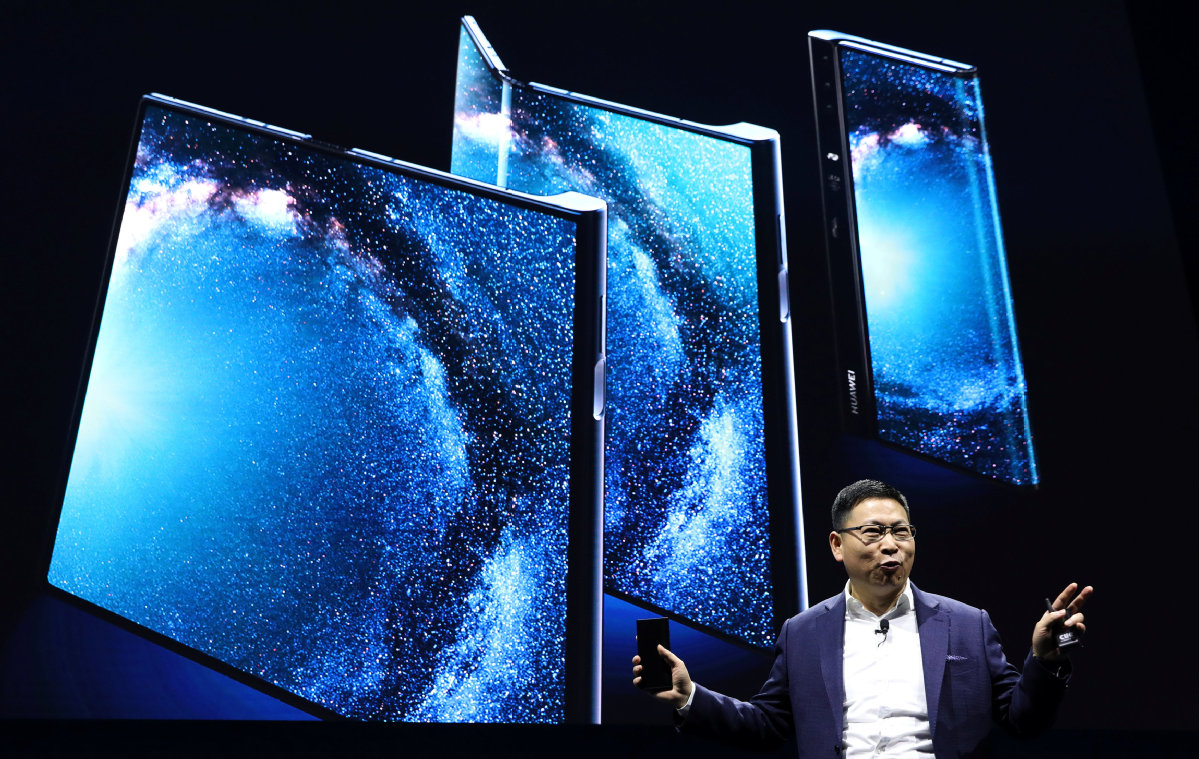 At this week's Mobile World Congress in Barcelona, Spain, it became clear that 2019 is going to be the year of the foldable phone.
Several major phone makers showcased new flexible handpieces at the massive trade show that visits the city each year.
Hinges and special, bendable screens allow the devices to switch between smartphone and tablet.
Two telecommunications heavyweights – Huawei from China, and Samsung from South Korea – went head-to-head at the event, which is also known as MWC, this year, showing off their flexible offerings in pavilions directly across from each another.
Huawei's foldable phone – the Mate X – was unveiled a few days before the MWC kicked off, and the phone has drawn a steady stream of visitors to the company's pavilion.
The Mate X is an impressive feat of engineering. The hinge alone took three years to develop. The phone combines a foldable screen, artificial intelligence, and a new interface. It is also compatible with 5G networks.
Huawei believes the Mate X will be the phone to carry people into the 5G era. And it will be in direct competition with its flexible rival, the Galaxy Fold, by Samsung.
The Fold comes out this spring, though curiously no-one was allowed to get their hands on one at the MWC this week, where the device remained behind glass. Conversely, journalists and industry players were allowed to make an appointment to check out the Mate X.
"They heard we were launching, so they hurried to launch," Yu Chengdong, CEO of Huawei consumer business group, told media at the tradeshow. "You can see this is a real phone. I've been using it for many days. The others? I don't know, because they are not ready."
Several other companies showcased foldable devices at MWC. Chinese electronics manufacturer Royole seemed to be having the most fun at the conference. The company slotted curved screens into top hats, T-shirts, and handbags, provoking a vision of the future where our accessories double as electronic billboards.
Royole allowed visitors to handle its foldable phone, which has been on the market for several months.
"We launched the world's first commercial foldable smartphone last October," said company co-founder Peng Wei. "This is the first commercially available foldable phone. We have already shipped orders.
"This flexible-screen technology enables innovation. Phones are no longer limited by a rigid screen. It's a combination of phone and a tablet, so you can combine the large screen experience with the portability."
Guangzhou-based electronics company TCL unveiled its DragonHinge technology at the MWC. The multi-gear hinge features in five new foldable devices from TCL, some of which will be available next year.
"We see the opportunity to really shape and bring something fresh to market," Stefan Streit, TCL's global marketing manager, said of the array of foldable devices the company will offer. "There's so many different ways you can do them."
Several other major phone makers have plans to make foldable phones, including LG, Xiaomi, and Lenovo. So far, iPhone manufacturer Apple has kept its cards close to its chest on the matter.
What is known is that the company has filed patents related to foldable technology, which suggests it is at least exploring the idea. In any case, if the technology is welcomed by consumers, Huawei and Samsung will have a significant headstart, and Apple will be in the uncommon position of playing catch-up.
5G has been another dominant theme at this year's MWC and almost all of the vendors were plugging some aspect of 5G innovation.
Chinese phone maker Xiaomi launched its first 5G smartphone this week. The Mi Mix 3 5G features a 5G modem from chipmaker Qualcomm.
"5G is here," said Qualcomm president Cristiano Amon. "Not in 2020, not in late 2019 – it's here right now in 2019. 2019 is the year of 5G."
Chinese electronics company ZTE also joined the list of enterprises offering 5G technology. The company launched the Axon 10 Pro 5G from the MWC.
Jeff Yee, vice-president of innovation and partnerships for ZTE devices, said the main benefit users will get from 5G devices is speed.
"Everything is going to be a lot faster," Yee said. "That's going to be the big difference. And you will be able to notice that in many areas of use on the device."
Beyond handsets, 5G innovations from China at the trade fair included VR headsets from HTC, and a 5G humanoid robot created by AI company CloudMinds.
Contact the writer at angus@mail.chinadailyuk.com