UN council takes up issues of Venezuela
By HONG XIAO at the United Nations | China Daily Global | Updated: 2019-02-28 03:31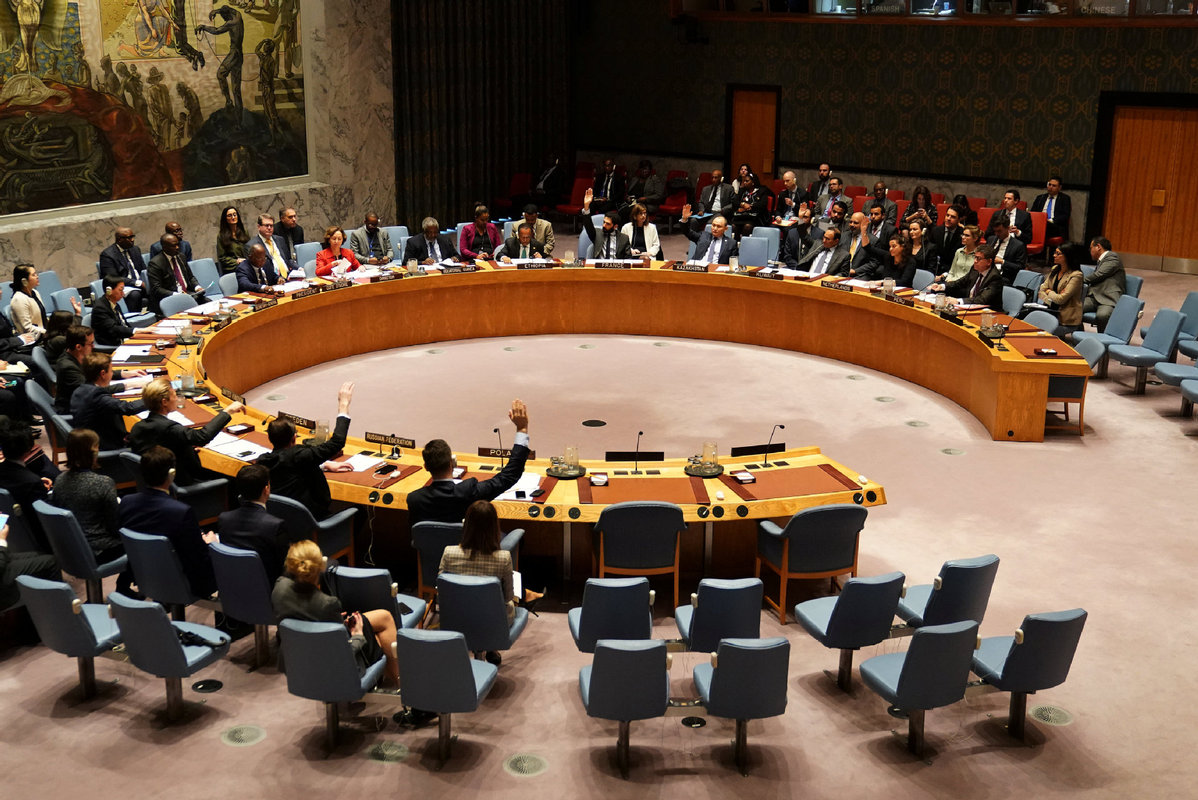 At Security Council meeting, China's envoy supports South American nation's sovereignty
The United Nations Security Council convened on Tuesday to discuss the situation in Venezuela as clashes over the weekend at Venezuela's borders with Colombia and Brazil have captured international attention.
Ma Zhaoxu, China's permanent representative to the UN, reiterated China's position at the meeting at UN headquarters in New York: "China supports the efforts of the Venezuelan government to safeguard its sovereignty, independence and stability."
He said that China maintains that all countries should abide by the basic principles of international law and relations.
"(China) opposes foreign interference in the internal affairs of Venezuela, opposes military intervention in Venezuela, opposes using the issue of so called 'humanitarian assistance' for political purposes to create instability or even turbulence inside Venezuela and in the neighboring region, which serves no parties' interests," said Ma, China's permanent representative to the UN.
Ma said China knows that recently the Venezuela government "has remained calm and exercised restraint and been dedicated to upholding the domestic peace and stability".
"We hope that the international community on the premise of respecting Venezuela's sovereignty provides constructive assistance to Venezuela to facilitate a smooth settlement to relevant issues," he said.
According to UN Under-Secretary General for Political Affairs Rosemary DiCarlo, at the Colombia border, two trucks loaded with foreign relief supplies were burned while attempting to cross the border.
Along the Brazilian border, according to the Office of the High Commissioner for Human Rights, between Friday and Saturday, four deaths were confirmed near the Brazilian border and another 64 individuals were injured, most of them by gunshot, DiCarlo said in her briefing at UN headquarters on Tuesday.
UN Secretary-General Antonio Guterres said he is following the situation with increasing concern over the escalation of tensions.
US Special Representative for Venezuela Elliott Abrams attended the meeting, saying he hopes the Security Council will vote this week on a resolution calling for Venezuela to allow the entry of humanitarian assistance.
Venezuelan Foreign Minister Jorge Arreaza responded by accusing the US of organizing and financing "a well-orchestrated operation" to violate his country's sovereignty, which Venezuelan armed forces and police "were able to contain ... without using any kind of deadly force".
Arreaza called on the council to support a resolution that rejects "the threat of the use of force against the Venezuelan people, and to rule that out once and for all".
Arreaza reiterated that the Maduro government is waiting for the opposition to sit down and hold talks to find a solution without US or other interference. "There are elections maybe; there are other possible solutions, maybe," he said.
Russia's UN envoy Vasily Nebenzya said Russia is ready to render all possible assistance in the search for a compromise between Venezuela's conflicting political forces.
"On our part, we are ready to assist in the search for mutual understanding between all constructive and patriotically minded forces in Venezuela," he said.
The Russian diplomat also warned against the military scenario, saying that it would entail "most severe consequences for the region".
He also said that Russia has prepared a draft Security Council statement on Venezuela.
Heinz Dieterich, an adviser to the late Venezuelan president Hugo Chavez, wrote in an email to China Daily that the intervention by the US administration would be highly risky, "contrary to international norms and opinion, opposed in most of Latin America and setting back needed cooperation on other issues, imposing high casualties and damage, possibly setting off bloody conflict, and exacerbating violence and economic disaster".
The German sociologist now lives in Mexico City and maintains close contacts with officials in Venezuela.
Dieterich said a much better course would be "to galvanize a negotiated return to effective democracy and economic recovery in Venezuela."
"The time has come to focus on that imperative," he said.
On Monday, a meeting was held by the Lima Group in Bogota, Colombia. The Lima Group, comprising 13 Latin American countries and Canada, was established in 2017 to focus on Venezuela's situation.
Opposition leader Juan Guaido attended the meeting, at which measures were discussed to compel President Nicolas Maduro to leave office.
At the meeting, it was reiterated that Venezuela's domestic politics should be led by Venezuelans peacefully and in the framework of the constitution and international law, backed by political and diplomatic means, without the use of force.
Eduardo Gamarra, professor of political science at Florida International University, said a military option should not be first on the table. "It's not even an option," he said, hoping for a positive resolution.
Isaac Nahon-Serfaty, the chair of the communications department at the University of Ottawa, predicted the next critical moment would be the return of Guiado, who is now in Colombia.
Contact the writer at xiaohong@chinadailyusa.com