Cohen assails Trump on Hill
By AI HEPING in New York | China Daily Global | Updated: 2019-03-01 00:04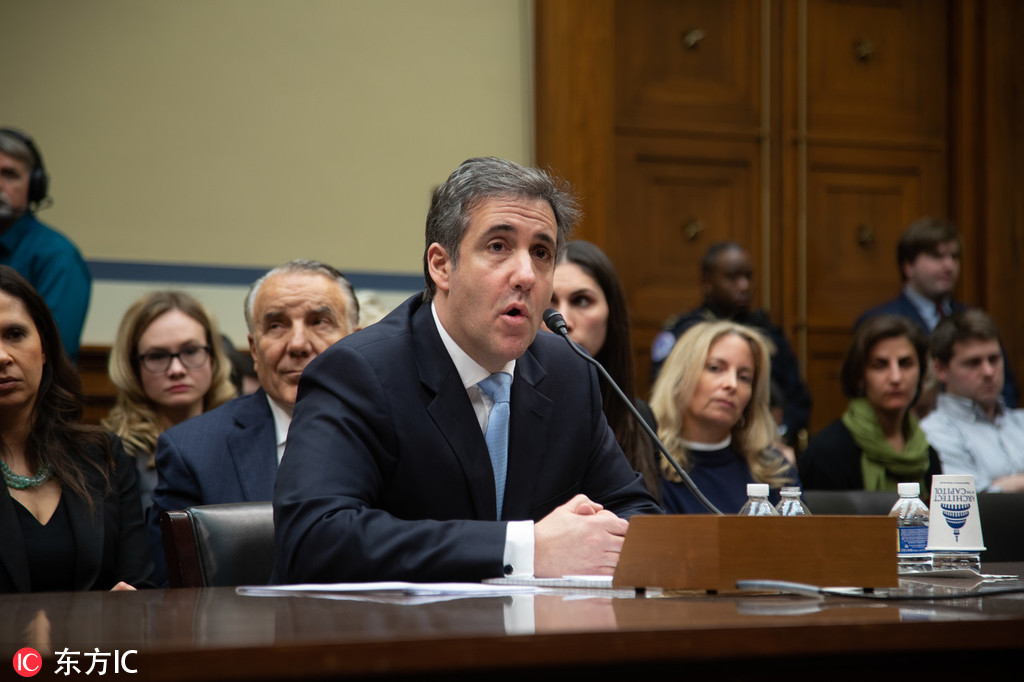 "You're a pathological liar," said the Republican congressman from Arizona.
That comment by Paul Gosar at Wednesday's hearing of the House Oversight and Reform Committee was aimed at Michael Cohen, the former personal lawyer, adviser, and confidant of US President Donald Trump, who testified before the committee.
In May, Cohen, 52, will start serving a three-year sentence for lying to Congress, tax evasion, bank fraud, and campaign finance violations.
The sentence was reached in a plea agreement with Robert Mueller, the special counsel investigating the Trump campaign for possible collusion with Russia.
The Democrat-controlled panel sought Cohen's in-person and public testimony, and he agreed to testify.
Cohen has turned on his former boss and cooperated with Mueller's Russia investigation. Trump previously called Cohen a "rat" and a liar who is trying to reduce his prison time.
Before Cohen could read his opening statement, Republicans challenged the hearing. They pointed out that Cohen had already pleaded guilty to lying to Congress and argued that the sole purpose of the hearing was to bring down the president.
Before testifying, Representative Elijah Cummings, the committee's Democratic chairman, reminded Cohen of his past lies and warned him at the outset: "We will not tolerate lying to this Congress."
Cohen then read his lengthy opening statement in which he called his former boss "a racist'', "a con man"' and "a cheat."
He also said he had no "direct evidence" that Trump or his aides colluded with Russia to get him elected, the primary purpose of Mueller's investigation.
In his statement and in answering questions from the panel, Cohen painted a picture of himself as an insider who knew Trump the real estate man, Trump the Republican presidential candidate and Trump the president.
He said that he was willing to do things for Trump "that I knew were absolutely wrong''. He said he rationalized what he called Trump's dishonesty in business as "trivial", but as president, "I consider it significant and dangerous."
He likened the president to a "mobster" who demands blind loyalty from underlings and expects them to lie on his behalf to conceal information and protect him even if it means breaking the law.
"I am not protecting Mr. Trump anymore," he declared.
The Republicans on the panel repeatedly disparaged Cohen and his credibility, noting that he is going to prison in two months for lying to Congress and couldn't be trusted.
Representative Jim Jordan of Ohio, the ranking Republican, called him a "fraudster, cheat, convicted felon and, in two months, a federal inmate".
One Republican lawmaker put up a poster board with the words "LIAR LIAR PANTS ON FIRE!" next to a supersize photo of Cohen.
Cohen was one of Trump's fiercest defenders, working with him on business and personal deals. He once said he would "take a bullet" for Trump. But on Wednesday, he implicated Trump in alleged federal campaign finance violations.
Cohen also testified that Trump had advance knowledge that emails damaging to then-Democratic presidential candidate Hillary Clinton would be released by WikiLeaks.
But he said he had no "direct evidence" that the Trump presidential campaign colluded with Russia to get him elected, the primary purpose of Mueller's investigation.
Cohen told lawmakers how he arranged hush-money payments to a porn actress and a Playboy model who said they had sex with the president.
In commenting on Cohen's daylong testimony, Richard Hasen, law professor at the University of California-Irvine School of Law, told China Daily:
"For some of the things, Cohen has provided corroboration. For example, he has shown checks he was given by Trump and the Trump organization supposedly to pay for hush money. Cohen suggested there could be other witnesses who could be questioned, including Trump's secretary. So, I think it provides further information that may be relevant to Congress and a prosecutor, but by itself, it's too early to say where it might lead."
Cohen told the committee, "I am ashamed of my weakness and misplaced loyalty, of the things I did for Mr. Trump in an effort to protect and promote him," Cohen said. "I am ashamed that I chose to take part in concealing Mr. Trump's illicit acts rather than listening to my own conscience. I am ashamed because I know what Mr. Trump is."
On racism, Cohen said the president made racist comments "disparaging African-Americans, saying at one point that black people would never vote for him because they were too stupid".
He said that Trump once confided to him that, despite his public explanation of a medical deferment from the Vietnam War, he never had any intention of fighting there.
"You think I'm stupid? I wasn't going to Vietnam," Cohen quoted Trump as saying.
"I find it ironic, President Trump, that you are in Vietnam right now," Cohen said on Wednesday.
Trump, in Vietnam for a summit with the Democratic People's Republic of Korea top leader Kim Jong-un, lashed out at Cohen from a hotel, saying Cohen "did bad things unrelated to Trump" and repeated what he has said previously, that Cohen "is lying in order to reduce his prison time".
Scott Reeves and AP contributed to this story.