New campaign calls on consumers to help save sea turtles
chinadaily.com.cn | Updated: 2019-03-04 16:13
On World Wildlife Day, actor Eddie Peng (Peng Yuyan) joins WidAid to call for more people in China to play their part in protecting the oceans and endangered sea turtles.
Ocean fisheries are being depleted at an alarming rate around the world, with an estimated one third of commercial fisheries suffering from over-fishing. Illegal fishing and trade of protected marine species including sharks, mantas, and sea turtles is seeing some of their populations plummet. Warming seas from climate change are causing mass die offs of coral reefs. And pollution from plastics in the oceans are dealing a further blow to wildlife who frequently consume the plastic and die from not being able to digest it.
"The oceans are facing very serious challenges to staying healthy and productive. We all need to act fast to help reverse these alarming trends," notes Steve Blake of WildAid in China. "There are simple things we can all do such as reducing the amount of plastic we use and saying no to all illegal marine products, especially from sea turtles."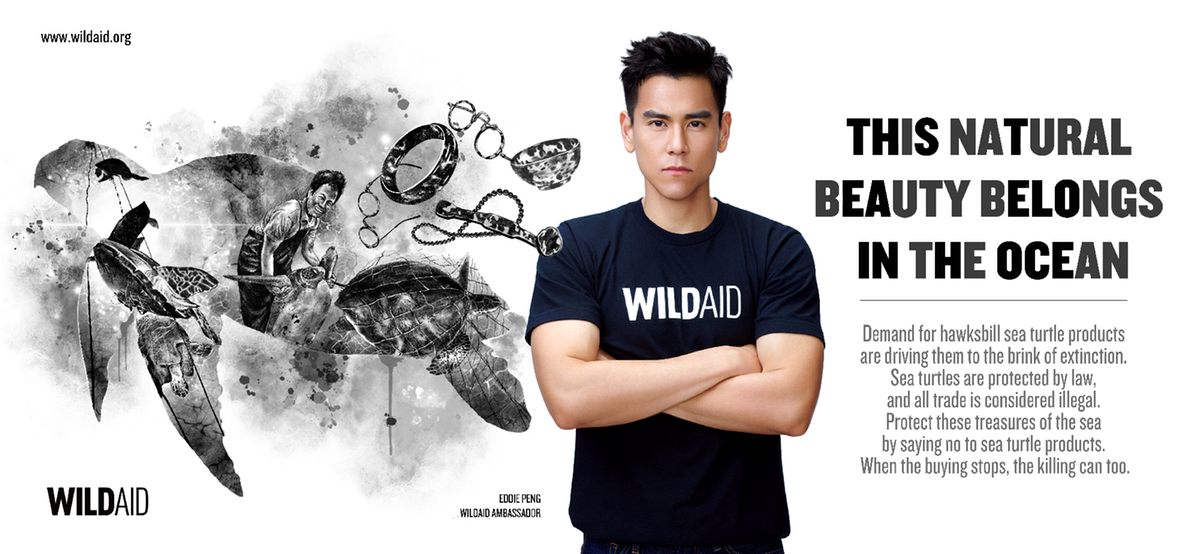 As one of the most graceful and unique animals in the ocean, sea turtles are not only seeing huge declines in recent decades from habitat loss, bycatch, and pollution, but also from illegal trade in their eggs, meat, and shells.
Of the 7 species of sea turtle, 5 are found in Chinese waters. In the 1980's there were an estimated 14,000 green sea turtles found in Chinese waters, but by 2008 that number was less than 2000. The only active nesting sites in China are now in the remote Paracel Islands in the South China Sea.
Meanwhile, illegal products made from sea turtle shells are easily found for sale throughout Asia and China. In the last five years, Chinese authorities have intercepted 38 smuggling cases involving sea turtle products. Most commonly seen items are made from "critically endangered" hawksbill turtles, with only an estimated 23,000 remaining globally.
A 2017 survey by WildAid of 1500 residents in Beijing, Shanghai, Guangzhou, Beihai, and Sanya showed that 17% of respondents had previously purchased sea turtle products, most of which as souvenirs.
To address this WildAid is partnering with actor Eddie Peng on a campaign with a message to encourage protection of sea turtles by saying no to their products. The campaign is being rolled out on Word Wildlife Day March 3, and will messages on social media, TV, and outdoor billboards in key markets across China.
"Don't be fooled by the beauty of hawksbill products, because they all came from illegal and devastating trade," says Eddie Peng in the message, "This natural beauty belongs in the ocean."