Farmer's peach tree tables and chairs selling for 20,000 yuan
By Jiang Wei and Wang Yifan | chinadaily.com.cn | Updated: 2019-03-05 08:54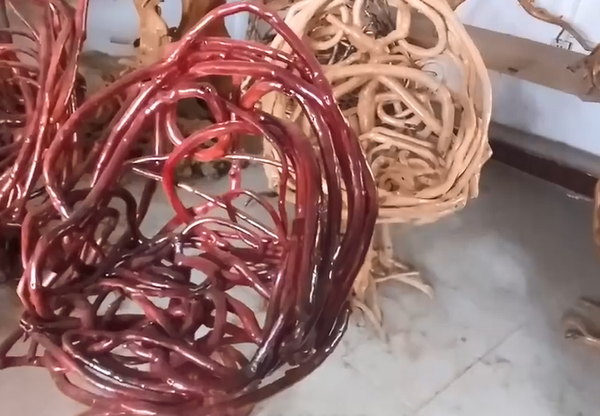 After 10 years of fastidious work, Zhang Weiren, a fruit grower in Laixi of Qingdao, East China's Shandong province, has been able to grow peach trees into the shapes of tables and chairs. The price of one of his peach branch chairs has now reached more than 20,000 yuan ($2,987).
In a farm in Jimo district of Qingdao, Zhang, 65, says that he plans to grow the tables and chairs at a ratio of four to one: four chairs to each table.
Zhang said that he started planting peach trees 15 years ago. He used to be a carpenter and often made wooden furniture, so, when planting peach trees, he liked to collect the roots of various materials and use them for making ornaments, tables, chairs, figures, flowers, birds, and other root carvings.
As the raw materials became scarce however, Zhang had another idea, asking, "Can I plant tables and chairs myself?" Although his family were initially skeptical, Zhang persisted.
In 2006 Zhang began experimenting with elms to make his tables and chairs. "The first time I chose elms, but in the end I failed."
He began to use peach trees in 2007, knitting four peach branches together and putting iron molds on them. Depending on the growth of the branches, the trees were shaped each year until they grew into the shapes of a table and chair.
"It took almost 10 years to grow into finished products. Now there are about 800 tables and chairs," Zhang said, adding that once the products are grown, they are then cut, peeled, dried, and polished to be ready for sale.
Zhang took his first set of four peach tree chairs and a round table to the China Import and Export Fair (Canton Fair) in 2016, catching the attention of several merchants who offered to buy the set.
Zhang was not willing to sell just yet as the set were just samples. The fair strengthened his confidence however, which has continued to pay off.