Chinese dream will come true with the two sessions
By Hujjatullah Zia | chinadaily.com.cn | Updated: 2019-03-05 14:15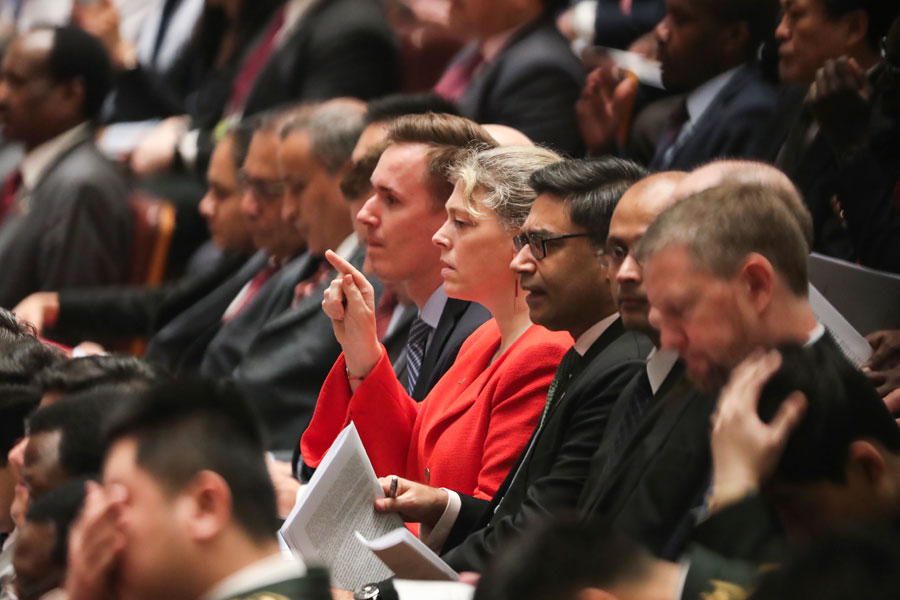 China's two sessions, the Chinese People's Political Consultative Conference (CPPCC) and National People's Congress (NPC), are the biggest social, political, and economic events of the year in China and carry increasing weight for Chinese nation.
The participation of CPPCC members from both Communist and non-Communist parties and all walks of life, including social and ethnic groups, in last year's sessions filled me with an outpouring of excitement about China. This demonstrated two facts to me: First, China is a multi-party state and individuals from non-Communist parties also have their say in the sessions. It is also stated in the preamble of Chinese Constitution that "the system of the multi-party cooperation and political consultation led by the Communist Party of China will exist and develop for a long time to come". Second, China engages all nationalities in the social and political life of the state as it is said in Article 4, "All nationalities in the People's Republic of China are equal. The State protects the lawful rights and interests of the minority nationalities and upholds and develops a relationship of equality, unity and mutual assistance among all of China's nationalities…." Thus, as a top political advisory body, CPPCC monitors the officials' performance and comes up with consultation, which indicates that China advocates consultative democracy that is different from that of the Western countries. Meanwhile, NPC serves as a legislative body.
The 2018 two sessions was highly significant and lasted for 15 days versus the usual 10 days. I remember vividly when Chinese Premier Li Keqiang presented the five-year achievements of the state in the first session of the 13th NPC on March 5, 2018. Delivering a report about campaign against poverty, Premier Li said that more than 68 million people had been lifted out of poverty in the past five years and Chinese central government appropriated 280 billion yuan to fund poverty reduction. He also noted that government had created 13.51 million new urban jobs.
It was jaw-dropping for me to hear that about twofold population of my country were lifted out of poverty only within five years. Hearing this, I could not wait to write a commentary back home titled "China – A Poverty Alleviation Role Model for Afghanistan" and explained Chinese swift development in terms of poverty alleviation. Introducing China as a role model, I wrote, "The government must have short-term, mid-term, and long-term plans, the same as China, for reducing the level of poverty and appropriate certain amount of money every year for this purpose". With incredible struggles made by Chinese officials, I strongly believe that China will obtain sustainable development and economic growth before the timeframe assigned in the UN 2030 agenda and will prosper soon in building a moderately prosperous society.
Reaping the fruit of 40 years of reform and opening-up, Premier Li reiterated last year that China would deepen its reform and opening-up policy.
Overall, adhering to the road of peaceful development, advocating the poverty alleviation and opening-up, and staying strongly committed to its people, the Communist Party of China has played the best possible role for Chinese nation and the Chinese dream and rejuvenation will come true in the near future.
By attending the 2018 two sessions as a journalist in the Great Hall of the People, I was impressed by China's "development", "dynamics" and "diversity".
In this year's two sessions, Chinese officials will intensify their commitment for social, political and economic development so that the Chinese dream for rejuvenation will come true in the near future.
The author is an Afghan journalist and freelance writer.
The opinions expressed here are those of the writer and don't represent the views of China Daily website.