Government Work Report: Recalibrating China's economy
By Laurence Brahm | chinadaily.com.cn | Updated: 2019-03-05 15:53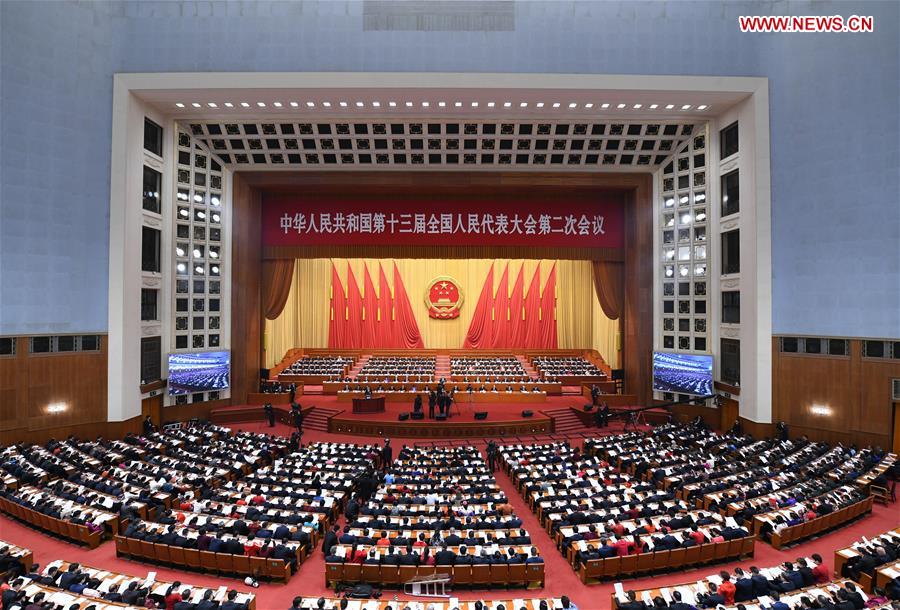 Chinese Premier Li Keqiang delivered the Government Work Report to delegates of National People's Congress in Beijing on March 5, 2019. The report presents hard core economic statistics measuring progress over the past year and sets clear and specific targets for the year ahead.
Double-digit hyper-growth characterized China's past four decades, and every year foreign journalists await a pronouncement on the GDP growth rate as if nations of the world depend on China's economy to sustain their own. While last year's growth came in at 6.6 percent, at the outset of his speech he established more conservative marks for growth in 2019 predicting 6-6.5% GDP. Clearly, Premier Li called for quality of growth rather than quantity as new targets for the year and decade ahead.
This year, Premier Li's report was all about recalibrating China's economy. Yes, China's past decades of high growth addressed gargantuan issues such as road, rail and airport networks, ports, and urban infrastructure. Jobs were created a plenty and a mesmerizing transformation from scarcity to prosperity changed China's urban landscape in ways historically unprecedented anywhere. Nevertheless, emphasis on quantity of growth overlooked gaps in the quality, leaving many aspects of the social support services network neglected or fragile at best. While sudden prosperity has transformed lives of many, there are others left between the cracks. Moreover, huge lags and inefficiencies in medical, education and social services have created upward social frustrations that now need to be addressed. Premier Li focused extensively on these issues in his report.
Clearly environmental action topped his agenda. Decades of hyper-growth and industrial development has led to excessive carbon emissions and toxic waste that in recent years devastated air quality and water resources, impacting agriculture and in turn food security. A triangular conundrum of water, food and health security has emerged as a new priority to be tackled by the government at both national and local levels. A major part of Premier Li's speech was devoted to China's new ecological civilization policy, and turning this policy into concrete action to address the environmental crisis China and the world now face together.
Li's report placed heavy emphasis on strengthening government oversight through tightened environmental standards. This means strengthening the powers of Ministry of Ecology and Environment, and its corresponding local level bodies, giving these environmental regulatory organs overarching sectoral ability to determine standards and inspect. New enhanced environmental protection standards can be expected placing new pressure on business to act of their own accord and invest in waste management and recycling, renewable and efficient energy systems. Expect a new environmental ethics to become core to corporate social responsibility with Chinese characteristics. Urban infrastructure will require overhaul to introduce eco-friendly buildings. Moreover, the government will establish a national park service system for management of natural and protected landscapes and green-lines of protection for mountain, river, forest and delicate bio-diversity regions in an expansive way previously unprecedented in China. In the agricultural sector Li called for rehabilitating 5.3 hectares worth of soil already damaged by waste, a massive task.
Premier Li emphasized the importance of green finance in developing new energy forms to replace coal. It seems that coal – the planet's dirtiest fuel source -- has become an enemy of the state, and alternative energy will be embraced and enhanced. Premier Li specifically emphasized thermal energy as an option, which is both clean, efficient and cost effective. Premier Li has effectively outlined a blueprint for re-gridding China. All of this will of course introduce new jobs as China re-grids green.
Despite all of the economic gains over the past 40 years, China's health system is today overstretched and stressed to the limit. There are too many people seeking healthcare, and not enough doctors to give them enough attention they deserve. It can take days to see a doctor and people line up every morning at hospitals across the country, waiting in frustration. Overworked doctors are cursory in their review of patients at best. This has created huge social anguish. Clearly healthcare topped Premier Li's agenda alongside environment. He placed tremendous emphasis on combating cancer through a combination of comprehensive treatment, research and development, and further subsidies on patient treatment. Moreover, he specifically called for scientific breakthroughs in the cure and prevention of cancer. There was also a strong emphasis on care and support for the disabled and elderly.
Premier Li outlined a roadmap for raising the quality of national healthcare and expanding badly needed services to a broader population. This will require investment into hospital infrastructure, increased standards for doctor compensation, as well as stimulus to encourage more professionals to enter and commit themselves to a medical career. He called for increased efficiency in outpatient treatment, offering rebates for medical care. Moreover, education and emphasis on preventive medicine was highlighted.
Premier Li envisioned the establishment of more community clinics at the neighborhood levels and in rural areas. He insisted on tighter regulation over pharmaceuticals manufacturing and distribution. China has been plagued by fake medicine in the past and underpaid doctors have resorted to corruption prescribing unnecessary medicines to patience for kick-backs from manufacturers and distributors. Premier Li called for an immediate end to such practices stressing law enforcement and prosecution, while insisting on tighter standards for pharmaceutical manufacturers.
In parallel, education will be essential in addressing both healthcare and environmental concerns as China shifts new emphasis from hard growth to social well-being. Innovation, research and development for everything from alternative energy to vaccines and management of social support systems will mean an emphasis on education. Youth are the asset of a nation. The cost of education is not a liability but a capital gain for any nation that embraces the need to invest in raising educational standards for its next generation. Premier Li emphasized the need to expand the scope of education to include more innovative approaches that would build the technology systems that China will need to advance in the future.
The enormous emphasis on innovation in the medical and environmental sectors, and education of China's youth, laid a pathway for the decade ahead. Where past premiers' work reports have focused on hard infrastructure, jobs and growth; this year's report focused on health, education, and the environment. Where past Government Work Reports have emphasized development of China's hardware, this year Premier Li has focused on developing the software. It's time.
Laurence Brahm is the founding director of the Himalayan Consensus and a senior international fellow at the Center for China and Globalization.
The opinions expressed here are those of the writer and do not necessarily represent the views of China Daily and China Daily website.