Artificial intelligence adoption gathering momentum in China
By Jiang Xueqing | China Daily | Updated: 2019-03-06 10:00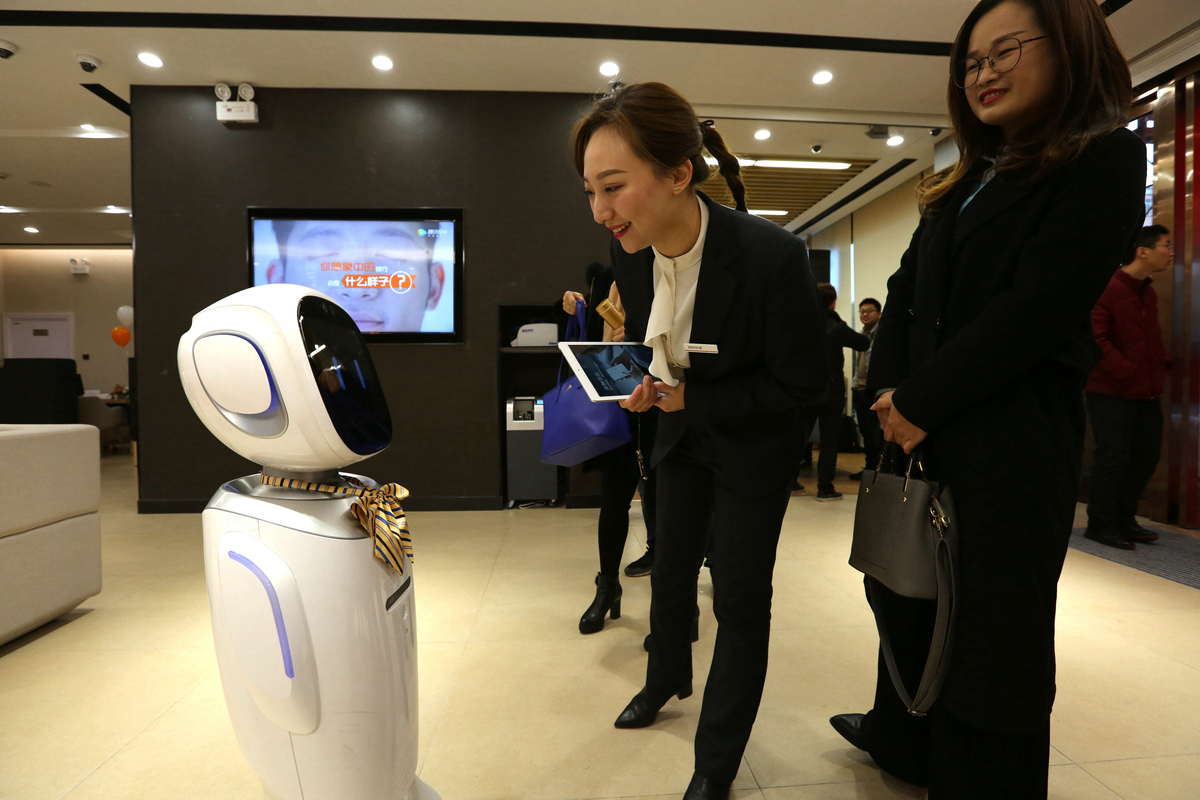 Artificial intelligence adoption by Chinese businesses has outpaced the global average thanks to increased spending on research and development and industry growth, said a PwC report.
Over 47 percent of the CEOs in China that participated in a survey said there are some forms of AI initiatives currently in place in their organization, compared with 42 percent globally. In addition, 39 percent of the Chinese executives indicated that they have plans to start introducing AI initiatives in their organization in the next three years, 4 percentage points higher than their global counterparts.
Only 14 percent of the Chinese executives said they have no plans to pursue any AI initiatives at the moment, much lower than the global average of 23 percent, according to the report.
The report covered responses from 176 executives based on the Chinese mainland and in Hong Kong between September and October 2018.
Zhou Xing, PwC North China and Beijing office lead partner, said AI adoption in Chinese companies has benefitted from the rapid growth in R&D expenditure. PwC's 2018 Global Innovation 1000 study showed that Chinese companies' R&D spending increased by 34.4 percent year-on-year to $60.08 billion last year, marking the largest growth globally.
"Over the last decade, China has made remarkable progress to become the world's artificial intelligence powerhouse. Advances in data collection and algorithms, and the prevalence of mobile devices, coupled with aggressive R&D spending, have helped the country achieve major breakthroughs in the AI realm," the report said.
The market value of China's AI industry reached 23.7 billion yuan ($3.54 billion) in 2017, up 67 percent year-on-year, and it was expected to grow by 75 percent in 2018. The top three segments of the market were computer vision, voice and natural language processing, said a report on AI development issued by the China Institute for Science and Technology Policy at Tsinghua University.
As of June 2018, the Chinese mainland ranked second in the world in terms of the number of AI enterprises (1,011), although still far behind the United States (2,028), according to the institute.
PwC found that the businesses in China are believers in AI, with 84 percent of the Chinese executives surveyed agreeing that the technology is likely to have a larger impact on the world than the internet revolution.
Most Chinese executives expect the government to play a critical and integral role in AI development. More than 90 percent of them said governments should incentivize organizations to retrain workers whose jobs are automated by AI. Other expectations for the government include providing a safety net to people displaced by AI (82 percent) and introducing incentives to accelerate the development and use of AI (84 percent).
Chinese business leaders are also hoping for regulatory relaxation. More than 80 percent of the respondents agreed that the government should limit data collection regulations to facilitate AI development, the PwC report said.
Global investment in financial technology ventures more than doubled in 2018 to $55.3 billion, led by a surge in funding in China and strong gains in several other markets as investors placed larger bets in more mature startups, according to Accenture analysis of data from CB Insights, a global venture-finance data and analytics firm.
The tremendous growth was due to a ninefold increase in the value of deals in China to $25.5 billion, which accounted for 46 percent of all fintech investments last year, Accenture said.
More than half of the country's fintech investment came from the record $14 billion funding round of Ant Financial, a financial services company of e-commerce giant Alibaba Group Holding Ltd.