Dafen moves from producing art replicas to being a hub of creation
Xinhua | Updated: 2019-03-07 07:05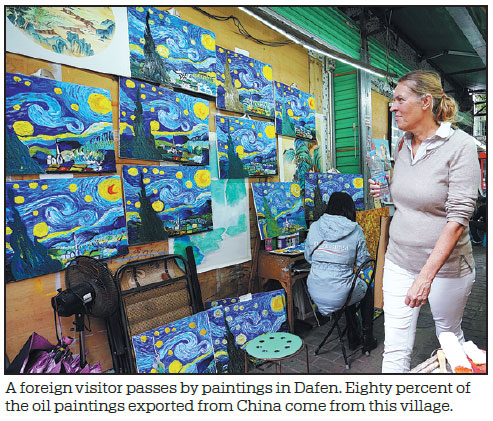 Zhao sold his first works in 1999 when an American buyer ordered 20 paintings. And more orders later came from abroad, prompting Zhao to recruit apprentices.
"My wife and my younger brothers are all my students," he says with a smile.
Zhao and his team worked from 1 pm to 3 am daily, painting eight pieces each.
And the prices of the replicas ranged from 200 yuan ($29.3) to 3,000 yuan per piece, depending on the size.
In 2008, when an economic recession hit most parts of the world, a drastic reduction of foreign orders forced Zhao to explore the domestic market. And profits kept shrinking after 2012 due to changing tastes and rising costs.
Since then, many painters in the village have given up making replicas and turned to innovation and creation.
Chen Qiuzhi, who used to paint copies of masterpieces like Zhao, has worked hard to develop his own style, combining Chinese calligraphy with painting. And to support him, his wife sold two apartments they owned and built an art center.
The facility, located at the far end of Dafen village, covers an exhibition area of over 3,000 square meters and has become a landmark in Dafen. Now, some 100 calligraphy works are exhibited there along with other craftwork.
Ten years of hard work has won him fame, with his works popular in the auction market.
Now, one piece of his calligraphy is worth tens of thousands of yuan, almost 100 times the value of replicas he painted in the past.
The art center also draws many visitors.
"Only by creation can one's works be remembered," says Chen.
Today, Dafen has nearly 300 art creators.
In 2017, the annual output value of Dafen was 4.15 billion yuan, but original works accounted for 20 to 30 percent.
Now, Dafen Village has made the transition from a low-end oil painting workshop cluster to an art center, says Liu Yajing, the director of the village's oil painting office.
She says an oil painting museum, a performance theater, a training center and a hotel are being built to develop the village into a tourist resort featuring oil painting, trade, training and exhibitions.
Compared with his Van Gogh replicas, Zhao finds his own works hard to sell. But he believes that he will be recognized someday.
"Imitation leads me nowhere. I will continue to concentrate on creation for the market and also to fulfill my dream to be a real artist," says Zhao.