Govt Work Report outlines opportunities for a better, cleaner China
By Harvey Dzodin | chinadaily.com.cn | Updated: 2019-03-07 15:55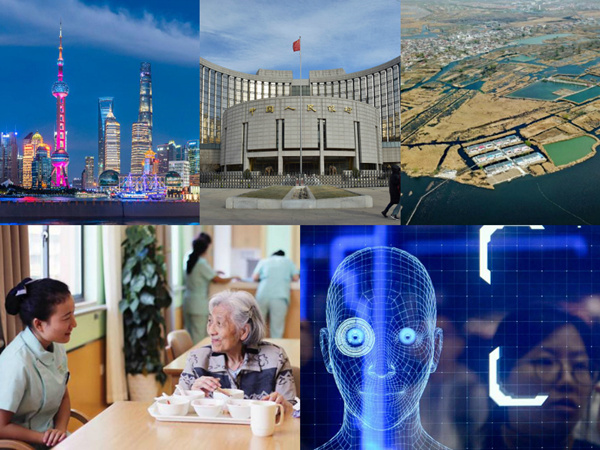 I always look forward to this time of year. A cold winter has ended, spring has sprung and a sure confirmation is the convening of the two sessions: The National People's Congress and the Chinese People's Political Consultative Conference. It's a chance to see political, business and cultural leaders, and to observe the beautiful diversity of China's traditionally attired ethnic minorities. For me, a policy wonk, I especially look forward to watching Premier Li Keqiang's Government Work Report, which reviews the nation's past progress and current challenges, and sets present and future goals.
Usually the GWR is upbeat, reflecting China's dramatic economic and social progress of recent decades. But the ironic apocryphal Chinese curse often quoted in the West - "may you live in interesting times" - is true this year. Premier Li did not try to hide this fact. He admitted that China faced a challenging and complicated international and domestic environment last year that severely impacted its economy, although previously announced targets were met. This year will be no less challenging.
As someone who has been coming to China since 1988 and who has called Beijing home for 15 years, several of Premier Li's points affect my family, so it should come as no surprise I paid special attention to these.
First is the environment. While politicians in the US are making the Green New Deal a zero-sum political football, China has made great strides in improving its environment. While President Trump, is in the process of gutting established domestic environmental regulations, China has become the global leader in promoting a sustainable environment for future generations. While Trump began the process of pulling out of the Paris Climate Accords, whose passage was assured by the joint leadership of Chinese President Xi Jinping and US President Barack Obama, China is strengthening efforts to prevent and control pollution and boost environmental protection.
Fighting pollution is expensive so it's heartening to hear from the GWR that China has budgeted 25 billion yuan ($3.73 billion) to prevent and control air pollution, a 25 percent year-on-year increase. Likewise, China will reduce its sulfur dioxide and nitrogen oxide emissions by 3 percent this year, in an effort to consolidate and increase previous gains in its efforts to keep skies blue. It also will continue its quest to further decrease PM 2.5 density particulate pollution in a number of key areas, such as the Yangtze River Delta and the Beijing-Tianjin Hebei region.
Premier Li also reported that enhanced efforts will be made to reduce pollution from industrial production, coal used as fuel, and motor vehicles, which are the three major sources of pollution. In addition, more will be done to reduce pollution by upgrading heating and switching from coal to clean energy in industrial northern China.
As for the still challenging problem of water pollution, according to the GWR, China plans to achieve a 2 percent decrease in both chemical oxygen demand and ammonia nitrogen emissions this year as the government strengthens its efforts to curb water and soil pollution.
America's master of malapropisms, Yogi Berra, once said that "You can observe a lot by watching". We can see with our own eyes how much progress has begun to be made in Beijing and other cities regarding pollution but this is merely a good beginning of a very long struggle that will be measured in decades, not years. As I write this I can clearly see the mountains that ring Beijing from my window. Once a rare occurrence, I now see them often. It's not scientific but it's my personal way of knowing that the government's war on pollution is having the desired effect and it's heartening to know that much more is being done in what is, in essence, a war on pollution.
One of the highlights of last year for me was attending the expansive exhibition commemorating 40 years of reform and opening up at the National Museum of China. If the day I attended was any indication, it seemed like most of the 2.3 million visitors were wowed by the exhibitions about China's advancement in space exploration and the development of the electronics industry in China. For me, however, it was the exhibit that showed the dozens of official stamps required from different and widely dispersed government agencies to open and maintain businesses until recently. Premier Li had promised in an earlier GWR to simplify this process for people like my family members who have small businesses here. He certainly kept his promise and in this year's GWR has indicated that even more will be done.
The 2019 annual World Bank Doing Business report, based on 2018 data, provides independent confirmation of the dramatic reduction in red tape. China rocketed from 78th position to 46th, in terms of ease of doing business, confirming the dramatic year-on-year improvements. In another key metric, establishing a business, China jumped from 93rd to 28th. China also reduced the number of days needed for starting a company from 22.9 to 9, a timeframe comparable to OECD countries.
Premier Li promised that China will take additional steps to continue this trend, further cutting the number of governmental approvals and improving efforts to serve business people. Why? According to Li, delivering good services is what a government is meant to do. This will leave companies more time doing business and less time wrapped up in red tape. My family members doing business here will continue to directly benefit and since time is money, the improvements should go directly to their bottom lines.
When listening to Premier Li, I thought of something we hear often in the West: That the two Chinese characters for "crisis" come from those for "danger" and "opportunity". As an eternal optimist, I choose to see the many opportunities that were presented.
Harvey Dzodin is senior fellow at the think tank Center for China and Globalization, and is a former legal advisor in the Carter Administration.
The opinions expressed here are those of the writer and do not represent the views of China Daily and China Daily website.