Intervention won't resolve Venezuela crisis
By Wang Xiaowei | China Daily | Updated: 2019-03-09 09:05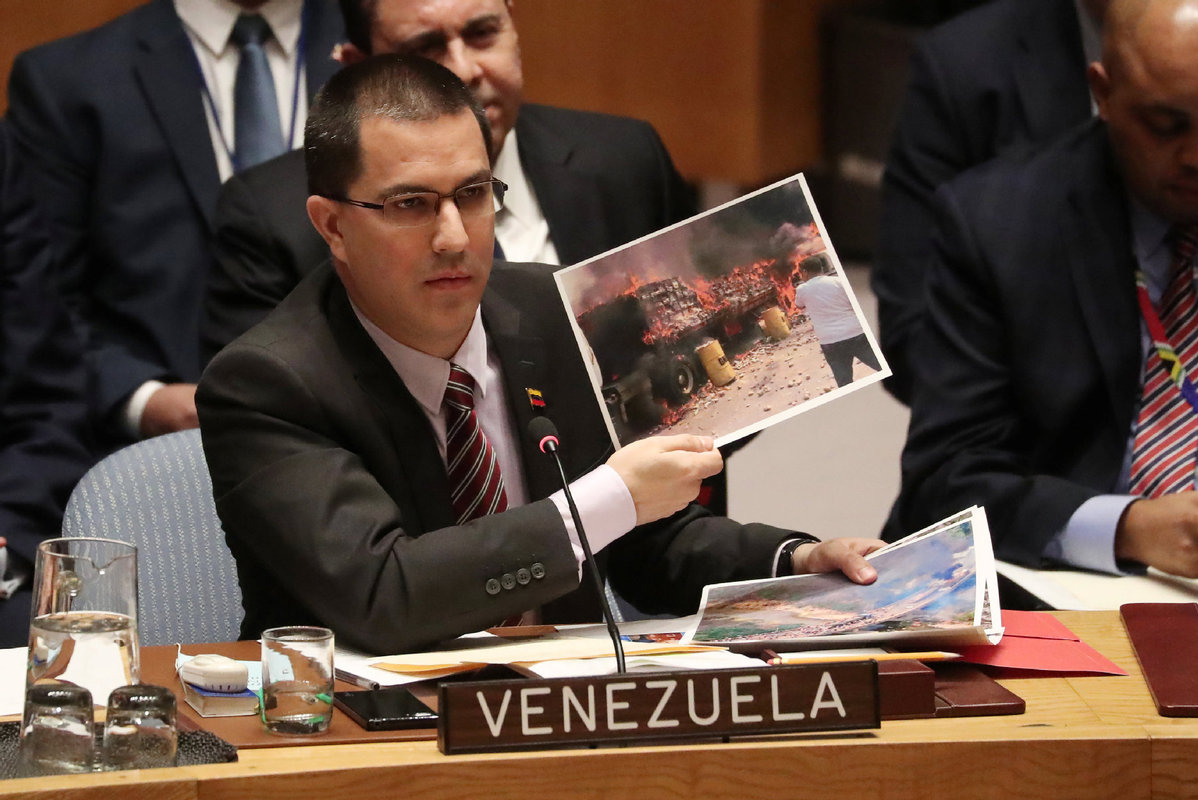 Alexander Shchetinin, director of Russian Foreign Ministry's Latin American Department, criticized US National Security Adviser John Bolton earlier this week for suggesting that restrictions on Cuba be tightened for supporting Venezuelan President Nicolas Maduro. More important, the United States has not ruled out military intervention in Venezuela, as the White House supports Venezuelan opposition leader Juan Guaido's claim to be the "legitimate" president of the country.
However, Russian Foreign Minister Sergei Lavrov told US Secretary of State Mike Pompeo at a meeting last weekend that Russia is ready to hold talks on Venezuela.
This, along with the fact that the two separate resolutions moved by the US and Russia on the Venezuelan political crisis failed to pass in the UN Security Council on Feb 28, shows Venezuela has become a pawn on the geopolitical chessboard of some major powers, as they have high stakes in the political future of the country.
As a sovereign state, however, Venezuela's future should be decided by its own people, not outside powers.
The US has been working overtime to get international recognition for Guaido, who is the Venezuelan National Assembly leader, as the country's president. The US has even demanded international supervision of Venezuela's political affairs in its draft to the UN.
Russia made a counter resolution, saying that Venezuela's territorial integrity and political independence need to be safeguarded, emphasizing that the globally approved Montevideo Mechanism put forward by Mexico, Uruguay and the Caribbean Community be applied to address Venezuela's problems through dialogue, negotiation, commitments, and implementation.
The two resolutions make it clear that Washington wants to oust Maduro from power so it can help install a US-friendly government in the country, especially because it sees Maduro as being anti-US and pro-Russia; while Moscow is opposed to any outside interference in Venezuela's internal affairs.
In fact, Russia's Ambassador to the UN Vassily Nebenzia said the US' motive is to prop up its "own agent" to power in Venezuela and control the country's politics instead of trying to help solve Venezuela's problems.
Among the five BRICS countries, China and South Africa voted for Russia's draft resolution, Brazil supported the US, and India abstained from voting. After the failure of the resolutions moved by the US and Russia, what lies ahead for Venezuela?
If the US intervenes in Venezuela to oust Maduro, it would not only violate international laws and the UN Charter, but also invite more international condemnation and opposition despite having allies around the world.
Washington has demanded that Caracas take no action against Guaido, which Maduro is unlikely to comply with, especially because Guaido continues to target Maduro. On Thursday, for example, Guaido called on Europe to intensify financial sanctions against the Maduro government after Caracas expelled the German ambassador for "interfering" in Venezuela's internal affairs.
The Venezuelan Foreign Ministry gave German envoy Daniel Kriener 48 hours to leave for "interference" in the internal affairs of Venezuela. This prompted Guaido to tell German weekly Der Spiegel that "the (Caracas) regime not only threatens the ambassador verbally, his physical integrity is also threatened".
Kriener was among more than a dozen foreign representatives to welcome home Guaido at Caracas airport on his return to the country on Monday. Guaido had defied a ban on leaving the country to embark on a 10-day tour of South American countries.
Guaido remains free despite the threat of arrest by the government, though. And the US continues to tighten the screws on its campaign of sanctions to force Maduro out of power. But UN human rights chief Michelle Bachelet said on Wednesday that sanctions have worsened Venezuela's economic and political crisis.
It seems, therefore, that Washington's next move will depend on how Maduro treats Guaido, and how Moscow responds to it.
Which should make the international community realize that it has to make sincere efforts to restore peace and stability in Venezuela, by organizing talks between the Venezuelan government and the opposition, and convincing the US that military intervention will not solve any of the problems of either Venezuela or the US.
The author is a professor at Lomonosov Moscow State University, Russia, and a postdoctoral fellow at the Party School of the CPC Central Committee.