A young rebel returns to the grand old fold
By Chen Nan | China Daily | Updated: 2019-03-09 09:00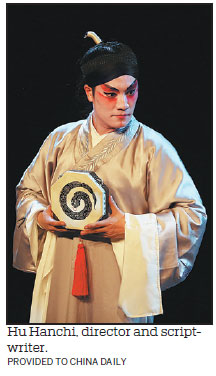 The glories of 600-year-old Kunqu Opera are something that Hu Hanchi was born and bred with, his parents both being actors in the Zhejiang Kunqu Opera Art Theater.
However, any luster those glories might have had for Hu as he grew up learning the art form from his parents had well and truly disappeared when he reached his teens. By then he had resolutely decided that the family tradition was not for him.
In high school it was hip-hop music that took his fancy, much to the chagrin of his father. Hu would go on to study at the National Academy of Chinese Theater Arts, and was later an actor for the independent Beijing theater company.
However, over the years Hu looked back at the art form he had essentially turned his back on as a young man and realized that Chinese opera is indeed a grand depository of artistic treasures.
Last summer he premiered his second production, A Box, at the Avignon Festival, an annual arts festival held in the French city.
Combining traditional Chinese operas with physical theater, a genre that encompasses storytelling primarily through physical movement, the show made its debut in Beijing at Star Theater in September.
Now, Hu, 27, is working on a new theater production, rooted in Kunqu Opera and which is the adaptation of a fable based on a Chinese idiom, Fan Qiu Zhu Ji, which refers to reflecting and trying to find fault in oneself rather than blaming others. It is due to be premiered this year.
"A simple story can make me think," says Hu, who was born and raised in Hangzhou, Zhejiang province.
"I ask lots of questions in my plays and I hope the audience can find their own answers."
He made his debut theatrical production in 2014 when he was a student majoring in directing at the National Academy of Chinese Theater Arts.
He spent eight months rewriting the script based on San Sheng (Three Lives), a story by Liaozhai Zhiyi, or Strange Tales From a Chinese Studio, a collection of supernatural tales by Pu Songling in the Qing Dynasty (1644-1911).
The performance, titled The Wheel of Time, combines Kunqu Opera, Peking Opera, hip-hop music and a live band comprising two members, Chen Yuxiao and He Zichen.
To save money Hu also directed and played all the four roles in the play - a young scholar, a dog, a horse and a snake.
In 2016 the play premiered at the theater of the National Academy of Chinese Theater Arts and then was staged about 10 times across the country, including at the Star Theater in September 2017 during the Xiqu Opera Black Box Festival.
The one-man show won Hu a fan base and he furthered his experiment along with members of his team, titled Xu Ge, which he founded in 2016.
In 2016, when The Wheel of Time was staged in Beijing, Hu's father, Hu Jianhua, was on hand to see his son perform.
"It was the first time I had seen him perform," Hu Jianhua says.
"Though the play has a variety of elements, both traditional and contemporary, from the first score I knew it was Kunqu Opera. What surprised me most was his singing. He never really learned Kunqu Opera or Peking Opera but his interpretation was great."
Shen Bin, 72, a veteran director with Shanghai Kunqu Opera Troupe, who will stage his Kunqu Opera piece Shi Hou Ji, or As A Lioness Roars, at the National Centre for the Performing Arts on March 16, says: "Traditional Chinese operas are based on traditional Chinese culture. It's exciting to see young artists put on their own interpretation of traditional Chinese operas and become popular with young audiences. It helps widen the audiences and keeps the old arts alive."
Shi Hou Ji, based on a work titled Gui Chi by Wang Tingna of the Ming Dynasty (1369-1644), is about a henpecked husband and a jealous wife.