Belgian women on strike nationwide for equality
China Daily | Updated: 2019-03-11 10:07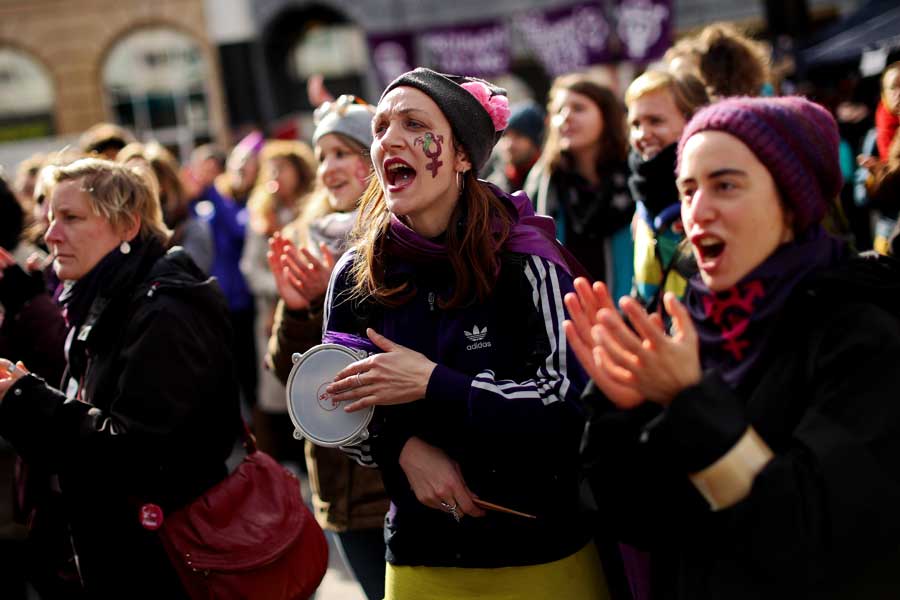 Thousands of women held a strike throughout Belgium on Friday, International Women's Day, to protest against gender inequality, a solemn reminder that there is much to do for women empowerment even in Europe.
It marked the first-ever national women's strike in Belgium, with women from all walks of life downing tools, skipping work, abstaining household chores and forgoing child care responsibilities to demonstrate with action that their significant roles in society deserve equal treatment and respect.
The theme of the march was "When Women Stop, The World Stops". With fists clenched and slogans chanted, the protesters in purple, the hue internationally symbolizing women's rights, marched through the city center, bringing the traffic into a standstill.
"Feminism should be operating on every single level whether it's women here working status as cleaners or right up until the political sphere," said Emma Rainey, a member of a feminist group.
Antonia Pindulic, who works in a nongovernmental organization, joined her friends in the protest to demand more labor rights, especially reproductive rights, and "a better access to reproductive care" for women.
Some men also turned out to show their support in fighting for a more balanced world. "We believe that even though it's a day for the rights of women, both male and female employees and workers should support this cause right now," said Thomas Keirse, one of the men in the procession.
This nationwide women's strike was called on by Collecti.e.f 8 Maars, a nonprofit independent group committed to organizing women movement in Belgium.
Besides Brussels, protests also took place in at least a dozen other Belgian cities such as Antwerp, Liege, Gent, and Leuven, according to the organizer.
Lea Charlet, a member of the group, said one goal is to "take concrete action against violence, because we are really sick and tired of losing our sisters in domestic violence."
The group took inspiration from the similar rally in Spain a year ago, when 5 million women staged a walkout to protest gender disparities, paralyzing the nation and stunning the world. The strike later spread across Europe.
This year, women from 37 associations in France attended the march called "March 8, 15:40, time to settle the score" to show they effectively work for free every day after 3.40 pm due to the gender pay gap.
The march in Spain drew Manuela Carmena, the mayor of Madrid, as women's rights will be a crucial issue in the general elections next month. In Berlin, besides a women's march, International Women's Day has become a public holiday for the first time this year.
These strikes share the same demands in combating gender inequality in Europe. "Europe ranks among the safest and most equal places for girls and women in the world. But also, in Europe, women are still facing challenges, inequalities and threats in their everyday lives: abuses and harassment, lower wages, fewer job and career opportunities. And that is unacceptable," the European Commission said in a statement on Thursday.
A survey conducted by Organization for Security and Cooperation in Europe this year revealed that in Eastern Europe, about 70 percent of women have experienced sexual harassment, stalking, domestic violence or other gender-based abuse since the age of 15.
And according to 2019 report on equality between women and men in the EU published by European Commission, the gender pay gap in EU has only decreased by 0.6 percentage point from the baseline of 16.6 percent 2014 to 16 percent 2017.
Frans Timmermans, first vice-president of European Commission, believes the progress in the area of gender equality is still at a snail's pace and the situation is even regressing in some countries.
"All we ask for is: Equality for all. Nothing more, but nothing less either. It's time women and men push for equality together," he said.
Chen Wenxin and Dong Yuwen in Brussels contributed to the story.