Will sports be one of new bright spots for China's economy in 2019?
By G. Bin Zhao | chinadaily.com.cn | Updated: 2019-03-11 15:07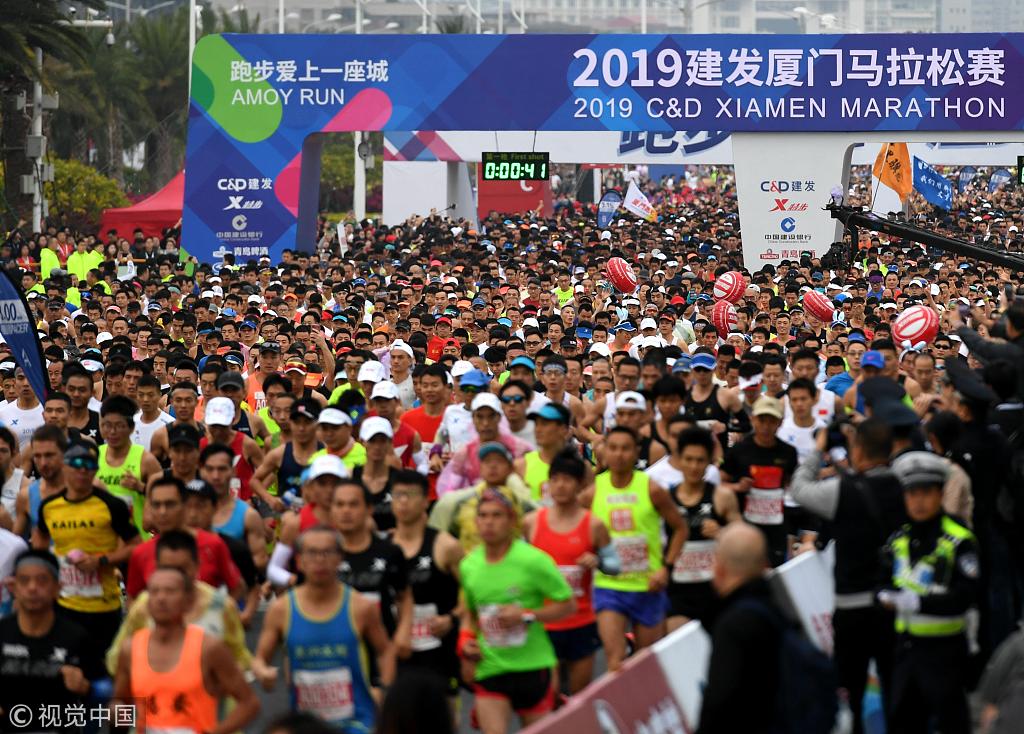 China's slower GDP growth will have impact on some industries and sectors. So, what are the new bright spots for China's economy in 2019?
Sports is definitely one of the new bright spots. More than 10 years ago, in 2008, China led the gold medal count at the Beijing Olympics. In recent years, the total number of gold medals that Chinese athletes have won rank among the top across the world.
As the world's second-largest economy, China is not yet a big country for sports. Compared to the US and Europe, sports plays a much less important role in the daily life of Chinese people, particularly for entertainment purposes. China is still a developing country , which means the market potential of China's sports sector is huge.
According to the latest data released by the General Administration of Sport of China and the National Bureau of Statistics, the total output or revenue of China's sports sector reached 2.2 trillion yuan ($326.3 billion) in 2017. Although the data is nearly one year behind schedule compared to the GDP and other economic figures, it is better than nothing. This was the third year of release of data since the national sports statistics were first announced in 2015. As result, China has a small amount of national historical data for the sports sector with comprehensive statistics from 2015, 2016 and 2017 only.
While the sports sector is a miniscule portion of China's total GDP, the speed of growth has been dramatic and much higher than GDP growth rate. For example, the sports sector output went up 15.7 percent in 2017 (11.1 percent in 2016) year-on-year. Value added of the sports sector was 0.78 trillion yuan and increased by 20.6 percent (17.8 percent in 2016), and this accounted for about 0.95 percent of total GDP of 2017 (which was 82.08 trillion yuan). While in 2016 and 2015, value added of the sports sector was 0.65 trillion and 0.55 trillion yuan, respectively, and accounted for about 0.87 percent and 0.80 percent of total GDP of that year.
In order to boost sports-related consumption, a few years ago, National Development and Reform Commission (NDRC) announced a plan for the China's sports sector. The plan targeted raising the total output of the sector to 5 trillion yuan (2.2 trillion yuan in 2017) by 2025, and increasing the value added of the sports sector to at least 4 percent of total GDP (0.95 percent in 2017).
Comparatively, according to research by Sport England, in 2010 sport and sport-related activity generated 20.3 billion pounds (the latest available figures), or 1.9 percent of England's total gross value added. It supported over 400,000 full-time equivalent jobs or 2.3 percent of all jobs in England. Meanwhile, in the US in 2017, the sports sector accounted roughly 3 percent of US economy and was one of the top 10 most important industries.
By comparing the GDP percentage of value added of the sports sector in the US and England, China still has a lot of catching up to do. Besides, the output of China's sports sector is quite different than that of developed countries. Based on a PwC global sports industry report, the sports market mainly consists of:
•Sponsorships, which include payments to have a product associated with a team, league or event and naming rights.
•Gate revenues for live sporting events.
•Media rights fees paid to show sports on broadcast and cable television networks, television stations, terrestrial radio, satellite radio, the internet and on mobile devices.
•Merchandising, which includes the selling of licensed products with team or league logos, player likenesses, or other intellectual property. Food concession revenues are not included.
However, in China, the largest output share of the sports sector was manufacturing of sporting goods and related products which accounted for 41.8 percent (327 billion yuan) of the total value added in 2017. The second was sales of goods and related products (merchandising), and trade (262 billion yuan) which accounted for 33.7 percent. Stadium services (including gate revenues for live sporting events) ranked third, and was 68 billion yuan only and accounted for 8.7 percent of the total value added in 2017.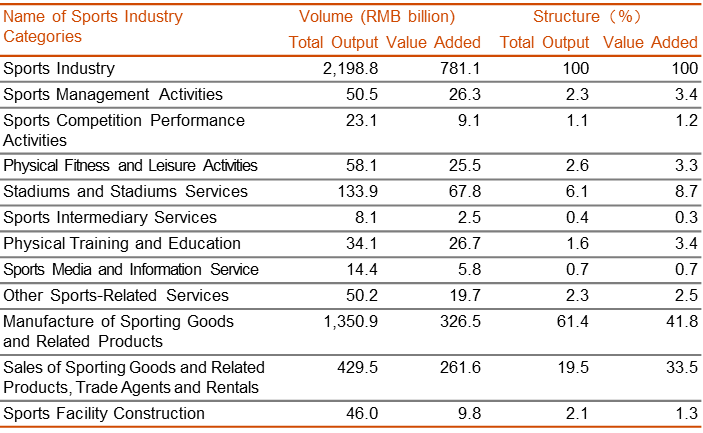 Despite the smaller market size and higher growth rate, China's sports sector is still far behind by international standards. As we can see from the above data, the percentage of manufacturing of sporting goods and related products was too much, while total sports services accounted for 55 percent. In comparison, in the US, sports services accounted for about 80 percent of the total value added in 2017.
Particularly, according to a Euromonitor study, China's sporting goods sales were $28.4 billion in 2016, and was the second-biggest market in the world, but was much less than the US, which had sales of $103.6 billion.
Second, most of the sports consumption took place in China's major cities due to unbalanced regional development which has caused gap in terms of household income between the rural areas, some inner provinces and the coastal regions and big cities.
Third, the economic effect of the sports sector is still low. There are multiple reasons. For instance, China does not have strong culture and tradition for sports, because before the reform and opening-up four decade ago, China had a poor economy for a long time and there was no material base for people to do sports. But in the US, as the economy was more advanced, sports turned out to be an important part of American culture. Their most popular three sports were American football, basketball, and baseball, together with the major professional sports leagues. Sports are also associated with education in the US, particularly for high schools and universities.
Although, it might take years to develop professional sports leagues similar to those in the US, China has its uniqueness and will definitely establish its own distinctive sports market. For example, competitions play an important role in the sporting culture in the West. However, for Chinese, health preservation is definitely more important than competition or entertainment. This is probably one of the major reasons why marathons have taken off in China.
In 2017, there were over 1,100 times of marathon running across 234 cities with nearly 5 million participants. According to the Chinese Athletic Association (CAA), by 2020, marathon participators in China will reach 10 million (times) and create 120 billion yuan revenues. Furthermore, Chinese soccer events created revenues of over 10 billion yuan in 2017, added value of related media and stadiums services was 6 billion yuan, and added value of training and goods was more than 20 billion yuan.
Besides, the winter sports industry has boomed ahead of Beijing 2022 Winter Olympics. The output of winter reports reached 398 billion in 2017, and skiing-related consumption accounted for 18.1 percent. With the Winter Olympic taking place in about three years, it will continue to stimulate relevant sports.
Finally, according to international standards based on a research by General Administration of Sport of China, the sports industry usually takes off in a country when the GDP per capita reaches above $8,000. In 2018, China's GDP per capita was nearly $10,000. So, there are enough reasons for us to believe that the sports sector will be one of the new bright spots for China's economy in 2019 and for the next few years.
G. Bin Zhao is senior economist at PwC China and also leads the firm's China Strategic Research.
The opinions expressed here are those of the writer and do not necessarily represent the views of China Daily and China Daily website.