Commentary: A landmark law in China's opening up
Xinhua | Updated: 2019-03-12 09:44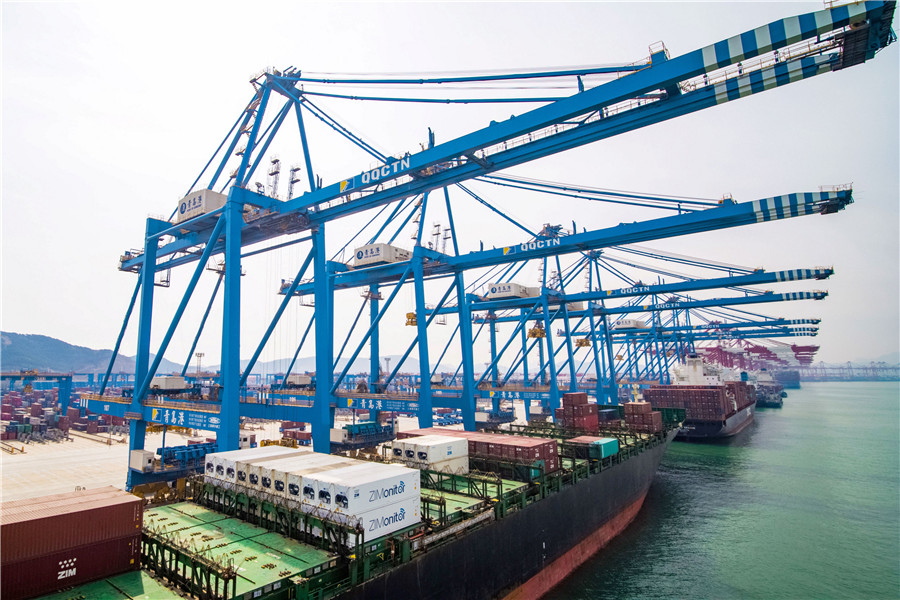 BEIJING, March 11 -- Trade and investment are considered the main engines for growth and development, especially for developing countries.
While trade, mainly refers to the trade of goods, makes merchandise to flow between countries, foreign investment enables capital, technology and expertise to move across borders.
China's economic development over the past four decades is largely credited to the reform and opening up featuring substantive inflow of foreign direct investment (FDI). According to data from the United Nations Conference on Trade and Development (UNCTAD), FDI inflow to China has ranked first among developing countries for 27 consecutive years.
There can be no economic prosperity without opening up, and there can be no high-level opening up without sound rule of law. To draw more foreign investors, a fair and complete legal system is crucial.
The draft Foreign Investment Law, being reviewed by the National People's Congress (NPC), China's national legislature, is a fundamental law for China's foreign investment and innovative improvement of its foreign investment legal system. It will promote and protect foreign investment in China by creating a stable, transparent and predictable market environment for fair competition.
First proposed several years ago, China is close to passing the law. At the ongoing NPC annual session, deliberation on the draft law is a major task for nearly 3,000 lawmakers from across the country.
It demonstrates China's commitment to further deepening reform and pursuing high-level opening up.
Many people have described the process and methodology of China's decades of reform and opening up as "crossing the river by feeling the stones." The same is true for China's legislation on foreign investment.
Three older statutes regarding foreign investment were passed by the National People's Congress between 1979 and late 1980s. These laws were enormously important then, but failed to keep up with today's modernization and globalization. They need to be updated to fit for the new era.
The draft law stipulates that China will manage foreign investment according to the system of pre-establishment national treatment plus a negative list.
This means that foreign investors and their investments shall enjoy treatment no less favorable than that afforded to Chinese investors and their investments at the stage of investment access.
If passed by the NPC, the new law will take China's opening up to an unprecedented high level.
The draft law showcases China's resolve to make its investment climate more equitable for domestic and foreign capital and let them compete on a level playing field.
It also guarantees that foreign-invested enterprises will be able to take part in standard-setting work on an equal footing and in government procurement through fair competition.
The draft law enhances the protection of intellectual property rights (IPR) of foreign investors and prohibits forced technology transfers through administrative means.
IPR protection is a worldwide issue. The Chinese government has taken concrete measures and made headway in IPR protection in recent years. Proper protection of IPR serves not only the interests of foreign investors, but also the interests of China, as it counts on innovation and knowledge to fuel its next round of high-quality growth.
As history has shown, openness brings progress, while seclusion leads to backwardness. In the era of globalization, it is economic suicidal for a country to try to shut its door to foreign investment. China might know this better than any other country in the world.
The Foreign Investment Law is a landmark law that will open China's door wider to the outside world and another symbol of China's deference to the rule of law.
By the end of 2018, about 960,000 foreign-invested enterprises had been set up in China, with the accumulated foreign direct investment (FDI) exceeding 2.1 trillion U.S. dollars. China is now home to more than 2,000 regional headquarters and R&D centers of multinational companies.
In 2018 alone, non-financial FDI into China reached about 135 billion dollars, the world's second largest.
Thanks to painstaking efforts by the Chinese government, the country's investment environment has improved significantly over the years.
According to the World Bank, China ranked 46 globally for ease of doing business in 2018, up from 78 for 2017.
Over the past four decades, foreign firms have reaped remarkable returns from China's huge market and robust growth. With China's business and legal environment improving and the income level of its 1.4 billion people rising, foreign companies' best days in China are yet to come.