London sees boom in Chinese students
By Bo Leung in London | China Daily Global | Updated: 2019-03-14 02:19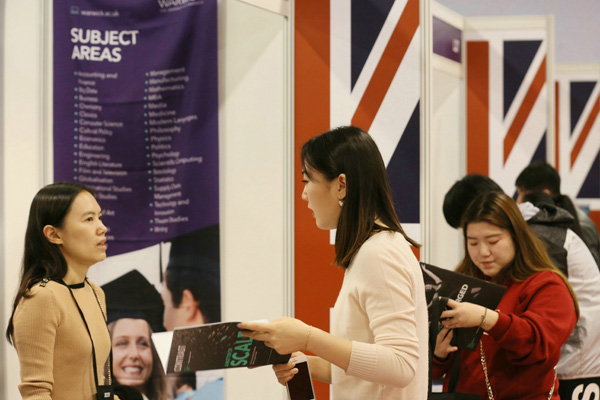 Capital experiencing increase in international student numbers, with the growth rate doubling year-on-year
The number of Chinese students heading to study in London universities shows little signs of slowing down, as China remains the largest student market for the capital.
Students from the Chinese mainland picking to go to a higher education institution in London grew 20 percent in the year 2017/18 to 21,350.
The data from the Higher Education Statistics Agency revealed that overall London has seen an increase of 118,145 international students in the same year, which is a rise of 5.3 percent from 2016/17.
While China is the capital's largest student market, this is followed by the United States with 7,105 students and Italy third with 5,770 students.
Rajesh Agrawal, deputy mayor of London for business, said, "These new statistics show that London is as big a draw as ever for the brightest young talent from around the world. I'm delighted to see so many students choosing our city as their destination of choice to learn and to discover all the benefits of a first-class education."
International students contributed an estimated 3.45 billion pounds ($4.54 billion) to London's economy during the 2016-17 academic year, according to a report by London and Partners, the Mayor of London's official promotional agency.
The Chinese mainland was the largest contributor, with Chinese students splashing out 598 million pounds. Half of that was spent on fee expenditure, 46 percent went on subsistence such as rent, food, transport and leisure, and the rest was spent by friends and relatives visiting the city.
Four of London's universities are in the World University Rankings top 40, including Imperial College London.
To encourage more Chinese students to the city, a campaign by Study London, which runs London's official university guides, is holding a competition which aims to promote short-term summer courses to Chinese students.
"London has more world-leading universities than any other city on the planet, and a buzzing cultural landscape which attracts international students from more than 200 countries," Agrawal added. "This is yet more evidence that London is open."
London and Partners said students around the world continue to choose London as a city to study in for its unique mix of culture, diversity, creative energy and a vast choice of courses and world class institutions.