LA museum acquires work of Chinese artist
Xinhua | Updated: 2019-03-14 07:54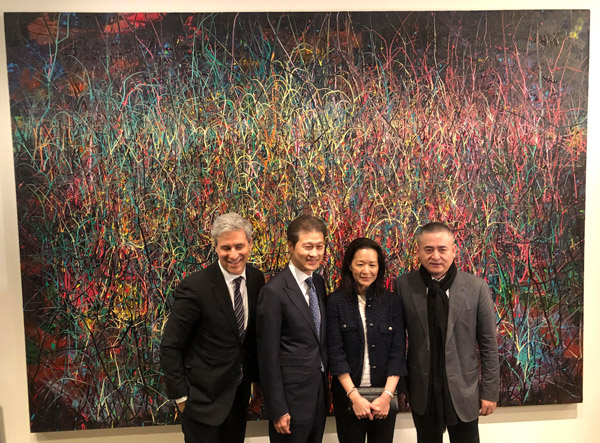 LOS ANGELES-The Los Angeles County Museum of Art, the largest art museum in the western United States, announced recently the purchase of Chinese artist Zeng Fanzhi's painting Untitled (2018) for its permanent collection.
Zeng's painting, about 5 square meters in size, is part of a series of abstract landscapes and will be on display at the LACMA.
The painting, oil on canvas, marks a carefully considered turn to the abstract for the artist, who emerged in the 1990s with his tense, brooding paintings of hospital scenes and urban Chinese men hiding their faces behind masks.
"Zeng Fanzhi is one of the leading figures in the Chinese art world today, and this painting is a major addition to LACMA's permanent collection," says Stephen Little, Florence and Harry Sloan curator of Chinese art and department head at the LACMA.
The LACMA, which has a collection of nearly 140,000 objects that illuminate 6,000 years of artistic expression across the globe, has strengthened its holdings in Chinese art with major acquisitions including the promised gift of Gerard and Dora Cognie's collection of 400 works of contemporary ink paintings and calligraphy.
"In the past two years, LACMA has greatly strengthened its collection of contemporary Chinese art. As we turn the corner into 2019, we look forward to the unveiling of this magnificent painting, the opening of the exhibition The Allure of Matter: Material Art from China," Little adds.
Commenting on the acquisition, Michael Govan, CEO of the LACMA, says: "In recent years, LACMA has been building relationships with partners in China while deepening our commitment to the study, interpretation and display of Chinese art, particularly contemporary art made by Chinese artists."
Govan also adds that Chinese American banker Dominic Ng and his wife Ellen Ng donated funds to help the museum to purchase the painting, adding that the couple are supporters of the LACMA and its collaboration with Chinese artists and arts institutions.
"Their support for the acquisition of Zeng's Untitled to LACMA's growing collection of contemporary Chinese art underscores their commitment to Chinese art and artists, both in the United States and China," Govan says.
Speaking about his backing for LACMA, Ng, who is the chairman and CEO of East West Bank, a leading independent bank based in Los Angeles, says: "I believe that art can help bridge cultures and promote mutual understanding between people with different perspectives.
"And Chinese contemporary art has emerged as one of the most compelling areas of the global art landscape. The addition of a piece by Zeng ... exemplifies Michael Govan's vision to showcase a broad range of artistic voices and contributes to the ongoing cultural exchange between the East and the West."
Zeng was born in Central China's Wuhan in 1964 and graduated from the Hubei Institute of Fine Arts in that city in 1991.
As modern and contemporary Chinese paintings have become new favorites for global art investors in recent years, his artworks are getting very popular in the art market.
One of Zeng's works which was auctioned in 2013 at Sotheby's Hong Kong was sold for $23.3 million, setting a record for contemporary Asian artwork.