Elite charged in major college admission scam
By LIU YINMENG | China Daily Global | Updated: 2019-03-14 09:21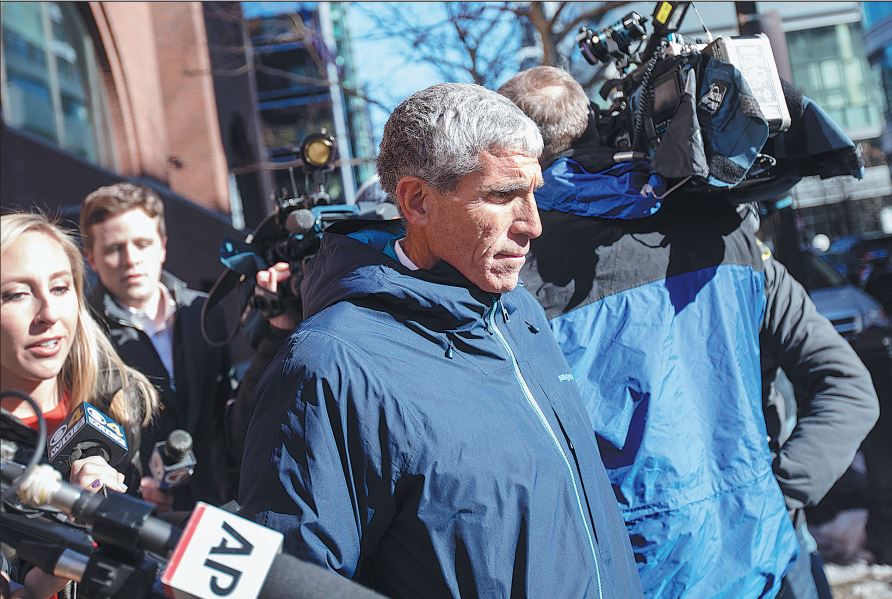 US celebrities, CEOs among those suspected of bribing, cheating for kids to go to top schools
United States federal agents on Tuesday arrested multiple suspects involved in an elaborate college admissions scheme that implicates dozens of people, including Hollywood celebrities, powerful CEOs across the nation and top college coaches in elite universities.
In what officials described as the largest college admissions prosecution by the Justice Department, wealthy parents are being charged with getting their children into prestigious schools by cheating on college entrance exams and bribing administrators.
It is also alleged that top college coaches from Yale, Stanford, Georgetown, the University of Southern California and the University of Texas helped recruit students under the guise of athletes, regardless of their sporting ability.
"This case is about the widening corruption of elite college admissions through the steady application of wealth combined with fraud," Andrew E. Lelling, US Attorney for the District of Massachusetts, said at a press conference on Tuesday.
"There can be no separate college admission system for the wealthy, and I'll add, there will not be a separate criminal justice system either," he said.
The scheme, which stretches approximately from 2011 through February 2019, involved 50 people across different states, including 33 parents, two SAT and ACT test administrators, as well as more than a dozen coaches at top universities, officials said.
The parents charged included Hollywood drama actresses Felicity Huffman of Desperate Housewives and Lori Loughlin of Full House, as well as CEOs of public and private companies, successful securities and real estate investors, and the co-chairman of a global law firm, said Lelling.
At the center of the scheme is William "Rick" Singer, 58, a Newport Beach, California, resident and owner of a for-profit college counseling and preparation business called the Edge College & Career Network LLC.
Singer also served as the CEO of the Key Worldwide Foundation (KWF), a nonprofit that he established as a purported charity, authorities said.
Lelling said wealthy parents paid Singer about $25 million in total between 2011 and 2018 to guarantee their children's admission into elite schools, including Yale, Georgetown, Stanford, the University of Texas, UCLA and Wake Forest.
Parents paid Singer under the guise of donations to the KWF charity, officials said, with Singer then using that money to bribe college officials, coaches and college exam administrators, to secure admissions for his clients' children.
Singer's clients also allegedly paid him anywhere between $15,000 and $75,000 to either have someone take the college entrance exam for their children, or correct their answers on the exams afterward.
In many instances, students taking the tests were unaware of the scam, officials said.
Lelling said Singer's clients paid him anywhere between $100,000 and $6.5 million for this service, though the majority paid between $250,000 and $400,000 per student.
In addition to the cheating on exams, Singer and certain parents also allegedly agreed to disguise the bribe payments as charitable contributions to the KWF, which allowed clients to deduct the bribes from federal income taxes.
Singer pleaded guilty to charges of racketeering conspiracy, money-laundering conspiracy, conspiracy to defraud the US, and the obstruction of justice, officials said.
Singer has been released on a $500,000 unsecured bond. His sentencing is scheduled for June 19 at the US District Court for the District of Massachusetts.
Universities named in the investigation responded quickly and many have fired the coaches and administrators indicted in the charge.
Several famed college coaches, including John Vandemoer, head sailing coach at Stanford University, and Rudolph "Rudy" Meredith, former head women's soccer coach at Yale University, have been charged.
Stanford said on Tuesday that it has fired Vandemoer and that neither of the two students whom Vandemoer agreed to recommend for admission to the university went to it.
Yale said Meredith is no longer at the school. The school "has cooperated fully in the investigation and will continue to cooperate as the case moves forward", it said.
In a statement on Tuesday, the University of Southern California said it has fired its senior associate athletic director Donna Heinel and water polo coach Donna Jovan Vavic, who were named in the charges.
"USC has not been accused of any wrongdoing and will continue to cooperate fully with the government's investigation," read part of the statement.
"Today's arrests resulting from an investigation conducted by the US Attorney's Office in Massachusetts sends a clear message that those who facilitate cheating on the SAT-regardless of their income or status-will be held accountable," the College Board, the nonprofit administrator of the SAT, said in a statement.